Obama Meets with Flood Victims and Local Officials in Tennessee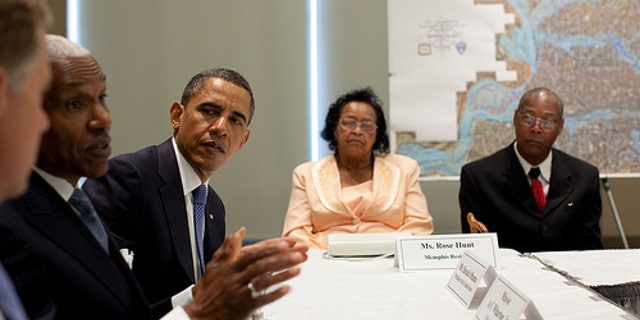 President Obama sat down for about 35 minutes with those affected by the flooding along the Mississippi River while he was in Memphis for a high school commencement address.
Before speaking at the Booker T. Washington High School graduation ceremony, Obama met with families, first responders and local officials to hear about the rising waters, which is at the highest levels since the record-breaking 1937 flood.
The president gathered with them at Cook Convention Center, and according to a readout from White House Press Secretary Jay Carney, Obama told them he wanted to hear their stories firsthand.
He asked questions and listened to accounts of people evacuating their homes and finding shelter with their family. First responders filled him in on how they monitored the situation, and faith-based volunteers told him about their relief efforts.
Obama then thanked them and said, "We're there for you, and we're grateful for your resilience."
Tennessee Gov. Bill Haslam, Memphis Mayor A C Wharton, Sens. Lamar Alexander, R-Tenn., Bob Corker, R-Tenn., and Rep. Steve Cohen, D-Tenn., also participated in the meeting along with several flood victims.
At the commencement address, Obama talked about education making individuals better human beings and references the high river water.
"The success of our economy will depend on your skills, but the success of our community will depend on your ability to follow the Golden Rule - to treat others as you would like to be treated. We've seen how important this is even in the past few weeks, as communities in Memphis and across the South have banded together to deal with flood waters and to help each other in the aftermath of terrible tornadoes and storms," Obama said.
The president passed the river on his way to the convention center - the area he saw was high, but not flooded. In addition to the water and flooding concerns, poisonous snakes and fire ants also are causing concern in the region.
The river is falling some and continues to do so after hitting a peak of 47.87 feet last week.