Obama Hams It Up at Thanksgiving Turkey Pardon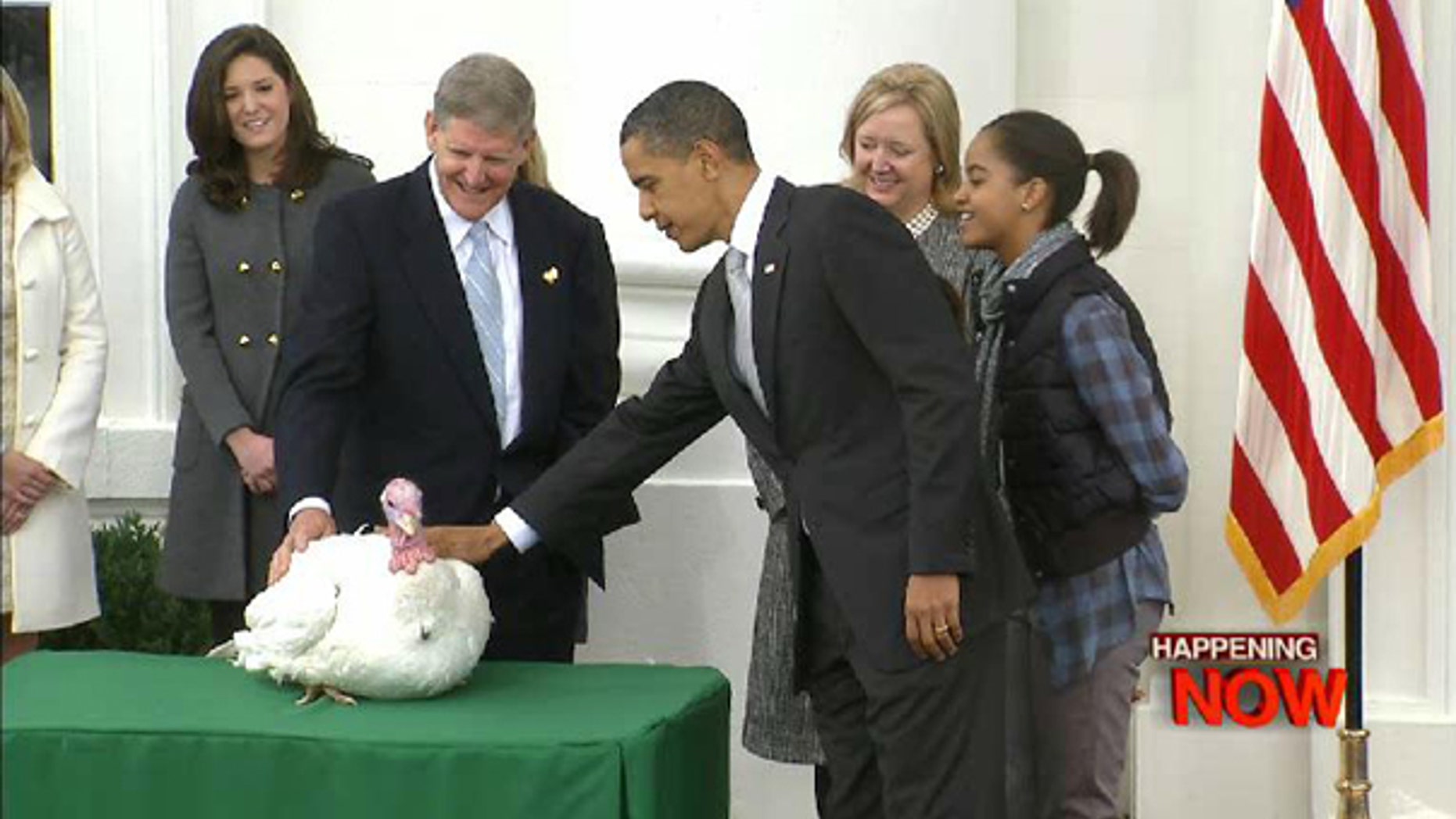 President Obama hammed it up on Wednesday, pardoning two turkeys Wednesday in a traditional White House ceremony in which he made light of his administration's own questionable math.
Presented with two turkeys for pardon -- Courage and Carolina -- Obama noted that two other turkeys were donated to a D.C. charity.
"So today, all told, I believe it's fair to say that we have saved or created four turkeys," he joked, alluding to his $787 billion economic stimulus package that has drawn criticism for the number of jobs the White House has claimed it has created.
Obama also joked that the traditional presentation of the turkeys didn't always end on such a positive note.
The pardoning tradition started with President George H.W. Bush but Presidents Dwight D. Eisenhower and Lyndon B. Johnson took a very different path when brought the Thanksgiving gift from the Naitonal Turkey Federation.
"Today I'm pleased to announce that thanks to the intervention of Malia and Sasha -- because I was planning to eat this sucker -- Courage will also be spared this terrible and delicious fate," he said, joined by the girls on the North Portico.
"That's a good looking bird," Obama added.
He said Courage is pardoned "before I change my mind." He noted that the two birds will get to live out their lives at Frontierland in Disneyland.
Before settling in, however, the two will fly to California where Courage will serve as honorary grand marshal for Disney's "Thanksgiving for Giving Day" Parade. Carolina will be an alternate in case Courage isn't able to perform his duties.
"There are days when I remember why I ran for office," Obama mused. "And then there are days like this when I pardon a turkey and send it to Disney."
Obama also paid tribute to the military men and women serving around the world.
"I want to wish a Happy Thanksgiving to every service member at home or in harm's way. We're proud of you and we're thinking about you and we're praying for you," he said.
He also encouraged greater compassion for those struggling in this perilous economy.
"This is an era of new perils and new hardships," he said. "So on this quintessentially American holiday, as we give thanks for what we've got, let's also give back to those who are less fortunate."