Obama Faces Middle East 'Train Wreck' as Iran Builds Nuclear Program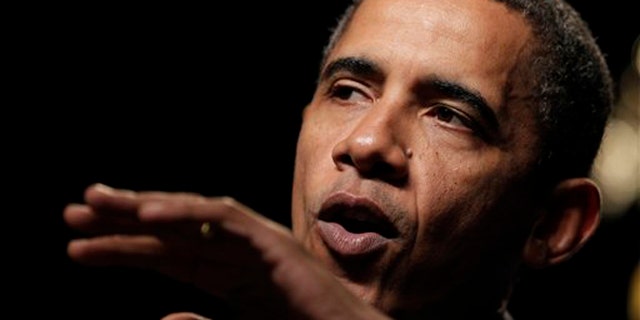 This is the last article of a three-part series on Iran's entry into the world's "nuclear club" as it begins fueling its nuclear reactor in Bushehr. Click here for Part I and here for Part II.
Oil prices spike. Shipping routes come under attack. Mideast peace talks collapse. Progress in Afghanistan is shattered. President Obama finds himself caught in a shouting match between Israel's supporters in America and critics abroad. And so much for restoring ties with the Muslim world.
That's just a sampling of what could happen if Israel or the United States launches an attack on Iran to halt what some see as its otherwise inexorable march toward developing a nuclear weapon. It sounds bad ... but Israel has vowed to forbid a nuclear-armed Iran, and the consequences of its bold words could be severe.
Anyone who thinks the president of the United States has it easy needs only to consider his predicament.
Amid speculation over whether Israel is gearing up for a strike on Iran's nuclear program, the political and diplomatic consequences for the Obama administration cannot be overstated. Former military and civilian officials who have studied the potential fallout of an attack on Iran warn of a global backlash that goes beyond warfare. The economy, America's image, the prospect of regime change ... all are up in the air.
Those consequences are no doubt on the minds of administration officials who, according to a new report, have persuaded Israel that an Iranian-controlled nuclear weapon still is at least one year away. Tensions were high this week in the run-up to Iran's move to load up its Bushehr reactor with nuclear fuel, which began Saturday with Russia's help, and U.S. officials believe their assessment can head off an Israeli pre-emptive strike. At least for another year.
"We are looking at this issue very carefully," White House counterterrorism adviser John Brennan said Friday, declining to elaborate when asked about the conversations between U.S. and Israeli officials.
For starters, the Obama administration would almost surely see peace talks between the Israelis and Palestinians sidelined in the event of a strike -- just as a glimmer of progress was starting to shine. Secretary of State Hillary Clinton announced Friday that the White House had invited both sides to Washington to resume direct peace talks starting Sept. 2. The goal is to tackle all the major divides within a year.
Sam Gardiner, a retired Air Force colonel and former faculty member at the National War College who has helped conduct Iran war games, said those talks would be history if Israel attacks Iran. One analysis by the Council on Foreign Relations said Washington and Jerusalem would divert from the negotiations while any attempt to persuade other nations to improve relations with Israel would be rebuffed. If Hamas retaliates on Iran's behalf, Israel has a ready excuse to suspend talks.
Gardiner said a strike on Iran would also drive up oil prices and could threaten economic recovery in the United States. Several analysts have warned that a strike would put Western shipping routes in the Persian Gulf at risk, disrupting trade and energy supplies.
But Gardiner said the president faces chaos no matter what happens.
"What he's got is a huge train wreck coming down," Gardiner said, expressing skepticism about the wars in Iraq and Afghanistan. "In the last two weeks, it is clear to me that Iraq is not going to turn out well. It is clear to me that Afghanistan is going to get worse and not better."
Add concerns about Russia's allegiance, new demonstrations of extremism out of places like Yemen and Iran's nuclear movement, and "what you begin to see is a chaotic situation in the entire Middle East."
And that's if Obama does nothing.
Richard Russell, who served 17 years as an analyst with the CIA, added the plausible possibility that an advanced Iranian nuclear program would set off a nascent nuclear arms race in the Middle East, where countries other than Israel have their concerns about the Islamic Republic.
Should Israel step in to stop, or at least delay, this possibility, the Obama administration would face a political and diplomatic tug-of-war. And Obama's the rope.
Steven Simon, a former National Security Council official who wrote the CFR report, said many of America's allies would probably come down in opposition to Israel's actions, while many Americans would give their support. Few think a unilateral attack by Israel would not swiftly draw in the United States, inflicting a strain on the U.S. military.
"The White House would be in a difficult spot," Simon said.
Obama also has Iranian politics to worry about. The so-called Green Movement that mounted historic demonstrations against the regime last summer in the wake of Iran's disputed election has retreated into standby mode -- while an Israeli attack could spark a renewed internal challenge to the regime, it could also unite everyday Iranians behind the government and further marginalize the opposition.
Another counterproductive consequence is one Defense Secretary Robert Gates warned about last year -- that Iran could harden its determination to build a bomb in the wake of an attack.
A lengthy analysis last year by the Center for Strategic and International Studies said an Israeli-led attack "could be the beginning rather than the end of such a program." Iran could withdraw from the Nuclear Non-Proliferation Treaty and move on the fast track toward a weapon.
In the short term, Israel would be at obvious risk of ballistic missile attack from Iran while U.S. troops and facilities abroad would be likely targets for retaliation.
John Bolton, former U.S. ambassador to the United Nations who stirred up talk about an Israeli strike earlier in the week, said Friday it appears "very unlikely" Israel will launch an imminent attack to prevent the Bushehr facility from coming online.
Rep. Adam Smith, D-Wash., expressed concern about what he called the "headlong rush" to talk about military options, saying "the people who are advocating that underestimate the blowback from that action."
But it's not off the Israelis' minds, nor the Obama administration's.
Dan Gillerman, former Israeli ambassador to the United Nations, told Fox News that Israel can act alone and that it's time for Obama to set an ultimatum, as well: Come clean, or "We will clean you out."
"Iran must realize that the military option is on the table -- that they're playing with fire," Gillerman said.