Obama: 'Dont' Jump to Conclusions' on Fort Hood Shooting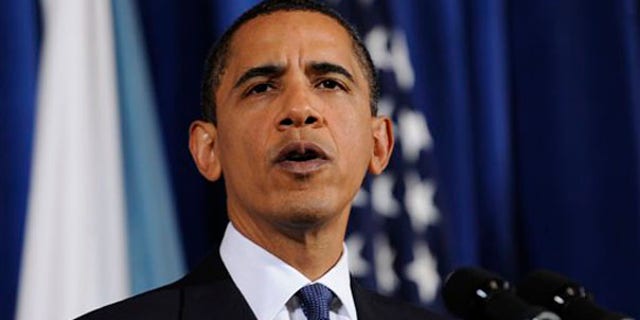 In the wake of the deadliest mass shooting at a U.S. base, President Obama on Friday cautioned against jumping to conclusions on the motive of the suspect.
"We don't know all the answers yet and I would caution against jumping to conclusions until we have all the facts," Obama said in the Rose Garden of the White House.
"What we do know is that there are families, friends and an entire nation grieving right now for the valiant men and women who came under attack yesterday," the president said.
Obama said he met with FBI chief Robert Mueller and other federal agencies to discuss what may have caused Nidal Malik Hasan to turn on his comrades in Thursday's shooting rampage at Fort Hood that left 13 people dead and 38 wounded.
Obama ordered the flags at the White House and other federal buildings to be flown at half-staff until Veterans Day on Wednesday, in memory of those who were killed.
"This is a modest tribute to those who lost their lives even as many were preparing to risk their lives for their country," he said.
Military, friends and families observed a moment of silence at Fort Hood and other U.S. military bases as a show of respect for the victims of the shooting rampage.
Secretary of Defense Robert Gates had declared a moment of silence for U.S. military forces worldwide on Friday afternoon.
Dozens of people haved gathered at Fort Hood and bowed their heads as part of the moment of silence.
Army Chief of Staff George Casey and Army Secretary John McHugh also arrived at the base Friday.
Obama will attend a memorial service that will be scheduled at the convenience of the victims' families, White House spokesman Robert Gibbs said.
Gibbs added that a memorial service is keeping Obama's schedule next week in flux. The president is scheduled to leave for Asia on Wednesday but wants to attend a memorial before starting the 10-day trip. Gibbs says the White House would not rule out delaying the trip because of the service.
Obama was expected to visit Walter Reed Army Medical Center later Friday.
White House spokesman Bill Burton told Fox News that Obama's visit to the Army's top medical facility was planned before Thursday's massacre.
Although it didn't appear on the White Houses' weekly schedule, Burton said it was already in the works.
Secretary of Defense Robert Gates also declared a moment of silence for U.S. military forces worldwide as a show of respect for the Fort Hood victims. The moment of silence is planned for 2:34 p.m. EST Friday -- exactly 24 hours after the shooting in Texas. All U.S. forces worldwide were being asked to participate.
Obama had been planning to visit House Democrats on Capitol Hill ahead of their historic debate and vote on health care reform but he pushed the meeting back to Saturday. White House aides said the delay is not because of the shooting aftermath but because he wants to visit closer to the vote expected as early as late Saturday.