Obama Calls Suspicious Packages a 'Credible Terrorist Threat'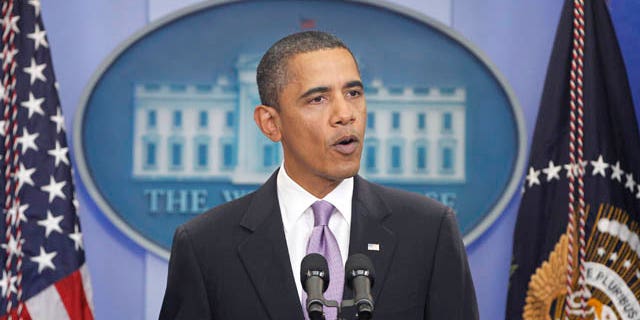 President Obama confirmed Friday that federal authorities had uncovered a "credible terrorist threat" in suspicious packages believed to be linked to Yemen's Al Qaeda branch.
Obama, in a brief address to reporters at the White House, said that an examination of the initial two suspicious packages, bound from Yemen to the U.S., determined that they apparently contained explosive materials. They likely were bound for places of Jewish worship in Chicago, he said.
"We will continue to pursue additional protective measures for as long as it takes to ensure the safety and security of our citizens," he said, adding that Yemen's president has pledged full support in the investigation.
The president has received regular updates from his national security team since he was alerted to the threat from two incoming cargo planes carrying packages originating from Yemen.
After being notified of the security concern by counterterrorism adviser John Brennan at 10:35 p.m. ET Thursday, Obama "directed U.S. intelligence and law enforcement agencies and the Department of Homeland Security, to take steps to ensure the safety and security of the American people, and to determine whether these threats are a part of any additional terrorist plotting," White House Press Secretary Robert Gibbs said.
Intelligence and law enforcement agencies abroad tipped off the United States about the two inbound planes, which were searched upon arrival at airports in Newark, N.J., and Philadelphia, Gibbs said.
New York Rep. Peter King, the ranking Republican on the House Homeland Security Committee, said the origin of the packages is very concerning because Yemen is home to imam Anwar al-Awlaki, the U.S.-born cleric who is at the top of a U.S. capture-or-kill list.
"The administration was on this. I have to give them credit," King, who has been receiving regular briefings, told Fox News. "You know, the security coming out of Yemen is not where we'd like it to be, so this is again a lot of credit to the FBI and (Transportation Security Administration)."
Michigan Rep. Pete Hoekstra, the top Republican on the House Intelligence Committee, said he found "extremely disturbing" the discovery of the packages along with the new terror cases this week in Hawaii and Virginia.
In Hawaii, a New York City-born man was arrested on charges he tried to join the U.S. military at a Times Square recruiting station so he could be deployed to Iraq, desert and fight with anti-American insurgency forces.
In Virginia, a Pakistani-born U.S. citizen was charged with plotting to attack Washington's Metro system with people he thought were Al Qaeda terrorists but turned out to be undercover FBI agents.
"We can't minimize the nature of these threats or wish them away," Hoekstra said. "The serious nature of this week's incidents only underscores how critical it is to actively confront the threat at all of its sources. We must redouble our efforts to do so immediately or we will certainly pay even more serious consequences in the future."
Some U.S. officials say they believe that the package was part of a dry-run. Terror experts speculate that the goal was possibly to bring down the planes or to terrorize by mail. Religious institutions in Chicago have been put on high alert.
The Department of Homeland Security issued a statement saying that as a precaution, it is enhancing cargo screening and adding security at airports.
"Passengers should continue to expect an unpredictable mix of security layers that include explosives trace detection, advanced imaging technology, canine teams and pat downs, among others. As always, we remind the public to remain vigilant and report suspicious activity to local law enforcement," DHS said.