Obama, Bushes lead US tributes to late Saudi King Abdullah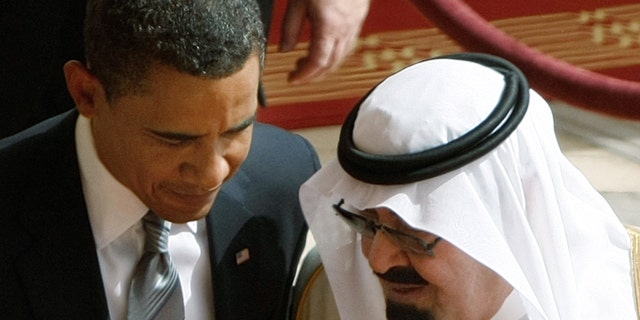 WASHINGTON – President Barack Obama expressed condolences and offered sympathy Thursday to the people of Saudi Arabia upon the death of King Abdullah, an important ally and a major force in the Muslim world.
The White House also announced that Vice President Joe Biden would lead a U.S. delegation to Saudi Arabia in the coming days to pay respects to the king's family.
Obama, who visited with the ailing king in his desert compound last March, praised Abdullah for taking "bold steps" in advancing the Arab Peace Initiative. In a statement, Obama credited the 90-year-old king for being dedicated to the education of his people and for greater outreach to the international community.
"As a leader, he was always candid and had the courage of his convictions," Obama said. "One of those convictions was his steadfast and passionate belief in the importance of the U.S.-Saudi relationship as a force for stability and security in the Middle East and beyond."
Though allies, Abdullah and U.S. leaders had their differences. Abdullah pressed the Obama administration to be tougher on Iran and to show greater backing for the mainly Sunni rebels fighting to overthrow Syrian President Bashar Assad.
Obama said he "valued King Abdullah's perspective and appreciated our genuine and warm friendship."
Abdullah's death was announced Thursday by Saudi state TV. His successor was announced as 79-year-old half-brother, Prince Salman, according to a Royal Court statement carried on the Saudi Press Agency.
Secretary of State John Kerry, who was in London for a meeting of the coalition fighting Islamic State militants in Iraq and Syria, called Abdullah "a brave partner in fighting violent extremism who proved just as important as a proponent of peace."
Defense Secretary Chuck Hagel called the king "a powerful voice for tolerance, moderation and peace -- in the Islamic world and across the globe."
Former President George H.W. Bush praised Saudi Arabia's alliance with the U.S. after Iraq's invasion of Kuwait in 1990, an invasion that led to the first Gulf War. Calling Abdullah a "dear friend and partner," the first President Bush said he would "never forget the way Saudi Arabia and the United States stood together against a common foe -- marking a moment of unparalleled cooperation between two great nations."
Bush's son, former President George W. Bush, called the king "an important and able ally and a force for modernization in his country."
Republican leaders on Capitol Hill had high praise for the longtime Saudi monarch as well. Senate Armed Services Committee Chairman John McCain, R-Ariz., called Abdullah "an important voice for reform in Saudi Arabia. He pushed for the modernization of the education system, curbed the authority of the religious police and extended women the right to vote and run in municipal elections."
And Senate Foreign Relations Committee Chairman Bob Corker, R-Tenn., said, "King Abdullah was a strong ally of the United States and clear-eyed about many of the challenges the Saudi kingdom faces at home and abroad."