Obama: BP Will Pay for Gulf Damage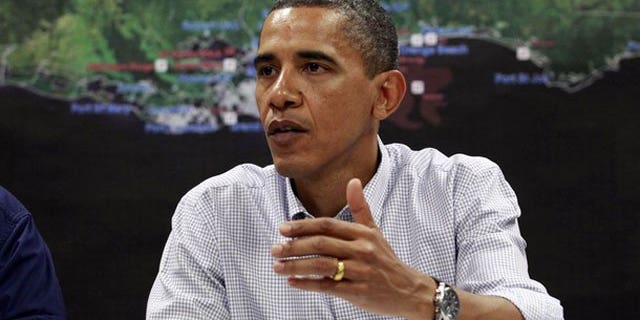 President Obama, hours before his first Oval Office address to the nation about the oil spill, said Tuesday that BP will pay for the economic as well as environmental disaster in the Gulf of Mexico.
"We're going to fight back with everything we got," Obama said of the government's response to the historic disaster, which he said includes "making sure BP pays for the damage it has caused."
After inspecting Gulf waters from the unsullied white sands of Pensacola Beach, Fla., on Tuesday, Obama said in a speech at the Pensacola Naval Air Station that the U.S. will confront the cleanup with "the greatest military in the world" and "an unprecedented federal response."
He also stressed that the April 20 explosion at the Deepwater Horizon rig caused an environmental and economic crisis that has crippled Gulf businesses from Alabama to Florida.
"This isn't just an environmental disaster. For many families, it's an economic disaster," he said, though he added that "folks still looking for a god vacation" can "come down to Pensacola."
The president's speech comes just hours before he is to address the nation in his first televised speech from the Oval Office.
White House Press Secretary Robert Gibbs said in an interview with Fox News that Obama's address will lay out a strategy for containing the oil that's leaking and "cleaning up the beaches and the environment."
Gibbs said Obama will outline steps to reduce U.S. dependence on foreign oil, including increased use of fuel-efficient cars and wind and solar technology.
"We have to continue to take those steps so that this president doesn't follow a long line of presidents that talk about breaking our dependence on foreign oil only to find that the amount of our dependence increases throughout their term," he told Fox News.
He also will lay out a framework "to make sure this type of accident never happens again" and explain "how we make the people of the Gulf whole again through the economic claims process," he added.
Gibbs had told CBS's "The Early Show" that the administration is ready to take over the handling of oil spill damage claims from BP if the British company doesn't set up an "independent entity" to do it. He noted that Obama "has the legal authority" to make the claims process independent and said "the best way to prevail upon BP is to take the claims process away from BP."
The news of the administration taking over the claims from BP comes as the company has been given permission to burn oil and gas. Authorities late yesterday gave the company approval to use a new technique, which involves pumping oil from the busted wellhead to a special ship on the surface. There, it will be burned off, rather than collected.
Gibbs also told Fox News that the president will no longer trust the word of BP in determining whether its deep-water oil drilling is safe in other parts of the Gulf of Mexico.
"I don't think the president wants to take BP's word for it that everything is OK," Gibbs said in an interview with Fox News. "I don't think we can risk going forward on taking a company's word for it anymore."
The U.S. government extended a moratorium on deep-water drilling in May by six months following an April 20 explosion at the Deepwater Horizon rig that killed 11 workers and unleashed millions of gallons of crude oil into the Gulf. BP currently has four other offshore oil drilling permits that were put on hold by Obama.
"We don't know what caused this accident," Gibbs said, adding, "I don't think the people of the Gulf, even those dependent upon those jobs, or the people of this country, believe that we ought to be letting BP go forward with the drilling process when we're still cleaning up the mess of the last time they tried to drill at a deep-water depth in the Gulf."
Meanwhile, the head of BP in America is telling Congress that despite the catastrophic oil spill, the U.S. cannot do without oil from the Gulf.
BP America chairman and president Lamar McKay told a House panel in prepared testimony Tuesday that America's economy, security and standard of living "significantly depend upon domestic oil and gas production." He said that companies have operated in the Gulf safely and reliably.
McKay warned that reducing energy production without consumption would shift jobs offshore -- and put millions of additional barrels onto tanker ships that travel across oceans.
Executives from other major oil companies also appeared before the House Energy and Commerce Committee Tuesday to defend their own drilling practices as Congress considers new government regulations.
Rex Tillerson, chief executive of Exxon Mobil Corp., told the panel that the Gulf oil spill wouldn't have happened if BP had properly designed its deep-water well, followed procedures, trained its employees and conducted adequate tests.
Still, some lawmakers, like Rep. Bart Stupak, D-Mich., said BP is only one of several companies poorly equipped to handle a major oil spill.
"It could be said that BP is the one bad apple in the bunch," Stupak said in prepared testimony obtained by FoxNews.com. "But unfortunately, they appear to have plenty of company. Exxon and the other oil companies are just as unprepared to respond to a major oil spill in the Gulf as BP."
The Associated Press contributed to this report.