Obama Appeals for 'Common Ground' After Democrats Lose House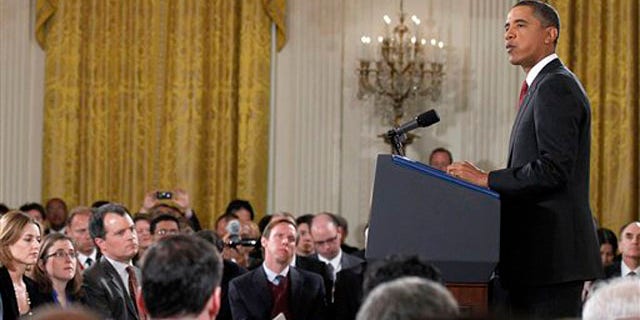 President Obama, reflecting on his party's historic losses in Congress, appealed Wednesday for both sides of the aisle to find "common ground" while continuing to stand by the policies that were used to hammer his party's candidates in the midterm election.
The president walked a tightrope as he sought to explain the results of the election as well as chart a new legislative path in a congressional landscape far more hostile to his agenda. Though his policies were used against Democrats in races across the country, Obama described his decisions to date as "tough" but "right." Yet he also said he must take "direct responsibility" for the frustration over the economy and pledged to do more to reach "consensus" with Republicans.
"No party has a monopoly on wisdom," the president said, as he faced tough questions from the White House press corps. "I want to engage both Democrats and Republicans. ... I do believe there is hope for civility. I do believe there's hope for progress."
Asked to describe how Tuesday night's losses felt after such a hard-fought campaign, Obama answered bluntly: "It feels bad."
The news conference in Washington gave Obama his first opportunity to explain what his approach will be to a split Congress, with Republicans decisively in charge of the House and cutting deep into the Democrats' majority in the Senate.
Pressed for specifics, Obama suggested he'd be open to joining Republicans in calling for a moratorium on earmarks and taking a second look at a controversial provision in the health care law that requires businesses to file 1099 tax forms for large purchases. He said, though, he wants to hear "affirmative" proposals from the GOP on how to fix the economy, claiming tax cuts alone will not do the trick.
Republican leaders, in a series of speeches since Tuesday night's victories, have called on Obama to move toward the center. Senate Republican Leader Mitch McConnell, calling the election a "referendum" on Obama's policies, pointedly said Wednesday that the Democrats can either "work with us" or face another "change" election in 2012.
House Republican Leader John Boehner, expected to succeed Nancy Pelosi as speaker of the House, said his party must "follow the will of the American people."
"The American people spoke, and I think this is pretty clear that the Obama-Pelosi agenda is being rejected by the American people," he said. "They want the president to change course."
Obama on Wednesday directly attributed GOP gains to frustration over the economy, declining to sign on to claims that it was a referendum on his decisions.
"Some election nights are more fun than others. Some are exhilarating. Some are humbling," Obama said. "Yesterday's vote confirmed what I've heard from folks all across America. People are frustrated, they're deeply frustrated with the pace of our economic recovery."
Republicans are projected to pick up about 65 seats in the House of Representatives, surpassing the gains they made in the 1994 election. They will not take the majority in the Senate but so far have snatched six seats away from Democrats.