Obama Administration Targets Top Dogs for Corporate Crimes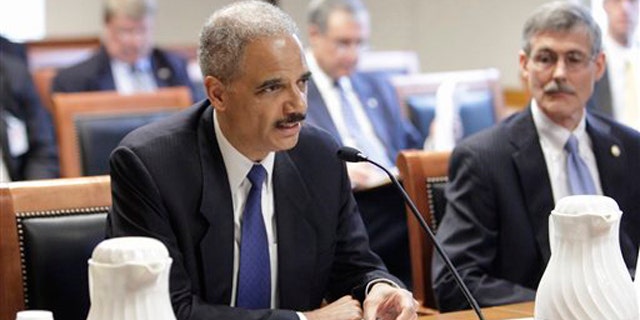 The Obama administration is getting personal.
Taking a cut-the-head-off-the-snake approach to law enforcement, federal officials are moving to punish individual executives and employers for the crimes of their companies. The approach so far has been used to deal with problems ranging from health care fraud to illegal immigration, and is being championed by several federal agencies.
Though in some cases employers are culpable for crimes committed at their companies, in many others they are being punished for transgressions they did not personally commit. The trend has startled some legal and advocacy groups which warn the administration is going too far.
The gray area is being explored most prominently in the health care field and among employers who hire illegal immigrants.
Since 2009, the Department of Homeland Security has moved to crack down on employers found to be hiring illegal immigrant workers. The move marked a shift from the latter years of the Bush administration, which raided businesses but mostly arrested the illegal immigrants themselves.
The Obama administration is relying largely on audits to determine which businesses to target.
According to Immigration and Customs Enforcement, 2010 was a record year for enforcement. Audits shot up from 503 in fiscal 2008 to nearly 2,200 in fiscal 2010. As a result, 196 employers were arrested and 119 were ultimately convicted on criminal charges. Fines also totaled $7 million in fiscal 2010.
ICE spokeswoman Gillian Christensen described the cases as "one component of a broader DHS strategy on immigration enforcement." She said the ultimate goal is to foster a "culture of voluntary compliance" with businesses.
"An effective, comprehensive work site enforcement strategy must address employers who knowingly hire illegal workers in order reduce the demand for illegal employment and protect employment opportunities for the nation's lawful workforce," Christensen said.
But Ira Mehlman, a spokesman with the Federation for American Immigration Reform, suggested the approach was not balanced.
"They need to go after both parties here," Mehlman said.
He said employers who break the law should be punished. "At the same time you have to recognize that the workers are violating our immigration laws, and they have to be held accountable for their actions. It doesn't have to be an either/or," he said.
Mehlman expressed concern that the employer enforcement was not as tough as the administration claims and that the illegal workers themselves are simply moving on to other U.S. businesses.
As for health care, federal investigators have opened the door to go after executives for alleged crimes within their company heirarchies.
In one prominent case, the health department's inspector general in April notified the CEO of Forest Laboratories that it was considering barring him from doing business with federal health programs. The reason? A subsidiary of his pharmaceutical firm had pleaded guilty to charges that it defied federal warnings not to distribute an unapproved drug and improperly promoted another drug to children.
But the company said CEO Howard Solomon had not been personally implicated in that case, and that the only rationale given by the IG was that he was "associated with" Forest. Company officials at the time called the threat "completely unwarranted" and suggested the inspector general's office was "beyond its legal authority." The company described the action as unprecedented.
Reached for comment, a company representative told FoxNews.com the firm would formally challenge the inspector general's potential action before a mid-June deadline.
In addition to that case, the Food and Drug Administration has also issued guidance explaining how it can target corporate executives for violations even if they did not personally commit those violations or know about them.
The FDA guidance triggered a flurry of alerts from law firms. And both developments prompted a complaint last fall from the Washington Legal Foundation, which suggested the administration's rationale might not hold up in court.
"WLF is especially concerned that increased criminal prosecution of company executives for promotional activities has the potential to adversely affect the nation's healthcare delivery system by labeling responsible corporate officials as criminals -- even if they never participated in, encouraged, or had knowledge of the alleged violations," wrote senior litigation counsel Cory Andrews.
The inspector general's office, though, insisted it was on solid footing. Spokesman Don White, without commenting on or confirming the Forest Laboratories case, said the authority to hold an executive accountable for a company violation derives from a particular provision of the Social Security Act. And he said there's precedent for the action.
"It's been used approximately 30 times over the last 10 years," White said.
In testimony before Congress this past March, inspector general Chief Counsel Lewis Morris said the provision was previously used to lock out individuals at smaller companies. The shift to target executives at big drug or device manufacturing companies is more recent. Morris pointed out that another executive at Ethex Corporation was barred last year from dealing with federal health care programs after the firm pleaded guilty to felony charges.
"We intend to use this essential fraud-fighting tool in a broader range of circumstances," Morris warned, while pledging to nevertheless use the authority "judiciously."