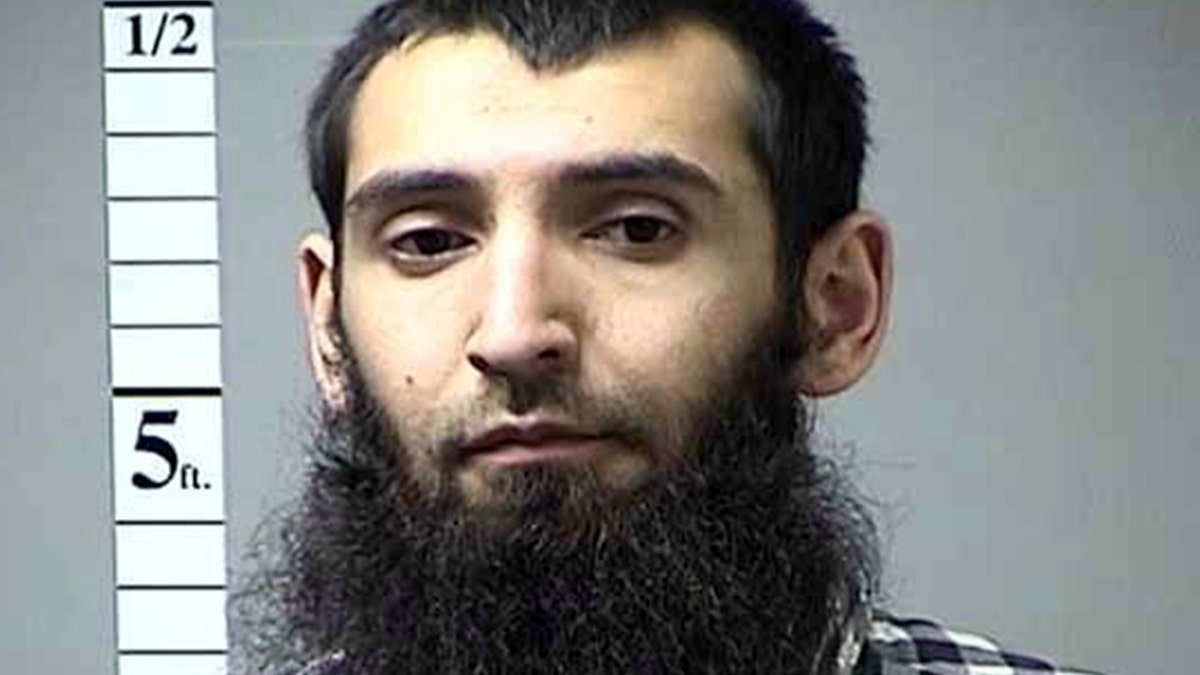 In a paradox worthy of a Russian novel, it may have been Sayfullo Saipov's good fortune that sent him spinning into a deadly trajectory as a terrorist on a lower Manhattan bike path.
Interviewed in the family home in Tashkent, Uzbekistan, Mr. Saipov's mother, Muqaddas Saipova, says her son, almost on a lark, entered a lottery to win a U.S. green card. At the time, the 22-year-old was a studious boy with a degree in accounting.
Unexpectedly, he won, and moved to the U.S. in 2010. By all accounts, he struggled to make his way in an unfamiliar land. It was on a visit last year to New Jersey when Ms. Saipova saw that her "mother's boy" had turned unhappy and tired.
"I saw with my own eyes how much he was working, how hard it was for him," Ms. Saipova said. Her son wanted to return to Uzbekistan and talked of saving money for the trip, she said. "He said, 'I'll save money, and we'll build a new house,' " she recalled.
Mr. Saipov, 29 years old, now sits in a federal detention center in New York. Police say he killed eight people and injured at least a dozen others on Tuesday by driving a rented truck down a crowded Manhattan bike path. On Wednesday, federal prosecutors charged him with terrorism and intentionally killing and harming people. They say he was inspired by watching Islamic State videos on his phone.
And on Thursday, Islamic State claimed responsibility for the attack, calling Mr. Saipov one of its "soldiers." Authorities have established no direct ties between Mr. Saipov and ISIS.
'Early stage'
In a news conference Friday, Deputy Commissioner of Intelligence and Counterterrorism John Miller said police are investigating how Mr. Saipov became radicalized.
"It's still in a very early stage," Mr. Miller said. "We have a lot of leads to go through, a lot of due diligence to do going backwards to friends, associates, phone records, internet contacts" to see if Mr. Saipov had any help in the attack, he said.
Mr. Miller said investigators interviewed neighbors who claim they saw two men with Mr. Saipov driving in a Home Depot rented truck in the days before the attack. He didn't specify whether those individuals were identified.
In at least one regard, Mr. Saipov appears to share a trait with some other terrorist suspects who struck on U.S. soil: He failed to achieve personal and career ambitions in the U.S. and became embittered, say those who know him.
Tamerlan Tsarnaev, the older of the two brothers who planted bombs at the Boston Marathon in 2013, had hoped to compete as a professional boxer before falling into extremism.
The New York-born Omar Mateen, son of Afghan immigrants, killed 49 people in the Pulse nightclub in 2016 and had hopped from job to job before radicalizing online, authorities said.
Ahmad Khan Rahimi, who was convicted last month in the 2016 bombing in Manhattan's Chelsea neighborhood, was also part of the "bridge generation," a term used by Muslim leaders for young people struggling with their identities to be both Muslim and American.
According to family members in Uzbekistan, Mr. Saipov had a happy and well-adjusted early life. His mother and father, Habibullo Saipov, ran a shop in the Bektepi bazaar, a local shopping center that sells building supplies. The family now lives in Uchtepa, a residential area not far from the center of Tashkent.
The family's home sits in a small courtyard, the gate flanked by tall rose bushes. In comparison with the Soviet-style high rises in the capital, the neighborhood is quiet and nearly bucolic, with a small mosque in the center.
Ms. Saipova said her son didn't drink or smoke, and "didn't have time" for the mosque as a young man.
He finished a professional college in 2005, and studied at the Tashkent Financial Institute from 2005 to 2009. Family members in Tashkent showed certificates that attested to his good performance in school.
It was a friend from the institute who persuaded Mr. Saipov to put in for a diversity green-card via a lottery.
"He didn't even know what a green card was," she said.
The U.S. Diversity Visa Lottery, known as a green-card lottery, awards 50,000 visas to foreigners around the world annually. The program was created in 1990 as part of a broader immigration bill, meant to broaden the pool of eligible immigrants beyond those who already had family members in the U.S.
Just over 4,000 people from Uzbekistan won the diversity lottery for 2010, one of the top countries in that budget year, according to State Department statistics.
"He didn't even know what a green card was."
Family members said the separation from Uzbekistan was difficult for the family, and his mother described an emotional send-off from Tashkent in 2010. "I didn't want to let him go," she said. "I'm still young," she recalls him answering.
Mr. Saipov arrived in the U.S. that year, briefly stayed in Cincinnati, and then spent about three years in the Cuyahoga Falls area outside Akron, Ohio. There, he married Tashkent native Nozima Odilova in 2013, according to a marriage-license certificate issued by the Summit County Court of Common Pleas.
As a long-haul truck driver, he was frequently in and out of the area, those in Cuyahoga Falls' Uzbek and wider Muslim community say. Many remember seeing him at prayers at the Islamic Society of Akron and Kent, just a mile away from his apartment in the quiet Water's Edge complex on Americana Drive.
The loner
When at prayers and sermons, he kept to himself. He never asked questions, the Islamic Society's leadership said, nor expressed any views that would hint at radicalization. Several Uzbek-Americans interviewed said they don't remember him having any close friends or being involved in community activities.
"He wasn't socially attached to the community, not even the Uzbek community," said Azam Haque, who volunteers at the Islamic Society.
No one in the Ohio community described him as particularly religious. His appearances at the mosque were sporadic and he was often late, even during the Ramadan months.
Despite his disconnection, he managed to make an impression.
"He wasn't socially attached to the community, not even the Uzbek community."
Bekzod Yusupov, who has lived in Cuyahoga Falls since he migrated from Uzbekistan in 2012, remembers when he saw Mr. Saipov arguing with another Uzbek man over the sale of a trailer in an incident in 2015.
He was just talking to this guy, also from our community, and he suddenly said 'I will beat you up right now,' " he recounted. "It was surprising—he was a truck driver, so we only saw him once or twice a month, but even then, still he managed to pick a fight with someone."
Mr. Yusupov, 40, said he kept his distance from then on, describing Mr. Saipov as a "guy with a temper." The incident stood out among the area's Uzbek community, he said, which is tightknit, with just 30 or so families.
Among them, Mirrakhmat Muminov, 38, who met Mr. Saipov in about 2012. Both men drove trucks for a living.
Mr. Muminov said Mr. Saipov owned his own truck and would make deliveries for other companies, a common practice in the industry. About a year ago, the Missouri Highway Patrol arrested Mr. Saipov after a warrant was issued following his failure to appear in court after a 2015 traffic citation, according to court records.
The arrest record indicates he was shipping for IIK Transport, based in Chicago, as recently as October 2016. The company couldn't be reached for comment.
Mr. Saipov had an abrasive personality and was difficult to work with, often yelling at his customers, Mr. Muminov said.
Mr. Saipov later moved to Florida. His truck engine blew up and he couldn't afford to repair it, according to Mr. Muminov. He moved to New Jersey after that, he said.
"Probably that's why he became depressed after he lost his job," said Mr. Muminov, who still lives in Cuyahoga Falls.
While in Florida, Mr. Saipov and his family landed in Hillsborough County, occupying one of the 110 units at Heritage at Tampa Apartments, a decades-old brick complex across the street from a drab strip mall and rundown transmission repair shop.
David Jaffray, an 85-year-old tenant who has lived at the Heritage apartments for around 30 years, recalled seeing Mr. Saipov on two occasions earlier this year walking around the complex.
"He was just non-threatening-looking," Mr. Jaffray said. "It just shows you never know who your neighbors are.…You're not safe anywhere."
Mr. Saipov's apartment was a mile away from the Islamic Society of Tampa Bay, and a less-than-five-minute drive to the Florida office of the Council on American-Islamic Relations. But Tampa-area Muslims, like those in Cuyahoga County, say Mr. Saipov wasn't particularly active in the local Islamic community.
"He's not a familiar face. Not a familiar name," said Hassan Shibly, 30, the executive director of CAIR Florida. "One of the first things that ISIS does is try to isolate those individuals from the local mosques and the community at large."
"One of the first things that ISIS does is try to isolate those individuals from the local mosques and the community at large."
It isn't entirely clear what drew Mr. Saipov to New Jersey a year ago, but after the family arrived in Paterson, a baby boy was born.
The family lived in a second-floor apartment in a residential section of the city, which is home to the nation's second-largest Muslim community. The town draws many Muslim immigrants who are seeking the support of others in finding work and making a life in the U.S., said Ramy Elhelw, 30, a member of the neighborhood Omar Mosque.
Neighbor Altana Dimitrovska, said she often saw Mr. Saipov's wife sitting on the steps in front of her apartment, while her two daughters played with a toy kitchen in the courtyard. Ms. Dimistrovska described the children as well behaved and the mother as a "quiet lady."
Another neighbor, a long-distance truck driver also from Tashkent, said that when Mr. Saipov arrived in Paterson he sought a job as a local truck driver but couldn't get one. Instead, he started driving for Uber.
A spokesperson for Uber says Mr. Saipov completed more than 1,400 trips in the six months he was a driver. That's neither an exceptionally large nor exceptionally small number.
Uber driver
There were no ratings or feedback on him to indicate he was a bad driver and passed their standard background check, the spokesperson said.
Workers at Valvoline Instant Oil Change in Clifton, N.J. remember Mr. Saipov coming in for oil changes since July.
His last service was Oct. 13. Jardae Figueroa, a senior technician there, said Mr. Saipov was friendly and chatted with him about football. "I saw the news and thought, that's crazy, I just serviced his car," he said.
One year ago Mr. Saipov first began formulating a plot for an attack, according to the FBI complaint. He settled on using a truck, which has become the preferred method for recent ISIS-inspired attacks against the West.
His mission ended Halloween afternoon on Manhattan's West Side Highway when he entered a bike path and pressed the gas pedal on his rented Home Depot truck, aiming for cyclists and pedestrians.
Zolan Kanno-Youngs, Shibani Mahtani, Lisa Schwartz, Jim Oberman, Greg Bensinger, Paul Berger, Leslie Brody and Quint Forgey contributed to this article.