NY Times columnist praises Trump for winning against ISIS, hits media for not giving credit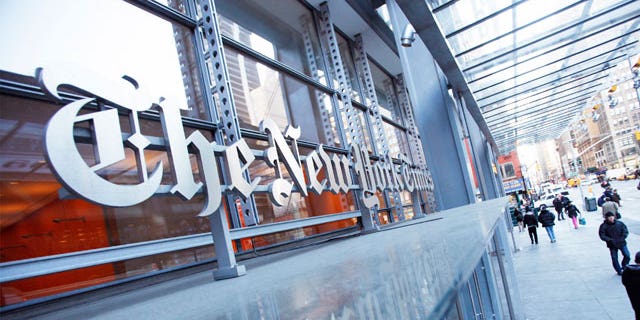 A conservative New York Times columnist on Sunday wrote a piece on President Trump's successful approach at taking on the Islamic State and how his strategy has gone unnoticed by the media.
Ross Douthat, who previously endorsed Hillary Clinton, wrote that the Trump administration surprised him in foreign policy, namely in the war on ISIS that Trump has won.
"If you had told me in late 2016 that almost a year into the Trump era the caliphate would be all-but-beaten without something far worse happening in the Middle East, I would have been surprised and gratified," Douthat wrote in an column titled "A War Trump Won."
Douthat wrote that Islamic State militants in Syria and Iraq – which he calls "the defining foreign policy calamity of Barack Obama's second term" – were effectively routed by Trump without the need of a massive ground troop invasion and without getting into a war with Russia or Syrian dictator Bashar al-Assad.
Douthat wrote that it is a "press failure" for succumbing to "the narrative of Trumpian disaster" and ignoring the story.
"But this is also a press failure, a case where the media is not adequately reporting an important success because it does not fit into the narrative of Trumpian disaster in which our journalistic entities are all invested," he wrote.
Earlier this month, Iraq declared its war against the Islamic State was over after more than three years of combat operations drove extremist fighters from all of the territories they once held.
Prime Minister Haider al-Abadi announced Iraqi forces were in full control of the country's border with Syria during remarks at a conference in Baghdad, and his spokesman said the development marked the end of the military fight against ISIS.
"Trump has avoided the temptation often afflicting Republican uber-hawks, in which we're supposed to fight all bad actors on 16 fronts at once. Instead he's slow-walked his hawkish instincts on Iran, tolerated Assad and avoided dialing up tensions with Russia," Douthat wrote.
Lastly, Douthat gives credit for Trump's decision to recognize Jerusalem as the capital of Israel – a move condemned by multiple countries across the globe – as recognizing that the Middle East has changed its priorities since the 1990s.
He wrote: "And the Trump strategy on Israel and the Palestinians, the butt of many Jared Kushner jokes, seems … not crazy?"
"The relatively mild reaction to recognizing Jerusalem as Israel's capital may be a case study in expert consensus falling behind the facts; the Arab world has different concerns than it did in 1995, and Trump's move has helped clarify that change."
Douthat ended the article: "So very provisionally, credit belongs where it's due — to our soldiers and diplomats, yes, but to our president as well."
The Associated Press contributed to this report