Nuke and economic warnings as Cameron makes final push to beat back Scottish independence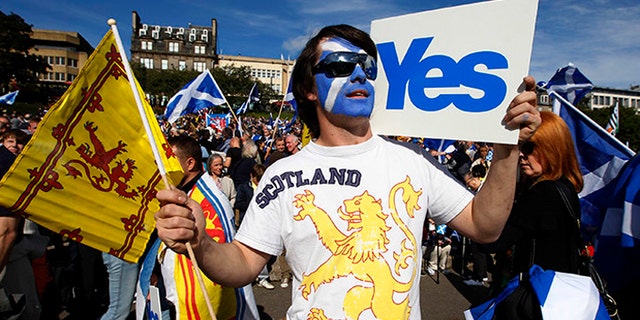 British Prime Minister David Cameron is in his final push to beat back Scotland's drive for independence, amid dire warnings that a breakup could bring the United Kingdom a nuclear and economic nightmare.
The vote on whether or not to become a nation fully independent from the rest of the United Kingdom began as a longshot promise from the Scottish National Party, which currently controls the Scottish Parliament. But in the weeks leading up to the vote, the "Yes" campaign has gained momentum and pulled even with the "Better Together" or "No" campaign.
"I desperately want our family of nations to stay together – and if you do too, please do everything you can to help save our great country," Cameron said in an e-mail sent to residents of England, Wales and Northern Ireland, urging them to press friends and family in Scotland to reject the independence vote.
Cameron has pleaded with Scottish voters not to secede, and predictions of economic doom, military upheaval and isolation have dogged the debate.
[pullquote]
Credit Suisse, Japan's Nomura and other banks warning of a deep recession for both Scotland and the rest of the U.K., and even the Royal Bank of Scotland, has pledged to move operations south of the border should Scots vote "yes."
There are also serious defense implications should Scotland vote for independence, not just for the United Kingdom but for the United States and NATO. Cameron recently told Parliament that a number of NATO members had raised concerns about the referendum and a NATO official told FoxNews.com that secession would mean Scotland is no longer part of NATO and would have to reapply.
Of similar concern is the cornerstone of the UK's national defense, a system capable of delivering nuclear weapons from ballistic missiles launched from four Trident submarines stationed along Scotland's west coast. The Scottish government's plan for independence, which includes an Independence Day of March 24, 2016, suggests that the nukes would no longer be welcome, saying "we will be able to remove Trident from Scotland's soil and stop paying toward the £100 billion lifetime cost of a new generation of nuclear weapons."
The move has shocked many British military analysts, with former British defense chief Sir Mark Stanhope telling SNP leader and Scottish First Minister Alex Salmond such a move would usher in "a dangerous period of destabilization in our nuclear defense posture at a time when the international picture is clearly deteriorating."
In August, the Royal United Services Institute released a report finding that relocating Trident to Falmouth, England, would cost $5.8 billion, could not be completed by the 2020 deadline set by the Scottish government and may be politically unfeasible.
That's the goal of one part of the "Yes" coalition, The Scottish Campaign for Nuclear Disarmament. Coordinator John Ainslie told FoxNews.com that forcing the United Kingdom to remove missiles from Scotland with no viable contingency plan could lead to the U.K. dropping the program altogether.
"A Yes vote will not just move Trident south of the border," Ainslie said. "It is likely to result in London deciding to scrap Trident."
Defense experts say a weakened United Kingdom makes for a weakened NATO, the 28-member alliance whose covenant requires any external threat against one to be answered by all.
In addition to the nuclear issue, the UK has a series of military and intelligence bases in Scotland, some or all of which may have to be moved. The task would be monumental, and a British Ministry of Defense spokesman told FoxNews.com that they have not yet started contingency planning.
A breakup could even have serious implications for President Obama, who at a joint press conference with David Cameron in June said the United States wanted the U.K. to remain a "strong, robust, united and effective partner." Should Britain destabilize following a "yes" vote, and undergo a recession and face a requirement to move nuclear weapons from Scotland, it could affect Britain's military effectiveness in the fight in the Middle East, say experts.
"Britain is one of our allies in this, and a confused [and] diminished Britain is perhaps not as good an ally as a confident Britain," Dana Allin, senior fellow for U.S. Foreign Policy and Transatlantic Affairs at the International Institute for Strategic Affairs, told Fox News.com.
Additionally for Obama, one of his strongest personal allies could be in trouble, as some members of Parliament have said Cameron will likely face a leadership challenge should he fail to keep the United Kingdom together.
In such a scenario, Cameron would have less political capital with which to persuade fellow politicians of deeper military involvement in the Middle East, and could also be distracted by domestic affairs at home to focus on backing Obama's plan in the Middle East. Yet, subtracting Scotland's 50-member, heavily Labor Party contingent from the UK Parliament could ensure Conservative Party dominance for years.
Herbert London, president of London Center for Policy Research and member of the Council on Foreign Relations, said that an independence vote's effect on NATO and the U.S. would be minimal.
"It's inconsequential," London told FoxNews.com. "We have seen the general emasculation of British military capabilities in recent years. It will not have any dramatic effect on NATO as their commitment is minimal to begin with."