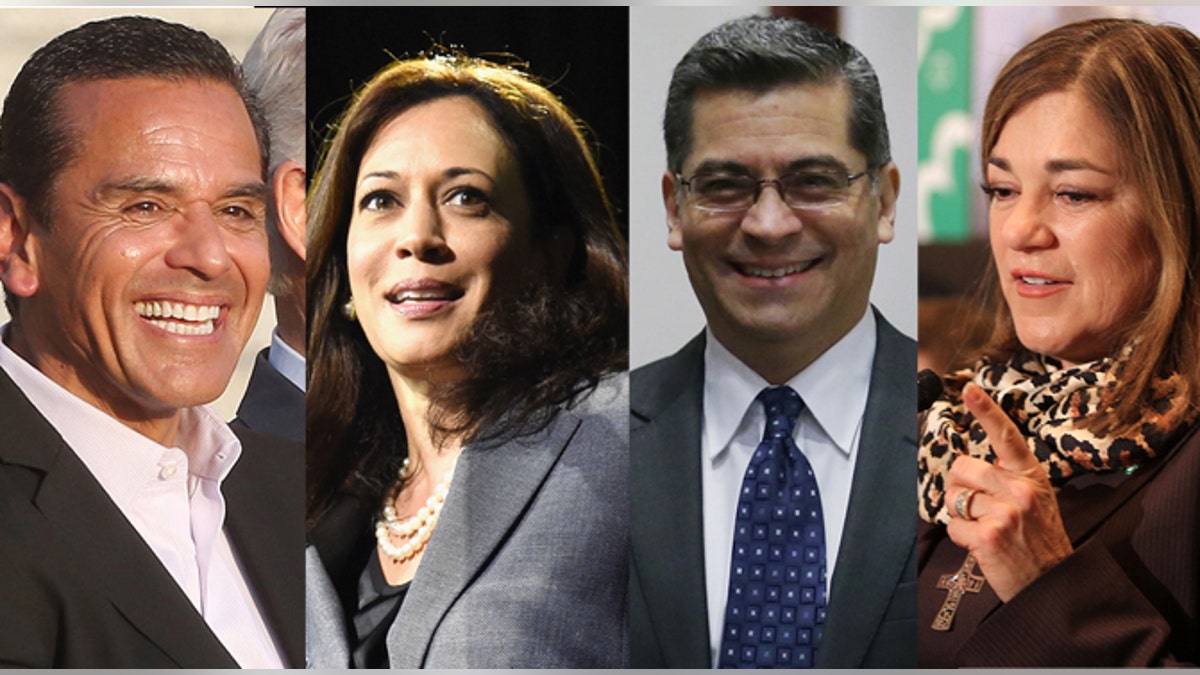 – The Democratic Party is facing mounting pressure from Latino activists and political insiders to back a Hispanic candidate for the first vacant U.S. senate seat in California in nearly 25 years.
If they don't, experts say, they risk alienating Latino voters nationwide.
Latino activists in the Golden State have grown concerned because they feel that Washington, D.C., Democratic leaders have appeared to anoint California Attorney General Kamala Harris to succeed retiring Sen. Barbara Boxer in 2016, and as a result Harris' candidacy has gotten early support and momentum.
Some insiders are concerned that Democrats may miss out on an important opportunity. More than one out of four U.S. Hispanics live in California, and they make up nearly 40 percent of the state's population – nevertheless there has never been a Latino U.S. Senator from the state.
"It's a transcendent moment where Latinos are going to have to say we are clearly a plurality of the population and it is our time to govern the state. There is going to be a gut check with every Latino state official, they are all going to have to take a look around the room and ask if they are ready to step up."
It's a far different California than it was in 1992, when Democrats Dianne Feinstein and Boxer became the state's first two female U.S. Senators. Their election wins that year served as a catalyst for what would become known as "The Year of the Woman" – never before had four women been elected to the U.S. Senate in a single election year.
More than two decades later, Boxer, 74, announced her retirement and there is discussion about whether it is the responsibility of Democratic leaders in California to ensure that 2016 sees a similar surge in Latino elected officials at the highest reaches of the federal government.
"If at least one of these two senate seats in California does not have a Latino sitting in it by the end of November 2018, it'll be a shame," said Roger Salazar, a political consultant who has worked for Democratic campaigns in California for years.
There are three Latinos in the U.S. Senate, Sen. Robert Menendez (D-New Jersey), Sen. Ted Cruz (R-Texas) and Sen. Marco Rubio (R-Florida) – none of whom are of Mexican descent, the largest Hispanic population in the country. All three are Cuban-American.
Mike Madrid, a Republican strategist who has worked in California politics and is an expert on Latino voting trends, believes the 2016 Senate race will shed light on a "frankly dangerous" problem, in which a state in which Latinos are the largest ethnic group is being run largely by non-Latinos.
Of the state's 10 statewide elected offices, only one is held by a Hispanic – Secretary of State Alex Padilla.
"You have a young, poor Latino population being ruled, governed and represented by an older, whiter, wealthier class," Madrid explained. "Something is wrong with our representative government, where those that represent us increasingly do not look like us. That is not a good recipe for a healthy society."
He blames the predicament on two things: poverty and "the San Francisco political machine."
Madrid points out that eight of the 10 current statewide elected officeholders come from northern California, and seven from the Bay Area, which is home to a voter base that is much wealthier, whiter, and more likely to cast a ballot.
The reality, Madrid said, is candidates from places like Los Angeles County, home to the largest Hispanic population in the state, stand a slim chance of winning statewide elections because of low voter turnout in the southern part of the state.
That may be directly tied to poverty, Madrid said. There are now 8.9 million people in poverty in California, a majority of whom are Latino. In fact, if California's poor people were their own state, it would be the eighth largest state in the country.
"There is a direct correlation between the explosion of poverty among Latinos, L.A. County and statewide, and the decline in voter participation and civic engagement," Madrid said. "The population base is in Los Angeles, in Southern California, and that voice is increasingly poorer, Latino and is getting shut out."
He believes it's important for a Latino to represent the community, explaining, "You can't talk about income in-equality, or the middle class, without talking about the success and failures of Latinos in California."
No 'anointment' here, Harris camp says
The Harris campaign says any notion that she has been anointed by the Democratic party is untrue. She just happens to be the only candidate who has officially declared that she's running.
"I would say she has never taken a race for granted, and takes nothing for granted, and she intends to campaign and earn every single vote," said Brian Brokaw, a spokesman for the her campaign.
Professor Louis Desipio, a professor of Chicano/Latino Studies at the University of California, Irvine, points out that Harris has to be considered a serious contender since she has won two statewide elections, in 2010 and 2014.
"It's a calendar equation," Desipio said. "I don't think six months from now there will be any sense of an anointment. It's too early to tell."
Those close to Harris, the first female and African-American Attorney General in California's history, also balk at the notion that a non-Latino cannot represent the Latino community or fight effectively for issues they care about.
"Look at the track record," said Brokaw. "A candidate, in our view, should be judged on that."
In a bulletin laying out Harris' record, the campaign listed eight examples as to how she has been a "strong, consistent supporter of California's Latino and immigrant communities."
Among the points it makes are that Harris has provided pro-bono lawyers for unaccompanied migrant minors, has defended President Obama's executive action on immigration and has been asked to be a messenger for the policy by the White House, while also working to pass the 'Homeowner Bill of Rights" that provides protection against discriminatory practices from mortgage lenders and banks.
Latino leaders need 'gut check'
As Harris' campaign builds momentum, Latinos have stepped up their effort to find a candidate in the community as formidable.
Currently, the favorites to throw their hat into the ring are former Los Angeles Mayor Antonio Villaraigosa, Rep. Xavier Becerra and Rep. Loretta Sanchez.
People close to Villaraigosa say he is seriously considering running, but isn't looking at this race through a Latino/non-Latino lens. One source told Fox News Latino, "That's not the prism he's looking at this through… The only opportunity that would be lost is if the issues from California aren't addressed by the next senator."
Rep. Becerra is expected to make a decision in the next few weeks, while Rep. Sanchez said she intends to mull it over for several months before announcing her decision.
In the meantime, Arturo Vargas, president of the National Association of Latino Elected Officials, or NALEO, said the Democrats needs to make sure they are fully supportive of Latino candidates in California in order to send a message to Latino supporters around the country.
"I think it would be very dangerous for the Democratic Party to ignore the role of Latinos in California as part of its base, and if the Democratic Party does not invest in Latino candidates, they should not assume it would always be a blue state," Vargas said.
Madrid agreed that the stakes this time around are larger than just one Senate seat.
"It's a transcendent moment where Latinos are going to have to say we are clearly a plurality of the population and it is our time to govern the state," he said. "There is going to be a gut check with every Latino state official, they are all going to have to take a look around the room and ask if they are ready to step up."