No choice: Tennessee law forces gov to honor Confederate general, KKK leader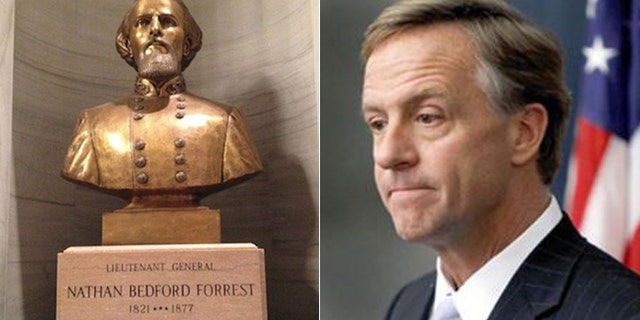 NEWYou can now listen to Fox News articles!
When it came time to honor a Confederate general and onetime Ku Klux Klan leader by proclaiming Monday "Nathan Bedford Forrest Day," Tennessee Gov. Bill Haslam didn't exactly volunteer.
Haslam is currently trying to get the rebel army leader's bust out of the state Capitol building in Nashville amid a widening national controversy over Confederate symbols and memorabilia. But Tennessee Code 15-2-101 designates July 13 as "Nathan Bedford Forrest Day," just one of several Confederate observances, including Jan. 19, which is "Robert E. Lee Day" and June 3, known in Tennessee as "Confederate Decoration Day."
"Forrest would not be my choice of one of the Tennesseans that we honor."
"Each year it is the duty of the governor of this state to proclaim the following as days of special observance," the first section of the code states.
The Republican governor said last month Tennessee has other, more worthy sons and daughters to laud.
"Forrest would not be my choice of one of the Tennesseans that we honor," he said, according to The Tennessean.
Haslam signed the proclamation on June 2, The Tennessean reported, 15 days before Dylann Roof allegedly walked into the Emanuel AME Church in South Carolina and shot dead nine parishioners in a racially-motivated killing, touching off a national debate on the appropriateness of displaying Confederate symbols and remembrances after photos surfaced showing Roof holding the rebel flag.
The proclamation identifies Forrest only as "a recognized military figure in America and a native Tennessean."
"Now, therefore, I Bill Haslam, Governor of the State of Tennessee, do hereby proclaim July 13, 2015, as Nathan Bedford Forrest Day in Tennessee and encourage all citizens to join me in this worthy observance," the document states.
The debate over Forrest, long revered by some Tennesseeans but now seen as an increasingly polarizing figure, hit a fever pitch earlier this month in Memphis, where the City Council unanimously approved a resolution last week to evict the remains of Forrest and his wife from Health Sciences Park, where they have been buried for 110 years. That decision prompted some to charge that people are overreacting in an attempt to cleanse the state of an important chapter in its history.
"This appears to me to be another knee jerk reaction to that anti-Confederate hysteria," Lee Millar, of Sons of Confederate Veterans, told LocalMemphis.com. "Some people here are trying to get on the bandwagon in erasing Confederate history and it's just wrong."
Actually moving Forrest's remains could prove as difficult as canceling the day that is dedicated to him. State lawmakers would need to enact legislation to change the law in order to stop future days honoring Forrest, according to The Tennessean.
Forrest, who built a fortune as a slave trader and planter before the Civil War, was a lieutenant general in the Confederate army. After the war, he became the Ku Klux Klan's first grand wizard, although he later disavowed the racist group.