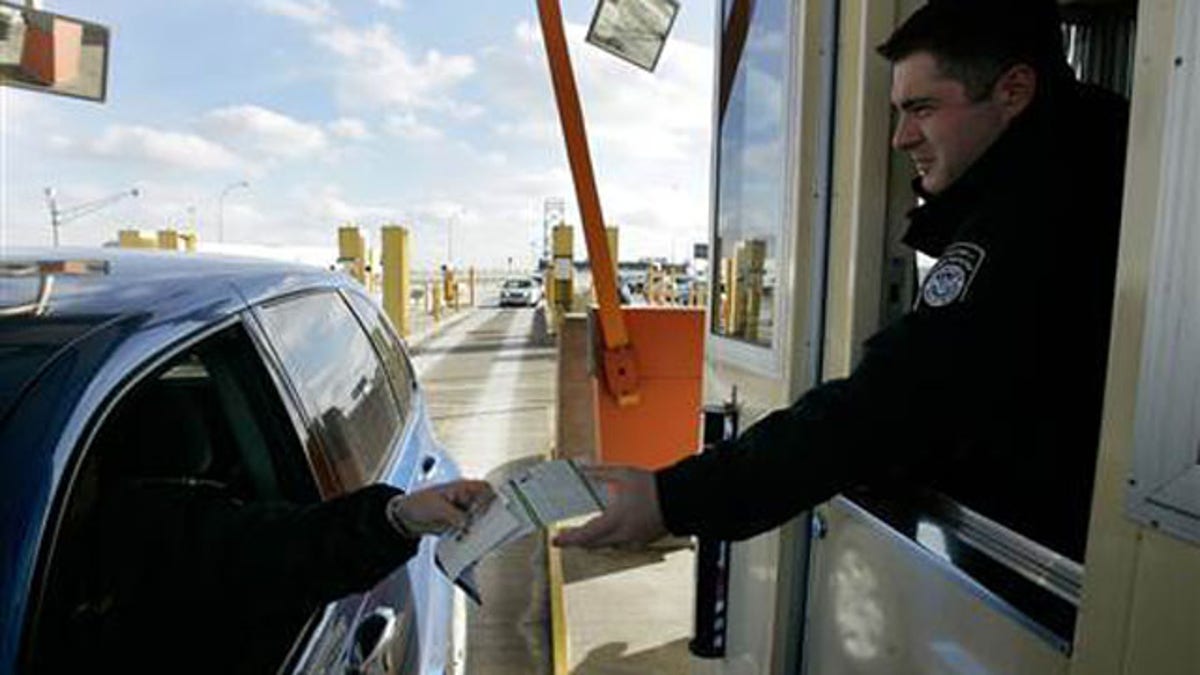 Canadians looking to visit the United States, arriving via air or sea, may soon pay more for the privilege.
A $5.50 border fee proposed for the 2012 budget would net millions for the American coffers, funding security measures.
However, many of our neighbors from the north are not thrilled with the move, including Canadian Prime Minister Stephen Harper who said in February: "I think in terms of the economic recovery, we want to make sure that trade and travel between our two countries is easier, not more difficult."
Citizens from Mexico and the Caribbean would also pay the fee that America's nearest neighbors have long been exempt from, Canada included.
The U.S. Department of Homeland Security is calling for the change, and analysts predict the increase in collections could bring in up to $110 million dollars.
In a statement released by Homeland Security, Assistant Press Secretary Adam Fetcher said: "The current exemption means that the fees collected from passengers entering from all other countries and appropriated tax dollars are subsidizing the inspections of passengers from Canada, Mexico and the Caribbean. Removing the exemption would bring fee parity for all air and sea passengers entering the United States.
We will continue to work closely with our partners in Mexico, Canada and the Caribbean to provide greater security and greater economic opportunity for all international travelers."
Canadian Foreign Affairs officials have blasted the fee. Lynn Meahan, press secretary for the Canadian Minister of Foreign Affairs Lawrence Cannon, released this strongly worded statement regarding the proposed fee: "Obviously, we think this is a bad idea. In this fragile economic recovery, now is not the time to be imposing new fees or taxes on Canadians.
"We need to work together to increase the flow of people to the benefit of both of our economies -- and that is why PM Harper and President Obama committed to work across a wide range of issues to achieve that goal."
At Boston's Logan Airport, Canadian travelers had mixed feelings on the issue.
Pat Connor, who lives just outside of Toronto, argued a little 'tit for tat' would be in order and lamented the wide array of fees travelers are already paying.
"Frankly, it's never ending. So, what? Because I'm a Canadian I gotta pay an extra $5.50 cents to come to your country? Is that going to stop me? No. We're Canadians. We queue, we line, we do everything. We're polite. Would the reciprocating amounts be charged to Americans coming to Canada? I would hope so," said Connor.
"In terms of most favored nation status and the whole thing with free trade and NAFTA -- I know it's products versus people but still... it's just another fee and another ding at my pocket."
Toronto resident Heinz Schaffner took a more resigned stance on the fee.
"There's already tons of airport fee taxes. I mean, hundreds of dollars for a ticket. Five dollars is really not that bad. You gotta pay for stuff somehow," said Schaffner.