New Mexico Governor Susana Martinez's Former Staffer Indicted In Email Scandal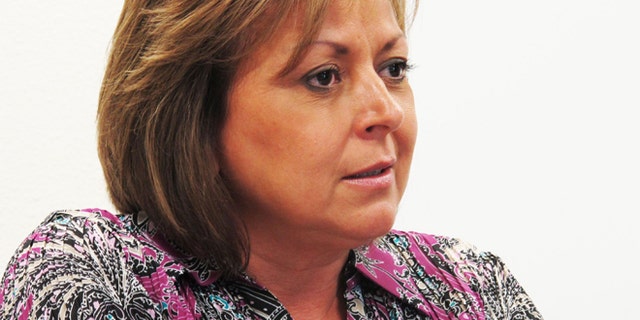 SANTA FE, N.M. – New Mexico Gov. Susana Martinez's former campaign manager was indicted Thursday on federal charges of hacking the campaign's email system and obtaining correspondence by the governor, her staff and supporters.
U.S. Attorney Kenneth Gonzales announced the indictments in Albuquerque against Jamie Estrada of Los Lunas, who briefly served as campaign manager in 2009 but was fired by Martinez as she was starting her bid for governor.
Estrada said in a statement that he broke no laws and disputed Martinez's assertions that he was fired.
"Individuals in whom the public has placed its trust have come after me in an attempt to divert attention from their own improper actions," Estrada said, pointing to allegations by the governor's critics of possible influence peddling in a state decision on a lease for a horse racing track and casino in Albuquerque.
Jay McCleskey, the governor's political adviser, said Estrada was fired "for numerous reasons, including improperly accessing Susana Martinez's personal emails in 2009."
The governor's office had asked last year for a federal investigation of possible hacking after a union-funded political action committee released several emails that showed the governor and top aides used private email addresses to discuss government business.
The disclosures led the GOP governor, who had touted her commitment to government transparency, to order state workers to end the practice of using nongovernment email accounts.
Martinez said in a statement that the indictment "vindicates what I have been saying for almost a full year — that the personal and political emails of dozens of people, including my own, were hijacked, stolen, and never received by the intended recipients."
Prosecutors alleged that Estrada used password and username information to change the computer account for the governor's 2010 campaign organization after Martinez took office as governor in 2011.
As a result, when Martinez and her aides sent electronic messages through the campaign email system, the emails were directed to a computer account controlled by Estrada, according to the indictment.
Email was leaked to Martinez critics such as the union-funded group, Independent Source PAC, which publicly released some of the correspondence and called for authorities to investigate the Martinez administration's handling of the racetrack lease deal in 2011.
The administration maintains there was no preferential treatment in awarding a 25-year lease that allows a horse racing track to build a larger casino at the state fairgrounds in Albuquerque.
"Even in the world of politics, issues should be the subject of tough and vigorous debates but there are clear lines that should not be crossed and committing federal felony crimes to invade the personal privacy of political opponents is one of them," Martinez said.
Estrada was indicted on a dozen counts of illegally intercepting electronic communication and two counts of making false statements to authorities during their investigation. Each charge is a felony with a maximum penalty of five years in prison and a $250,000 fine.
Estrada, in the statement issued through attorney Zachary Ives, said, "I have every faith that not only will I be found innocent, but also that this attack on me will result in exposure of the true wrongdoers, once and for all."
Estrada was a delegate to the Republican National Convention in 2012, and ran unsuccessfully in 2010 for the GOP nomination for a state utility regulatory agency. He worked in the U.S. Commerce Department from 2005 to 2009 during former President George W. Bush's administration.
In a statement announcing the indictment, Gonzales said that "it is of paramount importance that we protect electronic information from being diverted, stolen or otherwise misappropriated" when so much personal and professional information is sent through email.
The U.S. Attorney's Office said Estrada's arraignment has not been scheduled yet.
Independent Source PAC's executive director, Michael Corwin, has maintained the group received the emails from a source who assured him the messages were obtained legally.
Corwin later gave the emails to Democratic Attorney General Gary King, who released them to the news media in response to public records requests. Some of the emails showed music purchases by the governor and bank records of a Martinez staffer.
Based on reporting by The Associated Press.
Follow us on twitter.com/foxnewslatino
Like us at facebook.com/foxnewslatino