New Mexico Gov. Susana Martinez won't commit to voting for Trump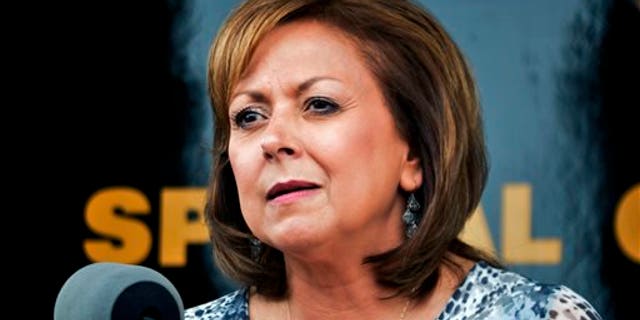 ALBUQUERQUE, N.M. – New Mexico Gov. Susana Martinez won't say if she will vote for Donald Trump if he is the Republican presidential nominee.
But the chair of the Republican Governors Association and the nation's only Latina governor said Tuesday she's "certainly not" voting for Democratic hopefuls Hillary Clinton or Bernie Sanders.
Speaking to reporters after signing a bill that stiffens state drunken driving laws, Martinez said around 70 percent of GOP delegates are still up for grabs and she still has time to make a decision.
"I'm certainly not going to vote for Hillary Clinton or Bernie Sanders. I'm just not going to do that," said Martinez, a Republican who won re-election in 2014 in the state with the highest percentage of Hispanics. "Even after today…there's still a lot of time."
Her remarks come following a recent Associated Press survey of GOP senators and governors across the country that showed just under half of respondents would not commit to backing Trump if he's the nominee.
Their reluctance foreshadowed a potentially split in the party this fall.
Republicans spent months largely letting Trump go unchallenged, wrongly assuming that his populist appeal with voters would fizzle. Now GOPO leaders are divided between those who pledge to fall in line behind him if he wins their party's nomination and others who insist they can never back him.
Martinez previously denounced Trump following comments he made about Mexican immigrants.
She also told The Associated Press she didn't know and didn't follow Sen. Ted Cruz of Texas after he announced he was running for president.
In November, Republican presidential candidate Sen. Marco Rubio of Florida floated Martinez's name as a possible running mate.
She has downplayed suggestions about a vice-presidential spot.
Martinez has been part of Republican Party efforts to recruit more minority candidates to run for office under the GOP. She also has been vocal about Republicans "toning down the rhetoric on immigration.