New Jersey Town Dis-Invites Ecuador's President after Residents Object to his Politics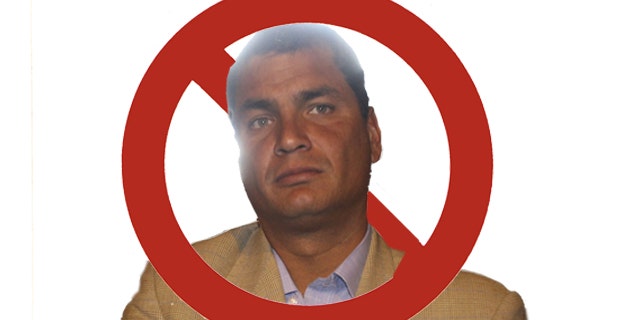 A New Jersey town is canceling a visit by Ecuadorean President Rafael Correa scheduled for Friday because of his alliances with leftist world leaders, its mayor says.
"It is evident that President Correa has associated with Fidel and Raul Castro of Cuba and Hugo Chavez of Venezuela," said Union City Mayor Brian Stack in a statement. "Even associating with such regimes sends a terrible message to the world and condones the many evils that have been imposed on the residents of those nations."
"For these reasons, I refuse to welcome President Correa to Union City."
The announcement by Stack comes a day after he met with Cuban exile leaders who were outraged after learning that Correa – who is in the New York/New Jersey region because of the United Nations General Assembly -- was going to be featured at an Ecuadorian event at Union City High School on Friday.
The Cuban exiles pressed for Correa to be dis-invited because of what they denounced as his oppressive government in Ecuador and his support for the Communist regime in Cuba as well as Venezuelan President Hugo Chavez.
"The mayor said he was going to cancel the event," said Sergio Gatria, an exile leader who was at the meeting, which was held at the headquarters of the Former Cuban Political Prisoners organization. "He said he had no idea that his was planned at the high school, and that as long as he's mayor, no dictator, or sympathizer of dictators and terrorists, would be welcome to Union City."
"Correa supports dictators, is an oppressive leader and hobnobs with [Iranian President] Mahmoud Ahmadinejad. This man is a sworn enemy of the United States. It is an affront to this community to roll out the red carpet for someone like that."
Efforts to reach Ecuadorian consulate officials in New Jersey and New York were unsuccessful.
Shortly after the Cuban communist revolution, Cuban refugees flocked to Union City and Miami. In Union City, as in Miami, Cuban exiles helped revive the local economy, going from holding odd jobs to eventually establishing businesses and turning Bergenline Avenue, a five-mile commercial thoroughfare that runs through Hudson County, into a major shopping hub.
They also made anti-Castro politics and Cuba part of the local political dialogue -- Cuba became as much of a topic in the campaigns of candidates seeking election as taxes and the quality of the schools.
The Cuban-American population has dropped sharply in Union City and its environs; many moved to the suburbs or retired to Florida. But their influence in business -- many still own shops on Bergenline Avenue -- and Hudson County politics remains strong. And in recent years, their political activities have attracted Venezuelan expatriates -- both groups have joined efforts to push for democracy in Cuba and Venezuela.
According to those at the Tuesday meeting, Stack said that Ecuadorian consulate officials were upset at the suggestion that Correa's visit would be cancelled, and indicated there might be a protest in front of Union City's City Hall.
"The mayor basically said they could bring it on," Gatria said. "He said this is a free country and they were free to picket if they got the permit to do so."
"If the consulate organizes a demonstration, we'll be there to counter-protest," Gatria said.
Several Cuban-American officials of Union City say they oppose Correa's visit.
"As a Cuban-American, I do not support his visiting here," said Alicia Morejon, who is vice president of the Union City Board of Education. "This is not about Ecuador, the people of Ecuador, or the Ecuadorian community here, it's opposition to President Correa and his links to leaders like Fidel Castro and Hugo Chavez."
Under Correa, Ecuador became part of the so-called Bolivarian Alliance for the Americas, which includes Venezuela, Bolivia and Cuba.
Emilio Del Valle, a Cuban-American community leader who attended the meeting with Stack and city commissioners, said members of Union City's growing Ecuadorian population also were involved in the discussion.
"They supported us," Del Valle said. "We don't understand how this visit even happened, how it even got approval, with all the Cubans who are in positions of leadership in Union City whose families experienced oppression in Cuba."
The U.S. government has watched Correa with concern in recent years.
His government has entered into several agreements with the Iranian government, and both nations have pledged closer ties in the future.
Correa refused to renew the lease on airbases that the United States used for anti-drug smuggling operations, and several years ago expelled two U.S. diplomats.
International press freedom groups assailed an Ecuadorian judge sentencing this year of three newspaper directors and a former columnist to three years in prison for libeling Correa in a column that questioned an army raid to rescue him from striking policemen.
The court also fined the four journalists a total of $30 million and levied an additional $10 million fine against El Universo, Ecuador's main opposition newspaper.
In a report on the Correa administration, the Committee to Protect Journalists said: "Rafael Correa's administration has led Ecuador into a new era of widespread repression...[Correa] brooks no dissent from the news media."
Follow Elizabeth Llorente on Twitter: @LlorenteLatino
Elizabeth.Llorente@FoxNewsLatino.com
Follow us on twitter.com/foxnewslatino
Like us at facebook.com/foxnewslatino