Navy nurse reportedly refuses to force-feed Guantanamo prisoners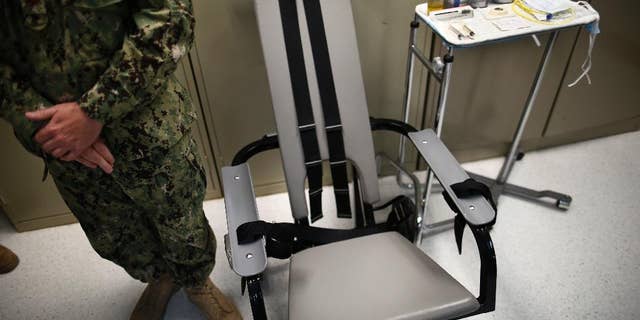 A Navy medical officer has reportedly been reassigned after refusing to force-feed Guantanamo Bay prisoners.
The Miami Herald reported Tuesday that the unnamed male nurse is believed to be the first known case of U.S. military rebellion against the prison's policy of force-feeding inmates who are on hunger strikes.
Prison spokesman Navy Capt. Tom Gresback told the Miami Herald that the officer's reassignment did not affect medical care at the camp.
"There was a recent instance of a medical provider not willing to carry out the enteral feeding of a detainee," he told the paper in an email. "The matter is in the hands of the individual's leadership."
The officer's actions were revealed by a hunger-striking Syrian prisoner, Abu Wael Dhiab, in a phone call to his lawyer Cori Crider last week. Dhiab is challenging his force-feeding in federal court, saying the U.S. military is abusive and comparing it to torture.
Crider told the Miami Herald that Dhiab said the nurse, who he described as Latino and around age 40, seemed to grow troubled about the practice over time.
"Initially, he did carry out his orders and participate in the tube feedings," Crider told the Miami Herald. "Once he saw with his own eyes that what he was told was contrary to what was actually taking place here, he decided he could not do it anymore."
Crider said Dhiab said the nurse announced one day that he had "come to the decision that I refuse to participate in this criminal act." Dhiab said the prisoners did not see the nurse after he refused to force-feed them.
Prisoners at Guantanamo have engaged in hunger strikes for years to protest their confinement. The military force-feeds prisoners a liquid nutrient mix through a nasal tube when doctors determine it is necessary.
Officials no longer disclose how many of the 154 prisoners at the base are on hunger strike and meet the guidelines for force-feeding.
Click for more from the Miami Herald.
The Associated Press contributed to this report