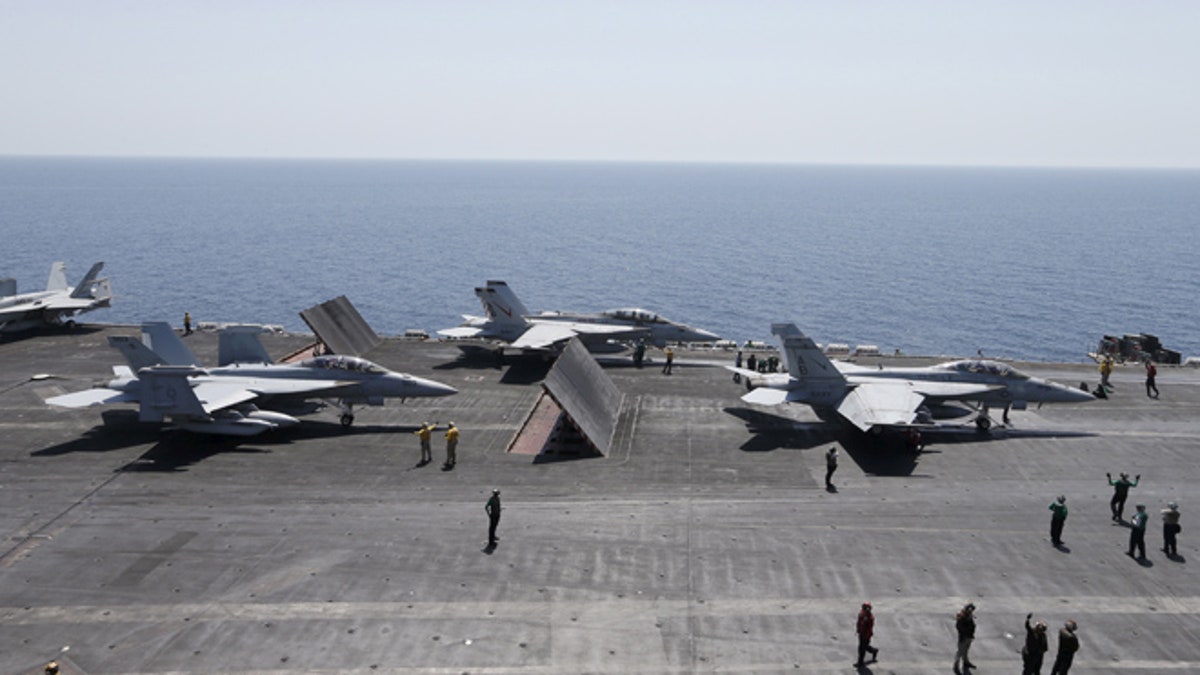 The U.S. Navy will not have an aircraft carrier in the Persian Gulf this fall for the first time in years, President Obama's nominee to be the Navy's top officer told Capitol Hill lawmakers Thursday.
The gap in the Gulf -- expected to last two months -- would come at a time when the U.S. is not only launching sustained airstrikes against nearby Islamic State targets but trying to keep a check on Iranian aggression in the region.
Under questioning by Sen. John McCain, R-Ariz., at his nomination hearing to be chief of naval operations, Adm. John Richardson acknowledged the Navy would pull the carrier and said this hurts U.S. capability in the region.
"Without that carrier, there will be a decrement in our capability there," Richardson said before the Senate Armed Services Committee. It would be the first time a U.S. aircraft carrier has not been in the Gulf since 2007.
Currently, the USS Theodore Roosevelt is stationed there. Fox News is told that when she departs the area sometime this fall, the U.S. military may rely on a French aircraft carrier until they can deploy another carrier.
"That [carrier] gap is a reflection of earlier strains on the force [and] long-term commitments," Richardson said Thursday.
The USS Theodore Roosevelt has been busy since arriving in the 5th Fleet, the Navy's command over the Persian Gulf and surrounding area in the Middle East. In addition to assisting 'round-the-clock sorties against ISIS in Iraq, the carrier pulled out of the Gulf in late April to trail an Iranian convoy suspected of smuggling weapons to Houthi rebels in Yemen.
The USS Theodore Roosevelt trailed the Iranian convoy for days, using aircraft to provide continuous coverage.
In late April, Iran also seized a Marshall Islands-flagged commercial vessel, prompting ships from the Roosevelt battle group to begin escorts while U.S.- and British-flagged ships transited the Strait of Hormuz.
The U.S. Navy says 10-month deployments, including the presence of two carriers in the Persian Gulf between 2011 and 2013, have contributed to the wear on the force, including the decommissioning of USS Enterprise which lowered the number of aircraft carriers in the U.S. Navy from 11 to 10.
Secretary of Defense Ash Carter could extend the USS Theodore Roosevelt to make up for some of the gap, according to defense officials.
U.S. Central Command has said they are confident they have the presence needed to take on ISIS and deal with threats in the region.
While there will be a temporary aircraft carrier gap in the Gulf, the Navy is planning to increase the global presence of carriers starting next year -- and expects to increase the number of deployed ships by over 20 percent over five years.