Nancy Pelosi wins support of House Dems who previously opposed her Speaker bid
Nancy Pelosi ran unopposed for the Democratic nomination for Speaker of the House this week – but she didn't have the full support of her party.
Ahead of her nomination, 16 Democrats circulated a letter calling for "new leadership" when Congress reconvenes in January with Democrats in the majority.
To get the gavel back, Pelosi, who was the first female Speaker, needs to win an "absolute majority" of votes cast on the House floor. If just 17 Democrats vote against Pelosi on the floor, she might not have the votes to secure the leadership post she previously held.
While no Democrat has launched a challenge to her, those opposed to Pelosi as Speaker have said new leaders could emerge in a floor fight.
"The battle is on the floor," California Rep. Linda Sanchez said. She was one of the lawmakers who signed the letter calling for new leadership.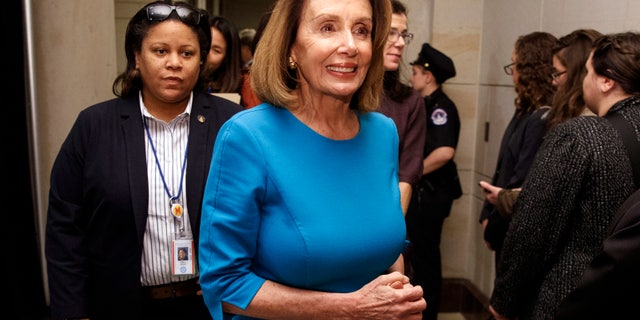 Pelosi, 78, was officially nominated as the Democrats' choice for Speaker on Nov. 28 with 203 Democrats voting for her and 32 against. And she's aware the support isn't unanimous.
"Are there dissenters? Yes," she said. "But I expect to have a powerful vote going forward."
Already, she's managed to reach deals with Democrats who previously said they would not vote for. Here's a look at those who have changed their minds.
Brian Higgins: New York Rep. Brian Higgins had signed the letter opposing Pelosi's bid for Speaker. But he reversed course after she promised to tackle a major infrastructure bill in the upcoming session of Congress and work with him on lowering the age of Medicare buy-in.
INSIDE NANCY PELOSI'S BATTLE FOR HOUSE SPEAKER: WHAT TO KNOW ABOUT THE VOTE AND POSITION
Higgins also acknowledged Democrats didn't "even have a semblance of an alternative at this point" to Pelosi.
Stephen Lynch: Massachusetts Rep. Stephen Lynch said he would vote for Pelosi if the only alternative is a Republican, he told WCVB-TV over the weekend. He later told The Hill, "Some details need to be cleared up, but I think that we're in a good place."
Marcia Fudge: Ohio Rep. Marcia Fudge was considering challenging Pelosi for the job, but she ultimately decided to back her California colleague. Pelosi promised Fudge could lead a revived elections subcommittee.
NANCY PELOSI'S POLITICAL POWER PUT TO TEST: WOULD-BE SPEAKER NAVIGATES STORM OF RESTLESS DEMS
Problem Solvers Caucus: The nine Democrats who are part of the Problem Solvers Caucus decided to back Pelosi after a deal was reached. They had been withholding their support as they pushed for rule changes to allow a more open legislative process.
"We have reached such an agreement with Leader Pelosi to help break the gridlock for the American people and will support her, so these rules and reforms can be adopted in January," the caucus said in a statement.
The Associated Press contributed to this report.