Inside Nancy Pelosi's battle for House Speaker: What to know about the vote and position
When Nancy Pelosi was elected Speaker of the U.S. House of Representatives in 2007, she became the first woman to ever serve in that role. And with Democrats regaining the majority in Congress after the midterm elections, she's one step closer to getting her old job back.
House Democrats officially nominated Pelosi, 78, to lead them in the new Congress on Nov. 28. She ran unopposed as the nominee despite unrest from those in her party clamoring for new leadership.
Pelosi's supporters argued her leadership and acumen as a skilled strategist and tireless fundraiser is needed to combat Republicans and President Trump. But her detractors said it's time for a change and a new generation of guidance.
It wouldn't be unusual for Pelosi to take back the role – plenty of past Speakers served in the position at various nonconsecutive points in their political careers.
Here's a look at what Pelosi needs to do to secure the job – and the opposition that has already mounted against her.
What is the role?
The Speaker is in charge of three types of duties – institutional, representative and party leader – according to the Office of the Clerk of the U.S. House.
Institutional: The Speaker acts as the presiding officer and administration head of the House.
Representative: The Speaker acts as an elected member of the House.
Party Leader: The Speaker acts as the leader of the majority party in the House.
The Speaker is tasked with nominating chairs and members for the Rules Committee and House Administration Committee. He or she also appoints speakers pro tempore and members for joint House and Senate conference committees.
The Speaker will also act as a liaison to the president and the Senate.
THE PERILS OF TAKING ON NANCY: LIBERAL ACTIVISTS THREATEN 'BACKLASH' TO DEMS WHO OPPOSE HER
Additionally, the House Speaker is in line after the vice president to succeed the president if necessary.
Didn't she do this before?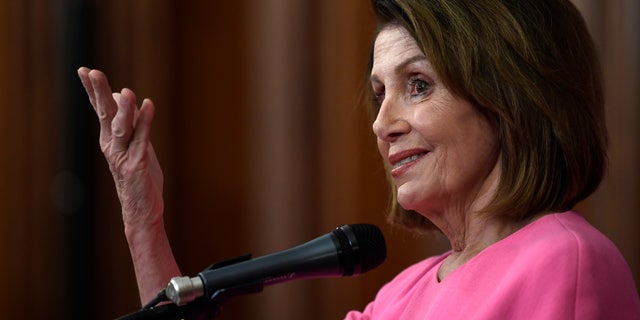 She did – and was the first woman to hold the position when she was elected in 2007.
Pelosi has served in Congress since 1987. She was the Speaker from 2007 to 2011. Currently, Pelosi is the House Minority Leader, a position she's held since 2011.
How many votes does she need?
Article 1, Section 2 of the Constitution gives Congress the ability to select their own Speaker. It does not, however, mandate that the Speaker has to be a member of Congress – although historically that has been the case.
When the new Congress convenes in January – with Democrats in the majority – members will hold a vote on the next Speaker. Each party will be able to nominate a candidate, and lawmakers will cast their votes by a roll call vote, the Office of the Clerk explains.
To get the gavel, Pelosi needs to win an "absolute majority" of votes cast on the House floor. She was officially nominated for the role by House Democrats on Nov. 28.
NANCY PELOSI LAYS OUT VISION FOR DEM-CONTROLLED HOUSE: 'IT'S ABOUT STOPPING THE GOP'
If just 17 Democrats vote against Pelosi on the floor, she would not have the votes – at least from her party – to secure the leadership post.
The roll call vote is repeated until someone receives a majority.
The longest election for Speaker lasted two months and took 133 ballots in 1856, according to the U.S. House archives. Then, Rep. Nathaniel P. Banks of Massachusetts emerged victoriously.
Who's opposing her?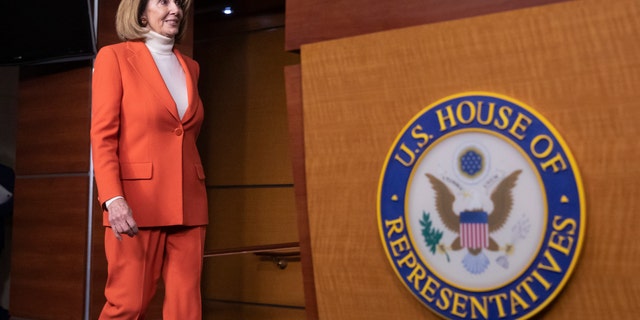 Pelosi faces opposition from several in her own party in her bid for Speaker. Earlier this week, 16 House Democrats circulated a letter calling for "new leadership" and promising to vote against her, although a couple lawmakers have seemingly walked back that pledge.
"We are thankful to Leader Pelosi for her years of service to our Country and to our Caucus. She is a historic figure whose leadership has been instrumental to some of our party's most important legislative achievements," the letter from both incumbent and newly elected Democrats read. "However, we also recognize that in this recent election, Democrats ran and won on a message of change."
Among those who signed onto the letter are Reps. Tim Ryan of Ohio, Seth Moulton of Massachusetts and Linda Sanchez of California. Multiple incoming lawmakers, including Reps.-elect Joe Cunningham of South Carolina and Ben McAdams of Utah, also signed the letter.
OCASIO-CORTEZ JOINS CLIMATE CHANGE PROTESTERS OUTSIDE PELOSI'S OFFICE DURING FIRST DAY ON CAPITOL HILL
Other freshmen Democrats have promised not to back Pelosi but did not sign the letter.
Ohio Rep. Marcia Fudge was considering a bid to challenge Pelosi for the job, but she ultimately decided to back her California colleague. Pelosi named Fudge the incoming chairman of a revived elections subcommittee. The panel will delve into voting rights issues that are a priority for Fudge and the new Democratic majority.
Has Trump weighed in?
Trump has tweeted multiple times his supposed support for Pelosi for Speaker.
"In all fairness, Nancy Pelosi deserves to be chosen Speaker of the House by the Democrats. If they give her a hard time, perhaps we will add some Republican votes," Trump said on Nov. 7. "She has earned this great honor!"
"I can get Nancy Pelosi as many votes as she wants in order for her to be Speaker of the House. She deserves this victory, she has earned it - but there are those in her party who are trying to take it away. She will win!" Trump said again on Nov. 17.
The president also told reporters: "I like her. Can you believe it? She's tough and she's smart, but she deserves to be Speaker."
Fox News' Brooke Singman and The Associated Press contributed to this report.