Murkowski Likely to Run in Alaska Senate Race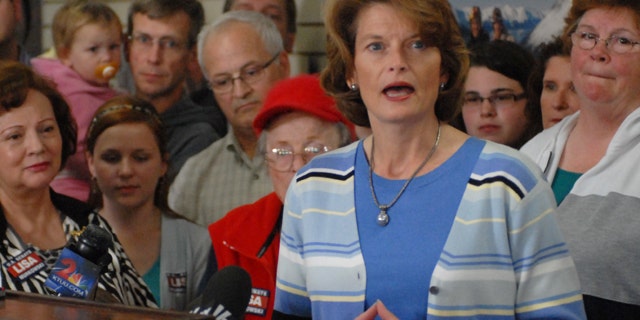 Alaska Sen. Lisa Murkowski is expected to mount an independent campaign for senator after losing her primary, much to the dismay of her Republican colleagues, who won't back her, according to a senior GOP leadership aide.
"The entire Republican leadership has endorsed and would continue to support Joe Miller," a the aide told Fox News on Wednesday.
Republican political action committees, including Minority Leader Mitch McConnell's Bluegrass PAC, have already begun giving to Miller, who won the nomination last week after waiting nearly two weeks for state election officials to count the absentee ballots that guaranteed the win.
A National Republican Senatorial Committee official made it clear that more money would be on the way to Miller, and suggested that Murkowski might be going through "the seven stages of grief."
"You know, first they concede ... then there are the rumors of a write-in candidacy ... then you get the acknowledgment that they're done," the official said.
But despite the primary loss and the isolation from fellow Republicans, the two-term senator is not deterred, and is expected to make an announcement in days about whether she will run, sources say.
Murkowski has $1.4 million in the bank to be able to spend on an independent bid, and she would be the only seasoned politician in the race. A write-in candidacy would still be an extreme long shot, but given her comments to the press that she is "not a quitter," speculation is growing that she's planning to run.
If she does run as an independent, Republicans could be a bit friendlier to Murkowski than they were to Florida Gov. Charlie Crist, who resigned from the party to run as an independent after it became clear he would lose the Republican U.S. Senate nomination to former Florida House Speaker Marco Rubio.
Given that Murkowski is a sitting senator and a member of the leadership team, Republican could decide not to request that she return all the money donated to her campaign by GOP members.
A senior official in Murkowski's camp told Fox News that he "fully expects" Murkowski to launch a write-in candidacy, though she is still open to a Libertarian Party ticket run. However, the official could not offer any timetable for an announcement, noting that she could still decide to retire.
"She's keeping her own counsel on this one. As far as I know, she's told no one," the aide said.
Another source also said he expects the senator to launch a write-in candidacy and could announce her plans on Friday. Others had expected Murkowski to make an announcement on Wednesday; instead she attended a funeral in Juneau.
Murkowski is not pressured as to the timing of an announcement. She has until next week to make a decision on whether to run on a Libertarian Party ticket, and could take much longer if she chooses to launch a write-in campaign.
Alaska's Libertarian Party candidate for the U.S. Senate, David Haase, met with Murkowski on Tuesday about the possibility he would give up his spot on the November ballot to her.
While the party's executive board voted unanimously last week to not allow her to run as a libertarian, party chairman Scott Kohlhaas said the group could reverse decision if Murkowski adopted some of the party's principles. He said he does not see that happening, however.
If Murkowski chooses not to run, she could call for unity behind Miller, who had said before his victory that he would certainly do the same for her. However, the two demonstrated bad blood during the absentee ballot count, and Murkowski declined to endorse Miller during her concession speech.
Fox News' Trish Turner and Dan Springer contributed to this report.