Mueller deputy praised DOJ official after she defied Trump travel ban order: 'I am so proud'
A top prosecutor who is now a deputy for Special Counsel Robert Mueller's Russia probe praised outgoing acting Attorney General Sally Yates after she was fired in January by President Trump for refusing to defend his controversial travel ban.
The email, obtained by Judicial Watch through a federal lawsuit, shows that on the night of Jan. 30, Andrew Weissmann wrote to Yates under the subject line, "I am so proud."
He continued, "And in awe. Thank you so much. All my deepest respects."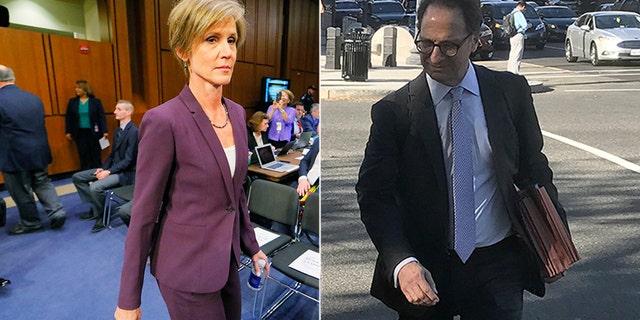 The disclosure follows confirmation that another Mueller investigator, FBI official Peter Strzok, was fired over the summer after allegedly sending anti-Trump texts to an FBI lawyer with whom he was romantically involved.
His alleged actions revived concerns about the objectivity of the FBI probes of both Hillary Clinton's email setup and Russia election meddling.
Judicial Watch President Tom Fitton called the new Weissmann document an "astonishing and disturbing find."
"Andrew Weisman, a key prosecutor on Robert Mueller's team, praised Obama DOJ holdover Sally Yates after she lawlessly thwarted President Trump," he said in a statement. "How much more evidence do we need that the Mueller operation has been irredeemably compromised by anti-Trump partisans?"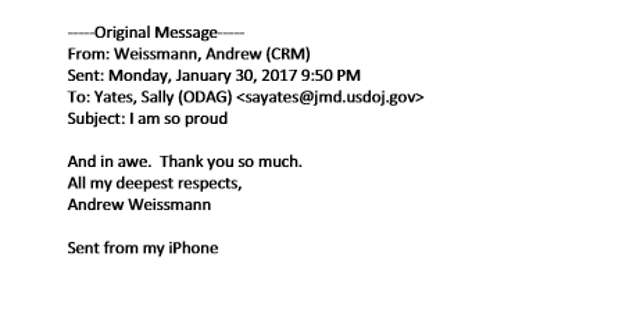 The Jan. 30 email was sent at 9:50 p.m. from Weissmann's government account, when he was still in the DOJ's criminal division and before he was assigned to Mueller's probe.
The email was sent shortly after Trump fired Yates for refusing to defend the first version of his ban on travel from certain majority-Muslim countries.
The president has seized on the reports about Strzok's anti-Trump views, drawing attention to his role in the Clinton email investigation and referring to him as "tainted" and "very dishonest."
Fox News confirmed that Strzok oversaw the FBI's interviews with former national security adviser Mike Flynn, who pleaded guilty last week to lying to federal investigators.
Strzok was also the person who softened former FBI Director James Comey's language about the Clinton email investigation, changing the phrase "grossly negligent" to "extremely careless."
Fox News' Jake Gibson contributed to this report.