Mounting arrests of foreign reporters by Venezuelan forces prompt CPJ complaint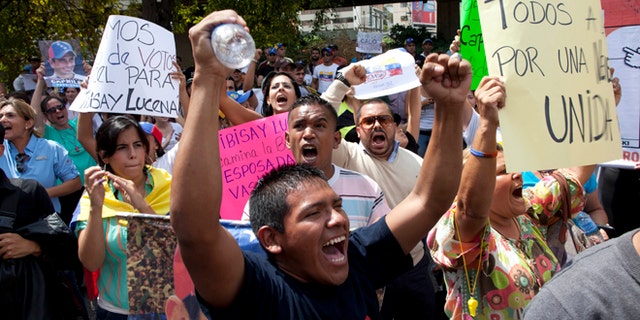 NEWYou can now listen to Fox News articles!
The Committee to Protect Journalists called the Venezuelan government's treatment of reporters covering the tensions there an international crisis.
CPJ said that journalists covering the increasingly tense demonstrations against President Nicolás Maduro are encountering violence and intimidation by Venezuelan security forces.
The organization singled out as an example the detention by Venezuelan security forces of Matt Gutman, a correspondent for ABC News, on October 24 as he attempted to report about poor conditions at a hospital in the city of Valencia.
He was released and sent back to the U.S. after three days of detention.
The hostilities have intensified as Maduro's government has found itself the target of a recall election.
"The deepening political crisis in Venezuela is an issue of national and international interest, and as such journalists should be able to cover the story with government protection, not with harassment and interference by the government or any other group," Carlos Lauría, CPJ's senior program coordinator for the Americas, in a publicly released statement.
"We urge local authorities to stop disrupting the work of the media and to ensure that all journalists can report freely, without fear of reprisal."
Also this week, four Peruvian correspondents who arrived in the country to cover a demonstration against the government were detained in Caracas' Maiquetia Airport.
They were held for more than 24 hours for allegedly lacking the right documentation and deported back to Peru.
The U.S. State Department indicated on its page about Venezuela that the government cannot always be trusted to cooperate in the case of U.S. citizens who are arrested or detained.
"Although Venezuela is a signatory to the Vienna Convention on Consular Relations, the Venezuelan government sometimes fails to notify the U.S. Embassy when U.S. citizens are arrested, and/or delays or denies consular access to arrestees," the State Department website warned.
Some correspondents faced assaults, such as a digital journalist who was attacked with a birdshot by riot police. He was taken to a clinic, where he was treated and released.
Civilians who support the socialist government also have descended on journalists, CPJ noted.
In Margarita Island, security forces beat and detained a radio reporter, Rosa Reyes, who had been interviewing protesters. Police also are said to have detained a Venezuelan news photographer, and forced him to erase pictures of protests.
Journalists from outside Venezuela also have been denied admission into the country, CPJ said, citing various news reports.
Venezuela has made it more difficult for foreign correspondents to get credentials to report in the county, requiring since 2012 that they get permission from the Communications Ministry to work in the country. But, CPJ notes, Venezuelan authorities often ignore their requests for credentials.
Then there is the case of an online and radio journalist, Braulio Jatar Alonso, who has been in prison since September. He was accused of money laundering after he covered a protest, CPJ said.
Like us on Facebook
Follow us on Twitter & Instagram