More missing emails, crashed hard drives, this time at EPA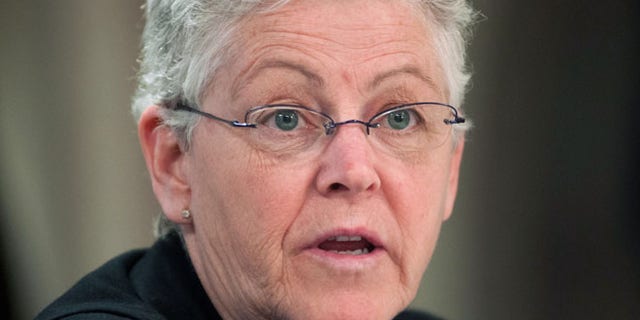 WASHINGTON – The Internal Revenue Service isn't the only government agency dealing with missing emails or faulty hard drives.
Environmental Protection Agency administrator Gina McCarthy on Wednesday cited a similar cyber snafu during a House Oversight Committee hearing.
"Another missing hard drive?" Rep. Mark Meadows, R-NC, asked McCarthy.
She responded, "We are having trouble acquiring the data."
Wednesday's hearing was called in response to allegations of rampant employee misconduct as well as a pattern of obstruction of oversight efforts by the committee.
Rep. Darrell Issa, R-Calif., threatened to hold the EPA in contempt of Congress over subpoenaed documents he claimed her agency was purposely withholding.
"You have not complied with the subpoena," Issa charged. "I'm informing you today that it is my intention to hold the Environmental Protection Agency in contempt."
The EPA is being accused of slow-walking several requests by the House committee to provide lawmakers with documents involving alleged employee misconduct on a number of thorny issues, including conflicts among the EPA, the Office of Inspector General and agency management as well as the EPA's action related to the veto of the controversial Pebble Mine project in Alaska.
Lawmakers at the hearing wanted McCarthy to address lost emails from a hard-drive crash at the agency that wiped out some emails from former employee Philip North to his bosses at the EPA over the controversial Alaska mine project.
Complicating matters, North has gone off the proverbial grid, making it difficult for lawmakers to issue a subpoena for him to testify.
Rep. Kerry Bentivolio, R-Mich., asked McCarthy if she knew where North was.
"No sir, I don't know that," she responded.
Bentivolio pressed McCarthy about claims North's hard drive crashed, making some of his emails unavailable.
McCarthy said the EPA has submitted all the documents it has been able to find and will "continue the search."
"There are some gaps, but we have submitted significant amounts," McCarthy said.
Emails from North, now retired, recently surfaced that seemed to show the Alaska-based biologist tried to get the Pebble Mine project killed as far back as 2008.
Those emails -- and memos indicating government officials worked early on with tribal leaders and environmental groups to oppose the venture -- raised questions about the agency's claims that when it ultimately vetoed the gold-and-copper mine project, it did so based on scientific evidence.
Emails from North's account show that he "appeared to have played a key role in the EPA's decision to pursue a veto," Caitlin Carroll, a spokeswoman for the House Oversight and Government Reform Committee, told FoxNews.com.
When he was still reachable, North was asked multiple times to come in and talk to lawmakers about the project. He offered up a list of complications that prevented him from meeting with the government, including a pre-planned, one-year boat ride around the world with his school-aged children.
North Carolina Rep. Mark Meadows asked McCarthy whether North had backed up his emails and suggested there might be a violation of federal record-keeping rules.
McCarthy said she notified the National Archives of the matter Tuesday, adding, "I am still hoping we recover all the emails."
The Internal Revenue Service has been at the center of a controversy over allegations that it unfairly targeted conservative groups applying for tax-exempt status. On Tuesday, the nation's top archivist told Congress that the agency did not follow the law when it failed to report the loss of records belonging to former IRS official Lois Lerner.
In June 2011, Lerner's computer crashed, taking with it records that were sought in the investigation. The IRS said it tried to recover the lost data but ultimately could not.
Separately, the EPA is under pressure to discuss and provide documentation on John Beale – the former EPA official who fooled his bosses into believing he worked for the CIA. Beale was accused of being deeply involved in crafting costly environmental standards that still are having an impact today -- though he came into the job with little, if any, environmental experience.
Issa issued a subpoena in November for documents over a five-year period as part of an inquiry into whether the White House meddled with how the agency responded to congressional requests.
Issa said his requests had been ignored and told McCarthy he will start the process of holding the agency in contempt if the documents are not provided. The White House has the option to declare executive privilege though they have yet to do so.
McCarthy told the committee that her staff was still working to provide the information it requested but did add there was an ongoing criminal investigation against Beale.
She also said that her staff shared documents with the committee in private that show the White House did not interfere with the agency.
"You know we've worked hard to recognize the interests of this committee in ensuring that there is no White House interference in the work between us and delivering documents that you required," she said.
"We have provided an accommodation which we have actually shared with your staff this morning, and we're working to make sure that that matches your needs so that we can avoid the institutional problems with the requests that you made, and hopefully move on to continue our work together," McCarthy added.
Fox News' Chad Pergram and The Associated Press contributed to this report.