More Incumbents Face Judgment Day Tuesday in Multiple Primaries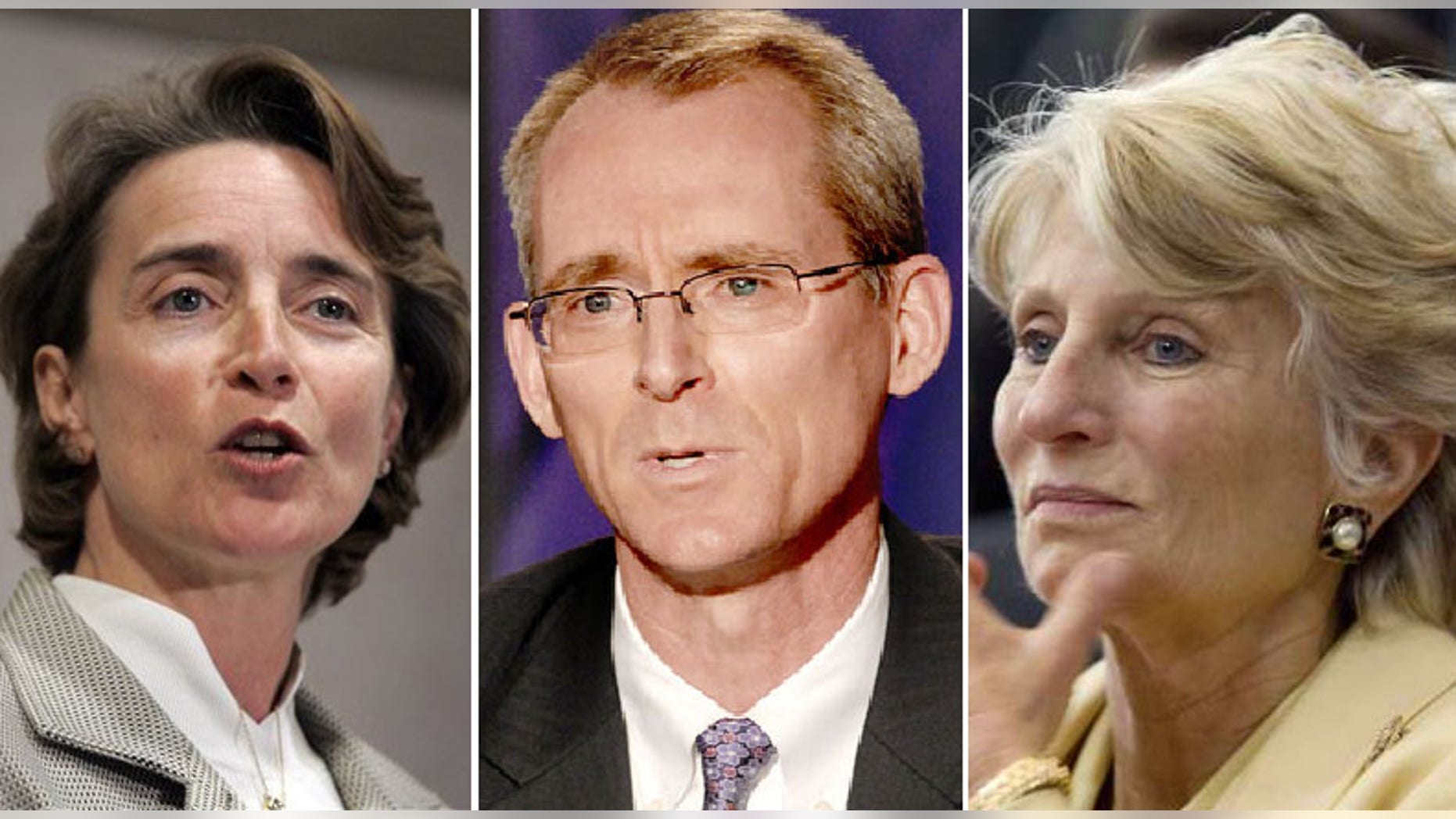 After several incumbents were ousted this year by angry voters frustrated with Washington, more lawmakers could be in for a rude awakening when 11 states hold primaries Tuesday.
Incumbents on both sides are facing questions about whether their politics are compatible with the base of their parties. At least a few incumbents are sweating it out, hoping voters won't send them packing.
In most cases, incumbents don't have too much to fear. In several races, they run unopposed from within their own party. But a few find themselves facing the prospect of an intra-party ouster. The following are races next week in which incumbents are facing the testiest challenges.
Arkansas: Democratic Sen. Blanche Lincoln is fighting to keep her job in a runoff election with Lt. Gov. Bill Halter after failing to secure 50 percent in last month's primary.
Lincoln is trying to convince Arkansas voters that she heard their frustration with Washington when they sent her into a runoff for the nomination. The winner will face Republican Rep. John Boozman
Lincoln campaigned with former President Bill Clinton last week and is airing a new radio ad featuring him. One of Halter's new ads featured people holding signs with slogans such as "No more flip flops," "Stand up to Wall Street" and "Change Washington."
"The only way to change Washington is to change who we send there," Halter says in the ad.
The race has become one of the most expensive and heated in the state's history, with Lincoln and Halter reporting last week that they've spent more than $10 million combined.
California: Democratic Rep. Jane Harman isn't just facing a longtime liberal activist in Marcy Winograd for the nomination in a rematch of their 2006 battle. She's also fending off a liberal movement bent on firing an incumbent it believes is too moderate.
Democracy for America, a grassroots organization founded by Howard Dean, the former Democratic National Committee chairman, is backing Winograd, a high school teacher.
Harman, a congresswoman since 1993, has been a longtime target for liberals because of her support for several of former President George W. Bush's national security initiatives, including the Iraq war.
The group isn't sure that Winograd can win against an established name brand but they are hoping that the challenge will at least hold Harman accountable to the party's left wing.
Montana: Republican Rep. Dennis Rehberg, who represents the state's sole U.S. House seat, is facing his first primary challenge since being elected in 2000. Rehberg has landed in trouble over his vote to transfer some stimulus money to extend the "cash for clunkers" program that offered consumers tax credits for trading in gas-guzzling vehicles for those with better mileage.
Two new Republican newcomers say Montana needs a fresh face in the House. A.J. Otjen, a business professor and former marketing executive, and Mark French, a clinical laboratory scientist, are challenging Rehberg. French describes himself as the true conservative. Otjen says she has the experience to tame wild deficits compared with a Congress that has failed to do it in the past 10 years.
South Carolina: Republican Rep. Bob Inglis, who has cruised to re-election in the past, is now fighting for his political life against four challengers after calling on angry voters to restrain themselves.
According to The Wall Street Journal, he told Tea Party activists last summer to "turn Glen Beck off," told critics of South Carolina Gov. Mark Sanford philandering to "lost the stinking rot of self-righteouness," and called on fellow South Carolina Republican Rep. Joe Wilson to apologize for yelling, "You lie!" to President Obama while he was addressing a joint session of Congress.
Inglis has said he doesn't expect to reach the 50 percent needed Tuesday to secure his party's nomination and expects to face Trey Gowdy, a local prosecutor, who has already drawn more money in individual contributions than Inglis. He's also facing Christina Jeffrey, Jim Lee and David Thomas, all of whom have said Inglis is no longer conservative enough in one of the most conservative districts in the country.
Inglis has irked House Republican leaders with his moderation, including opposing Bush's troop surge in Iraq and supporting the $700 billion bank bailout. But Inglis defends his conservatism, pointing to his opposition to President Obama's stimulus package, auto-industry bailout and health care overhaul.
New Jersey: Republican Rep. Leonard Lance is facing not just one or two but three candidates Tuesday who claim support from the Tea Party movement. David Larsen, Bruce Bake and Alonzo Hosford are questioning Lance's conservative credentials.
Although Lance has repeatedly been called by the pejorative "Republican In Name Only" or RINO, he has defended his conservative credentials by highlighting his votes against the stimulus package, the health care overhaul bill and the federal debt ceiling hike. But he's under fire for his votes for climate change legislation and expanding the health care program for poor children.
Lance may benefit from the infighting among the Tea Party candidates who are urging each other to drop out.