Mitt Romney's presidential campaign staffer accused of making ex-fiancée his sex slave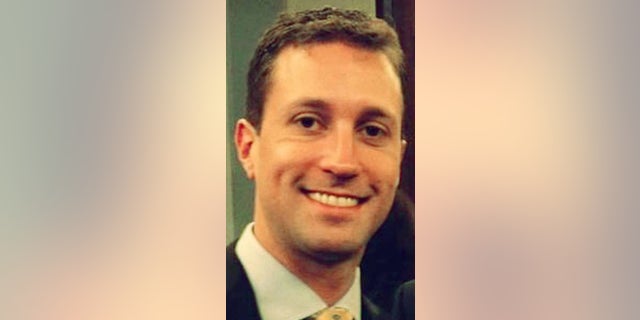 NEWYou can now listen to Fox News articles!
A prominent Republican campaign adviser's former fiancée claimed he made her his sex slave, demanding she be nude at all times and wear a collar.
The woman, 46, who asked to remain anonymous, told the Las Vegas Review-Journal that her former flame, Benjamin Sparks, 36, a Las Vegas political adviser, declared her his "slave and property."
The woman said she started dating Sparks on November 2, 2017 and was asked to sign a "sex slave contract" the next day. The two moved in together shortly after that.
She told the paper the contract required her to "kneel and look down when she entered his [Sparks'] presence, be nude at all times, have sexual relations with him whenever he wanted and wear a collar in private."
"He was very demanding and did not take no for an answer," the woman said. "Over the last month it escalated into very rough sex where he'd actually hurt me. He back-handed me… and forced himself on me."
ANOTHER CALIFORNIA CITY BACKS TRUMP ADMINISTRATION'S LAWSUIT AGAINST STATE'S 'SANCTUARY' LAWS
The paper obtained text messages between Sparks and the woman that showed the adviser demanded she "be bound and blindfolded and have sex with other men in front of him." The woman claims the request was the "breaking point" in their relationship.
The couple had a fight on March 28 and Sparks left. The couple decided to meet in a Boulder City parking lot to discuss the fight. They went back to their home in separate cars. The woman told the paper she suspected Sparks was under the influence of drugs and would not let her leave when she attempted to.
The woman said Sparks called police and claimed she was trying to kill herself and battered him. She denied the claims.
When police arrived at their Las Vegas home, Sparks had left and the woman was found with a broken fingernail and bruise on her hand. The woman did not appear to be under the influence of drugs or alcohol, the police report stated.
The report stated the woman "refused to complete a voluntary statement for police and that she did not attempt to call police despite having access to her phone."
TRUMP PRAISES MEXICO FOR STOPPING CARAVAN, AVOIDING 'GIANT SCENE' AT BORDER
Sparks' ex said she decided to speak out in the wake of the #MeToo movement and to reveal the truth about the adviser.
"I truly don't want this to happen to another girl," she said. "I'm strong and have a great support system and despite that, this almost broke me."
Sparks' current whereabouts are unknown.
Sparks has worked for a number of political campaigns including Mitt Romney's 2012 presidential campaign and for Wisconsin Gov. Scott Walker's anti-recall campaign. He was most recently employed with Cresent Hardy's House campaign.
He was fired from RedRock Strategies, where he served as a political director, after police said they were investigating the incident at Sparks' home on March 29. He was also fired by Hardy's campaign as well.