Minnesota Lt. Gov. Smith named to fill Franken Senate seat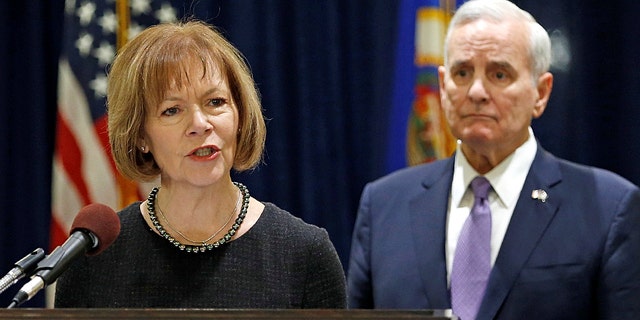 NEWYou can now listen to Fox News articles!
Minnesota Lt. Gov. Tina Smith was appointed Wednesday to temporarily fill the Senate seat of Democratic Sen. Al Franken, who resigned amid allegations of sexual misconduct and pressure within his party to leave office.
"It will be my great honor to serve Minnesota as United States senator," Smith said in accepting the appointment. "I am resolved to do everything I can to move Minnesota forward. … This is a difficult moment for us. But even now, I am filled with optimism for Minnesota."
Smith, a Democrat, was appointed by Democratic Gov. Mark Dayton and will serve until a special election next year to complete Franken's term, ending in 2020.
"I want to appoint the person whom I believe will best represent the people of Minnesota in the Senate," Dayton said in making the announcement. "She has impeccable integrity and the highest personal and professional standards. She will be a senator of whom all Minnesotans will be proud."
Dayton was under pressure from Washington Democrats to appoint a replacement who would run in 2018. And Smith said Tuesday that she indeed would run next year to keep the seat.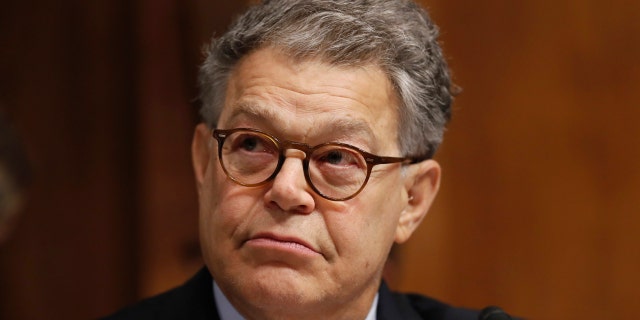 The 59-year-old Smith is a former General Mills executive who in the 1990s started her own marketing and political consulting firm. She eventually managed Walter Mondale's unsuccessful 2002 Senate run and the failed 1998 bid for governor of Mondale's son, Ted.
She also served in the early 2000s as a vice president of external affairs for Planned Parenthood Minnesota, North Dakota and South Dakota. Smith later served as chief of staff to Minneapolis Mayor R.T. Rybak before taking the same job with Dayton.
The special election for Franken's seat is expected to be an expensive race and a hotly contested race for a swing seat.
Republicans have already floated the possibility that former two-term Gov. Tim Pawlenty will run, giving them a widely known candidate who can raise plenty of money.
In a sign of Pawlenty's potential political strength, a top Democratic-allied interest group, Alliance for a Better Minnesota, last month paid for a poll attacking him at a time when he was said to be considering a run for governor.
Franken has not said exactly when he will leave the Senate; he announced last week he will resign after another allegation and calls from several female Democratic senators for him to step down.
Some Democrats questioned why he was forced out without a full investigation.
Zephyr Teachout, a Democrat who ran for governor of New York, said in an op-ed in the New York Times that she was left with a sense of that "something went wrong" when Franken announced he was stepping down.
"Zero tolerance (of sexual misconduct) should go hand in hand with two other things: due process and proportionality," Teachout wrote. "Both were missing in the hasty call for Senator Franken's resignation."
Numerous women accused Franken of groping and kissing them without their consent, before he eventually announced his resignation.
Franken, in his resignation speech, said he was "aware that there is some irony in the fact that I am leaving" while President Trump remains in office amid past sexual misconduct allegations being brought up against him.
The Associated Press contributed to this report.