Mickey Mouse Surrenders to Navy SEALs in Trademark Battle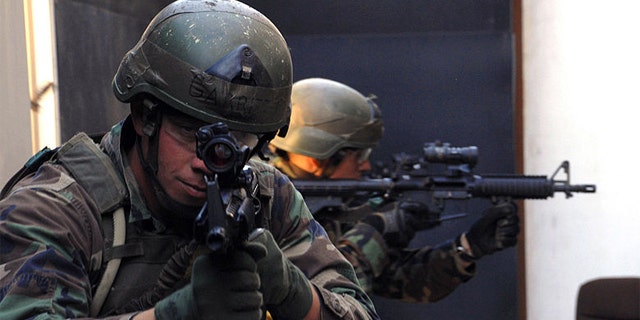 Well, that was quick: Mickey Mouse has waved the white flag and surrendered to the real SEAL Team 6.
Disney is withdrawing its applications to trademark the name of the elite Navy squad responsible for killing Usama bin Laden, the Navy said on Wednesday.
"The Navy is committed to fully protecting our trademark rights as it pertains to this matter and will continue to examine all our legal options," Navy spokeswoman Amanda Greenberg told FoxNews.com, adding that the military continues to broaden Navy's existing portfolio.
Disney did not return numerous requests for comment.
A spokesman for the U.S. Patent & Trademark Office also did not return calls and email requests for comment.
Earlier on Wednesday, FoxNews.com reported that U.S. Navy had countered Disney's trademark applications with filings of its own.
Two days after the not-so-secret-anymore elite unit took out bin Laden, Disney filed trademark applications expressing intent to use the name "SEAL Team 6" for purposes including: entertainment and education; video games, toys, Christmas ornaments, snow globes; clothing, hats, shoes.
Ten days later, on May 23, the Navy fought back with trademark applications of its own, the first for anything indicating membership in a military organization, the second for use in the category of clothing, footwear and headwear.
But a battle of the century never materialized, as just hours after FoxNews.com's original article was published, Mickey Mouse said G-O-O-D-B-Y-E to "SEAL Team 6."