Message to Putin? Obama warns NATO allies will respond to 'armed attack'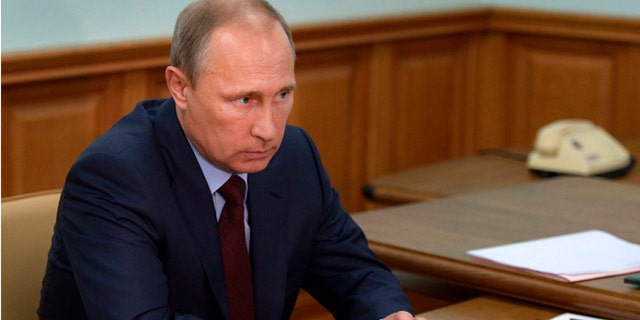 President Obama on Friday delivered a tacit warning to Russia's Vladimir Putin amid the unrest in Ukraine, vowing at the close of a NATO summit that the allies will not tolerate an attack on any member nation.
"An armed attack against one shall be considered an attack against them all. This is a binding treaty obligation. It is non-negotiable," Obama said at a press conference. "Here in Wales, we've left absolutely no doubt we will defend every ally."
The warning in Wales comes as the U.S. partners with other nations to bolster their presence in Eastern Europe.
The U.S. has effectively ruled out military action in Ukraine, which is not a NATO member, relying instead on sanctions and other measures to pressure the Russian government to stop stoking unrest in the country's east. Obama credited those sanctions for the announcement of a cease-fire on Friday involving Ukraine, Russia and pro-Russian rebels.
But Obama and other NATO leaders signaled that they would defend any member country against attack.
In one measure, NATO leaders approved plans Friday to create a rapid response force with a headquarters in Eastern Europe that could quickly mobilize if an alliance country in the region were to come under attack.
NATO Secretary-General Anders Fogh Rasmussen said a command headquarters would be set up in Eastern Europe with supplies and equipment stockpiled there, enabling the "spearhead" force to mobilize and deploy quickly.
"It sends a clear message to any potential aggressor: Should you even think of attacking one ally, you will be facing the whole alliance," Rasmussen declared.
Obama said increased NATO air patrols over Baltic nations would continue, as would rotations of additional forces in the region for training and naval patrols in the Black Sea.
Obama said the rapid-response agreement demonstrated that NATO is "fully united" behind Ukraine's independence, territorial sovereignty and right to self-defense. He said all 28 NATO allies will now be providing security assistance to Ukraine, such as non-lethal equipment, fuel and medical care for troops.
"This commitment makes clear that NATO will not be complacent," Obama said just before returning to Washington.
Moscow responded by claiming that NATO was using the crisis in Ukraine as pretext to advance a longstanding goal to move its infrastructure closer to Russia's borders. In a statement, Russia's foreign ministry said it was studying the NATO announcements, but warned that the alliance's plans to conduct joint exercises in Ukraine later this year will "inevitably aggravate tensions, jeopardize the progress that has been made in the peace process in Ukraine and exacerbate the split in Ukrainian society."
The threat posed by the Islamic State overshadowed some of the NATO summit's official agenda. Yet the leaders still spent a considerable amount of their time discussing the crisis in Ukraine, with Ukrainian President Petro Poroshenko taking on a high-profile role during the talks.
The summit coincided with the declaration of the cease-fire that emerged Friday out of talks in Minsk, Belarus involving Ukraine, Russia and pro-Russian rebels. Ukrainian President Petro Poroshenko said he ordered government forces to stop hostilities, nearly five months after fighting broke out in the nation's restive east.
"I count on this agreement, including the ceasing of fire and the freeing of hostages, to be precisely observed," Poroshenko said.
Yet Western leaders remained skeptical that any such cease-fire would hold. The U.S. and Europe, meanwhile, have warned that they stand ready to levy more economic sanctions on Russia -- a step, a top White House official said, could occur within days.
In regards to the threat from the Islamic State militants, a group of member nations agreed Friday that the group is a significant threat to NATO countries and that they will take on the militants. The U.S. secretaries of State and Defense, meeting with their counterparts at the international gathering, insisted the Western nations build a plan by the time the U.N. General Assembly meets this month.
Along with the United States, the coalition included Australia, Canada, Denmark, France, Germany, Italy, Poland, Turkey, the U.S., and the U.K.
The U.S. asserted that to be successful, an international coalition to defeat the militants must coordinate in multiple ways. These included military support, stopping the flow of foreign fighters and humanitarian aid, among others.
Fox News' Ed Henry and The Associated Press contributed to this report.