Memo reiterates new citizens can refuse oath to bear arms, defend country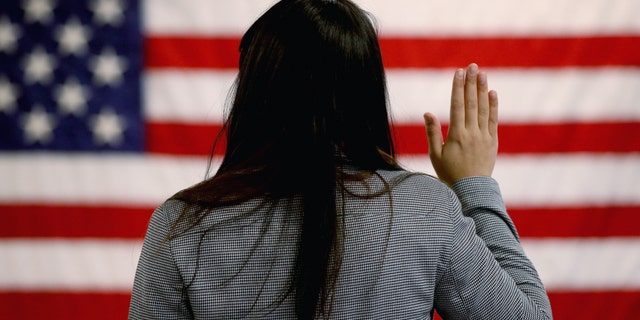 NEWYou can now listen to Fox News articles!
In a little-noticed clarification in the process of becoming a U.S. citizen, immigration officials posted an announcement recently underscoring that foreign nationals taking the naturalization oath will not be required to vow to bear arms or to engage in non-combatant duty to defend their adopted homeland.
The phrase referring to bearing arms – which first appeared in 1952 – will remain in the standard oath that foreign nationals have recited. But those who naturalize can choose to omit the references to bearing arms or performing noncombatant service in the Armed Forces when they recite the oath.
On its website, the U.S. Citizenship and Immigration Services on Tuesday said that people may refuse to include those words if they go against their religion or personal values.
USCIS spokesman Chris Bentley told Fox News Latino that neither the oath nor the naturalization process has changed. Bentley said the agency wanted to clarify for its employees under what circumstances people could refuse to vow to bear arms or perform noncombatant services.
USCIS long has allowed foreign nationals not to recite the standard oath if they object to the promise to bear arms for religious reasons. The recognition of people who object for personal reasons, however, was not clearly expressed.
The USCIS's special effort to point out the right of would-be citizens to refuse to recite the parts about bearing arms is drawing criticism, particularly from conservative lawmakers and groups.
"The Obama Administration's announced changes to the Oath of Allegiance undermines what it means to be a citizen of the United States," said U.S. Sen. Tom Cotton, an Arkansas Republican, in a statement. "Growing up in Dardanelle I learned from an early age that freedom isn't free…All citizens of the United States—native or naturalized—should have that same of sense of patriotism and duty."