Melania Trump spokeswoman slams 'opposition media' for using Be Best campaign to attack First Lady
NEWYou can now listen to Fox News articles!
The White House blasted "opposition media" Tuesday after First Lady Melania Trump was accused of plagiarism by some liberal news organizations which said materials distributed for her "Be Best" campaign against cyberbullying resembled an existing government pamphlet.
The First Lady's communications director Stephanie Grisham issued a scathing statement in response to the criticism.
"First Lady Melania Trump unveiled Be Best, her initiative meant to support children and the many issues they are facing today," Grisham wrote. "After giving a strong speech that was met with a standing ovation and positive feedback, the focus from opposition media has been on an educational booklet, 'Talking with Kids About Being Alone Online,' produced by the Federal Trade Commission (FTC) in 2009. Mrs. Trump agreed to add Be Best branding and distribute the booklet in an effort to use her platform to amplify the positive message within."
FLOTUS' spokesperson continued: "As she said in yesterday's speech, she is going to use Be Best to promote people and organizations to encourage conversation and replication, and helping the FTC distribute this booklet is just one small example."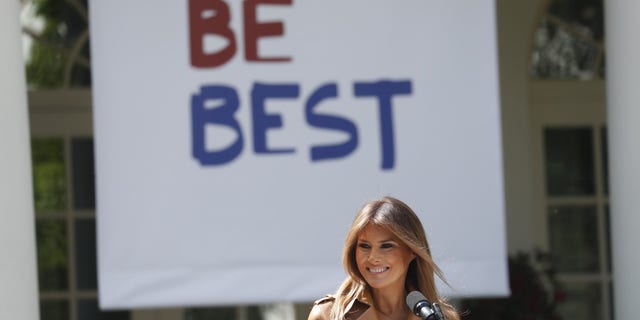 Grisham said that countless media outlets were provided with "ample background, information, and on-the-record comments from the FTC," but "some media have chosen to take a day meant to promote kindness and positive efforts on behalf of children, to instead lob baseless accusations toward the First Lady and her new initiatives."
The media outlets that Grisham condemned include The Guardian, which published a headline, "Melania Trump in new plagiarism row over online safety pamphlet," and Vogue, which asked, "Did Melania Trump plagiarize the Obamas (again) with her new Be Best campaign?"
The Mercury News wrote, "Oops! Melania Trump did it again?" The BBC's headline was, "Melania Trump faces new plagiarism row over cyber-safety booklet."
A variety of other news organizations had similar content that attempted to jab the First Lady. People Magazine, Slate, Time, HuffPost and The New Republic all ran similar headlines questioning if Melania Trump copied the Obama-era pamphlet.
Grisham also included a message from FTC honcho Nathaniel Wood who said his group "frequently works with Congress, the White House, and other government agencies" while expressing excitement about working with the First Lady.
"I encourage members of the media to attempt to Be Best in their own professions," Grisham wrote to conclude her statement.
Melania Trump was also accused of plagiarism when portions of her speech at the 2016 Republican National Convention featured rhetoric used by Michelle Obama in 2008. The Trump campaign chalked it up to an innocent mistake.