Meg Whitman Spent Fortune to Come in 2nd in California Governor's Race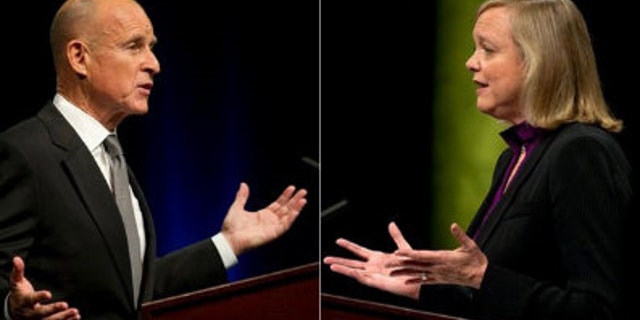 SACRAMENTO, Calif. -- Final election reports released Monday show Jerry Brown spent about $36.5 million in his successful bid to become governor, just a fraction of the $178.5 million spent by his Republican opponent, Meg Whitman, in what was the costliest campaign for statewide office in the nation's history.
Brown was buoyed by millions of dollars in spending by union-backed groups. But Whitman, the former eBay CEO, tapped $144 million from her personal fortune and raised the rest from donors in the 2010 California governor's race, including the primary and general election cycles.
She surpassed the previous record for personal spending in a campaign -- the $109 million New York Mayor Michael Bloomberg spent in his quest for a third term.
While the bulk of Whitman's campaign spending went to buy television ads that dominated the airwaves for most of 2010, the billionaire spent more than $20 million on campaign consultants and staff, many of whom hailed from the campaigns of former Gov. Arnold Schwarzenegger or the Republican presidential campaigns of Sen. John McCain and Mitt Romney.
According to Monday's filing, Whitman's campaign paid $1.3 million to Mike Murphy, her chief strategist, whose Bonaparte Films LLC also received an investment from Whitman before the campaign. Her personal adviser and friend Henry Gomez, who worked for her at eBay Inc., received nearly $1 million, and Jeff Randle, who was a campaign and political adviser to Schwarzenegger, received $550,000.
Whitman paid $1.4 million to finance chairman and former Mitt Romney adviser Spencer Zwick and more than $1 million to the Sacramento accounting firm Bell, McAndrews & Hiltachk.
Brown's campaign reported spending $29 million on TV and radio ads placed by a Georgia-based Democratic advertising firm, LUC Media, according to reports filed with the secretary of state's office. Brown's chief campaign consultant, Steven Glazer, was the highest paid of his staffers, making $235,000.
What Brown lacked in campaign consultants, he made up with outside political muscle. The Democrat was aided by at least $26 million in spending by independent groups, mostly funded by labor unions.
Brown also relied on the goodwill of dozens of unpaid advisers and longtime Democratic strategists who were not on his payroll.
He bucked national GOP momentum last fall when he handily defeated Whitman by 13 percentage points. He persuaded voters that the nation's most populous state needed a seasoned public official, not a political novice, to step in and solve its financial troubles.
"The voters embraced his experience and authenticity and rejected her money and simplistic message," Glazer said Monday.
The notoriously frugal Brown raised $40.5 million for his campaign and managed to end the year with money left over; he reported a cash balance of $4 million at the end of the year. Whitman had $16,196 left.
Whitman spent her fortune on wall-to-wall advertising, including more than $118 million to Washington, D.C.-based Republican advertising agency Smart Media Group. She spent more than $1.1 million on private planes, $504,000 for AT&T phone bills, and nearly $80,000 on a personal photographer who trailed her wherever she campaigned, allowing Brown to present a contrast with his message of government austerity.
An e-mail to one of Whitman's former consultants wasn't returned Monday night.
Other campaign finance reports filed Monday showed that more than $46 million was spent for and against a failed November ballot measure that would have suspended California's landmark global warming law. Out-of-state oil companies and their supporters spent $10.5 million promoting Proposition 23, while opponents spent more than $36 million.
Voters defeated Proposition 23 by a margin of 61.6 percent to 38.4 percent.