Meadows: It would be 'an incredible honor' to be Trump's chief of staff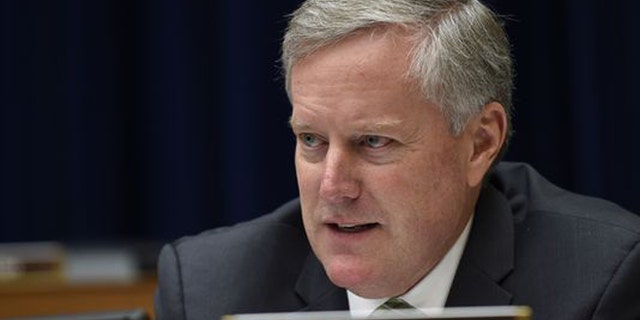 Rep. Mark Meadows, R-N.C., told Fox News on Monday afternoon that he has not had any conversations with The White House in the last 48 hours in regards to becoming the next chief of staff to President Trump, following the anticipated departure of John Kelly.
"I'm looking forward to having conversations with the president, if he so chooses," he told Fox News, noting he is flattered and honored for the consideration. "I've had a lot of colleagues suggest I should do this. But I don't know about private conversations."
He continued, noting a number of people gladly would serve in Trump's administration: "The president has a number of good candidates. ... Any narrative that would suggest otherwise is not accurate."
Meadows acknowledged that the next steps would come from Trump, not from media assumptions or potential candidates.
"The president is going to make that judgment call," he said. "The bottom line is, the president is going to make the decision. He will make a good call."
Meadows, the chairman of the conservative and highly influential House Freedom Caucus on Capitol Hill, earlier told Politico in a statement that it would be "an incredible honor" if he was chosen for the post, but acknowledged Trump has a "long list of qualified candidates" to choose from.
"Serving as chief of staff would be an incredible honor," Meadows said. "The president has a long list of qualified candidates and I know he'll make the best selection for his administration and for the country."
Meadows' communications director, Ben Williamson, confirmed the statement in a tweet.
Meadows' name has been mentioned on a number of lists speculating who will fill the post vacated by Kelly, the retired Marine general and Department of Homeland Security secretary.
The North Carolina lawmaker has been an ardent defender of Trump throughout his presidency. And his nearly six years as a congressman -- including on the House Oversight Committee -- could be helpful to a president investigated by the new House Democratic majority next year.
BEHIND THE NAMES IN THE RUNNING TO REPLACE KELLY
Along with Meadows, Office of Management and Budget Director Mick Mulvaney, Acting Attorney General Matthew Whitaker, Treasury Secretary Steve Mnuchin, U.S. Trade Representative Robert Lighthizer and former New Jersey Gov. Chris Christie have been mentioned as possible candidates for the job. David Bossie, Trump's former deputy campaign manager, could also be in the running for chief of staff, according to The Associated Press.
It was previously reported that Nick Ayers, Vice President Mike Pence's chief of staff, was the leading candidate to fill the vacant post, but he squashed those rumors on Sunday with a tweet saying he will leave the White House at the end of the year.
NICK AYERS 'DEPARTING' AT YEAR'S END
"Thank you [President Trump], [Vice President Pence], and my great colleagues for the honor to serve our Nation at The White House," Ayers tweeted. "I will be departing at the end of the year but will work with the #MAGA team to advance the cause."