Nick Ayers, considered candidate for White House chief of staff, 'departing' at year's end
Vice President Pence's chief of staff, Nick Ayers, who was considered a front-runner to replace John Kelly as White House chief of staff, announced Sunday: "I will be departing at the end of the year."
Ayers revealed the news in a tweet. Its full text read: "Thank you @realDonaldTrump, @VP, and my great colleagues for the honor to serve our Nation at The White House. I will be departing at the end of the year but will work with the #MAGA team to advance the cause. #Georgia"
The Wall Street Journal originally reported that Trump and Ayers could not reach agreement on Ayers' length of service and that he would instead assist the president from outside the administration.
Ayers and Trump had discussed the job for months. The new hire was to be key to a West Wing reshuffling to shift focus toward the 2020 reelection campaign and the challenge of governing with Democrats in control of the House.
Officials said Trump and Ayers could not agree on his length of service, but Trump wants his next chief of staff to hold the job through the 2020 election. Ayers, who has young triplets, had long planned to leave the administration at the end of the year, and reportedly discussed taking the job on an interim basis only through next spring.
Trump said Saturday that he expected to announce a replacement for Kelly in a day or two, and it was not immediately clear whether he had a new favorite for the post.
Sources told Fox News on Sunday evening there have been "conversations" about Rep. Mark Meadows, R-N.C., becoming chief of staff. Meadows serves as chairman of the influential House Freedom Caucus.
Trump reportedly is considering four candidates for the post, including Office of Management and Budget director Mick Mulvaney, The Associated Press added.
Sunday night, Trump took a potshot at the media, while also tweeting his next steps: "I am in the process of interviewing some really great people for the position of White House Chief of Staff. Fake News has been saying with certainty it was Nick Ayers, a spectacular person who will always be with our #MAGA agenda. I will be making a decision soon!"
Trump had developed confidence in Ayers, in part by watching the effectiveness of Pence's largely independent political operation. Ayers also earned the backing of Ivanka Trump and Jared Kushner, the president's daughter and son-in-law and senior advisers, for taking on the new role, White House officials said.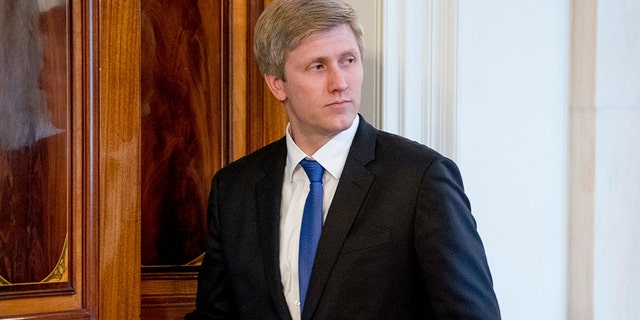 ANDREW MCCARTHY: HOW COHEN MEMO MAKES IT LIKELY TRUMP WILL BE INDICTED
Ayers, 36, would have been the youngest chief of staff since 34-year-old Hamilton Jordan served under Jimmy Carter.
Kelly is 68.
Ayers instead will be leaving the administration to run a pro-Trump super PAC, The Associated Press reported citing a person familiar with his plans who was not authorized to discuss them by name.
Pence thanked Ayers for his service in a tweet early Sunday evening.
Its full text read: ".@nick_ayers has done an outstanding job as my Chief of Staff and I will always be grateful for his friendship, dedication to the @VP team and his efforts to advance the @POTUS agenda. Thank you Nick! Karen and I wish you, Jamie and the kids every blessing in the years ahead."
GOP RUSHES TO PASS BORDER WALL LEGISLATION, JUSTICE REFORM BEFORE DEMS TAKE HOUSE
Trump announced Saturday that Kelly would leave around year's end.
Kelly, whose last day on the job is set to be Jan. 2, had been credited with imposing order on a chaotic West Wing after his arrival in June 2017 from his post as homeland security secretary. However, he also alienated some longtime Trump allies, and over time he grew increasingly isolated, with an increasingly diminished role.
Fox News' Chad Pergram, Ben Florance and The Associated Press contributed to this report.