McSally pilots easy Arizona GOP primary win to face Democratic Rep. Barber in rematch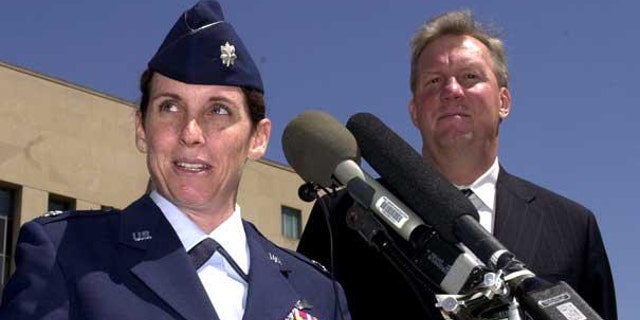 Martha McSally, one of the GOP's most touted 2014 candidates, easily defeated her primary challengers Tuesday in her bid to win an Arizona congressional seat.
With 99 percent of the precincts reporting, the 48-year-old McSally had 69 percent of the vote, compared to 24 percent for retired Air Force Sgt. Chuck Wooten and 7 percent for businesswoman Shelley Kais.
McSally, a Harvard-educated retired Air Force combat fighter pilot, now faces Democratic incumbent Rep. Ron Barber in a rematch of their highly-competitive 2012 contest that Barber won by less than one percentage point. The 2014 version of the race is considered one of the most competitive in this midterm cycle, with essentially every poll showing a too-close-to-call outcome.
Barber was a political aide for Rep. Gabrielle Giffords, who retired from Congress after being critically wounded in a 2011 mass shooting at a political event in Tucson. Barber won the open seat with strong party support.
Barber defeated physician and two-term state Rep. Matt Heinz in the Democratic primary for the redrawn 2nd congressional district.
As in their first race, both candidates have taken a centrist position, in a district with roughly an even number of Democrats, Republicans and Independents.
Republicans already control the House, with political analysts giving Democrats practically no chance of retaking the lower chamber in 2014, with or without Barber getting re-elected.
However, a McSally win would be a boon for Republicans trying to improve their status among women.
McSally has so far avoided her first-time mistakes, such as comparing herself to Giffords in 2012.
She has also outraised Barber in four consecutive quarters, including roughly $100,000 more in the quarter that ended June 30. And she should benefit from historical midterm trends -- low turnout and not being in the sitting president's political party.
The combination of factors has landed Barber on practically every list of "most vulnerable" 2014 House incumbents, even topping Roll Call newspaper's compilation this month.
Yet he maintains a slight advantage in cash on hand, crucial for TV ad spending in the closing months of campaigning, and remains strong in the polls.
The non-partisan Rothenberg Political Report still considers the race a tossup.