McConnell Bestows First Post-Election Radio Address on Tea Party Darling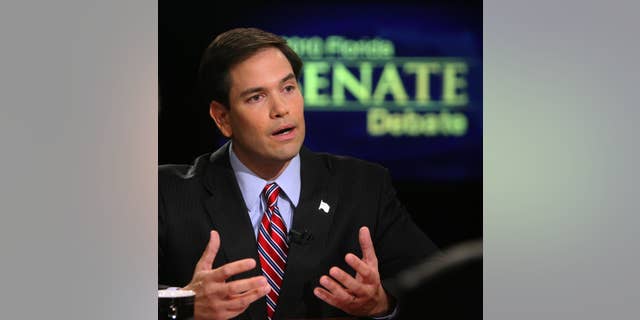 Senate GOP Leader Mitch McConnell on Friday bestowed the honor of giving the first radio address after the elections to incoming Tea Party-backed freshman Marco Rubio of Florida. "Senator-elect Rubio embodies an exciting and optimistic message about the future of America," McConnell said in an e-mailed statement, touting the rock star Florida Senator-elect's "principled conservatism."
Many have questioned whether or not the leader could manage the strong-minded, independent conservatives coming to Washington, and this is likely to be seen as an olive branch by the Kentucky senator particularly to those who were not, like Rubio, the first choice of the establishment. McConnell and his GOP colleagues in leadership first threw their support behind then-GOP Gov. Charlie Crist. When Crist lost the primary, the entire GOP party got behind Rubio.
"Americans are sending Marco and his fellow senators-elect to Washington with clear marching orders: stop the big-government freight train and respect the will of the people who sent you there. Marco's an excellent choice to deliver the first post-election address," McConnell said Friday.
The 39-year-old son of Cuban immigrants is a darling of the grassroots movement. Numerous conservative radio talk show hosts hav even mentioned him as a possible presidential contender as early as 2012. One caller on conservative radio talk show host Bill Bennett's show Thursday admonished the Republican pundit for even suggesting this, as the caller said Congress needs someone a conservative like Rubio.
The radio address airs on Saturday. Stay tuned for excerpts from the address.