McCaskill: Global Threats Too Great to Delay Arms Reduction Treaty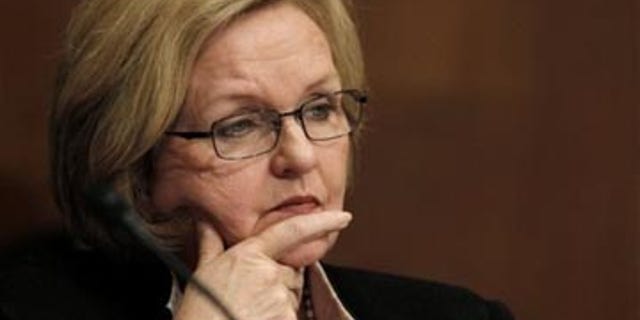 WASHINGTON -- The United States has too many pressing security issues to delay a vote on a nuclear arms reduction treaty with the Russians, Sen. Claire McCaskill, D-Mo., said Sunday, arguing that Republican calls to wait on ratification of START are merely political stalling tactics.
McCaskill, who called the delay "game-playing" aimed at "trying to damage the president of the United States," said the treaty has the support of U.S. allies and Republican statesmen like former secretaries of state Colin Powell, Jim Baker and Henry Kissinger.
"Look at what's going on in the world right now with North Korea, with Iran," McCaskill said on "Fox News Sunday." "Our supply lines to our men and women in Afghanistan -- this treaty is important because our relationship with Russia is important so we can move supplies to our men and women in Afghanistan."
She added that the situation in the Korean Peninsula in which the North is threatening the South with missile launches to shore up incoming leader Kim Jong-Un's military credentials also demands that the U.S. get START off the table.
"This is brazen and it's belligerent and it's something that I believe that all of those six countries -- all of the people in the six-party talks need to get to work on, including Russia, I might add, which is why the START treaty is also important here.
But Sen. Jon Kyl, R-Ariz., who has questioned whether the treaty limits U.S. ability to develop a strategic missile defense, said the urgency of ratifying START is political, not security-related. He insisted that the Senate delay ratification until the next Congress so it can deal with more pressing domestic matters during the next few weeks remaining in the lame-duck Congress.
Noting that Congress has to pass tax rate extensions and a budget bill for the current fiscal year, Kyl added that Senate Majority Leader Harry Reid insists on finishing up "political commitments" he made to unions, homosexuals and immigrants.
"Of course, Harry Reid can bring the START treaty up any time he wants to. But he has a different agenda. He's made some promise to political constituencies," Kyl said on NBC's "Meet the Press."
Kyl noted that Reid prefers to work on the don't ask, don't tell policy for gays in the military, the DREAM Act to give children of illegal immigrants a pathway to citizenship and a federal unionization bill for government workers.
"My issue is you can't do everything. I was stating it as a matter of reality, not a matter of policy. How can Harry Reid do all the things we're talking about, deal with expiring tax provisions and in addition to that dealing with the START treaty, which by itself could last two weeks?"
Kyl added that he doesn't want to rush into ratifying the pact until several issues of concern to him are dealt with, including missile defense, conventional global strike rules and arsenal modernization.
He added that not everyone is on board with "the march towards global zero," or a nuclear weapons-free world.
Sen. Lindsey Graham, R-S.C., said he agreed that Kyl's concern about missile defense must be answered before ratification of the treaty by the U.S. Senate.
"I do know this: that it would be good for the United States and Russia to enter into the START treaty if it is a good treaty. The question for me -- are we sure, are we absolutely certain, that we can proceed with missile defense development apart from the START treaty?" Graham asked.
Graham said Kyl raises a "very good point" that if the treaty indicates Russia could withdraw if the U.S. develops the next stage of missile defense, then he wants to know about it before he votes.
"If the Russians say that they will withdraw from the treaty if we develop strategic missile defense systems, I need to know that. If they that it doesn't mean that, then I think we're a lot closer to the treaty being enacted," he said.
But McCaskill said the preamble to the treaty that discusses missile defense development is not binding and NATO allies have signed onto the agreement to continue with missile defense.
"I can't find anybody in any document anywhere that's saying that somehow that preamble has any impact. We are moving ahead with this missile defense, period," she said.
"There is no excuse for us to ignore this responsibility and say we'll wait for several months while we wait, there will be no inspectors on the ground," added Sen. Dick Durbin, D-Ill., who appeared with Kyl.