McCarthy introducing bill to fully fund Trump border wall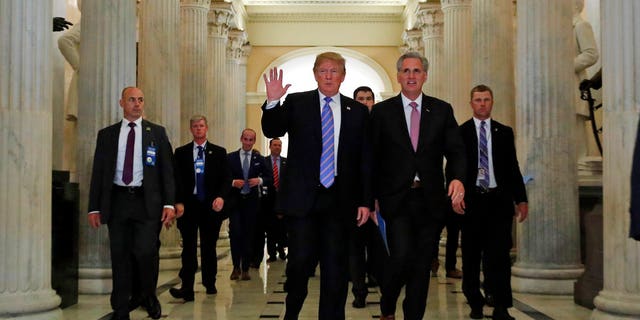 House Majority Leader Kevin McCarthy, R-Calif., has signaled his intent to introduce legislation this week that would fully fund President Trump's wall on along the nation's southern border.
The legislation by McCarthy, who is looking to drum up support among the GOP's rank and file as he eyes House Speaker Paul Ryan's speakership, is expected to call for full wall funding alongside other enforcement measures already approved in the House.
"Few things are more fundamental to a nation than a protected border," McCarthy tweeted on Tuesday. "Proud to introduce the Build the Wall, Enforce the Law Act."
Congress has already funneled $1.6 billion to construction as part of the omnibus spending bill for the 2018 fiscal year, but McCarthy's new bill would direct about $23.4 billion toward building the wall, a signature issue for Trump.
McCarthy's bill will also include measures dealing with sanctuary cities and criminal gangs, among other immigration-related issues, but it will not address the Deferred Action for Childhood Arrivals (DACA) policy.
It is unclear if this legislation will serve as the Department of Homeland Security Appropriations bill, the annual measure with funds DHS. That's one of the seven appropriations packages not funded under the current "Contining Resolution" which runs the government through December 7.
It comes as Republican leaders in the House are gearing up for what they say will be a post-midterm election fight over the wall.
"We intend on having a full-fledged discussion on how to complete our mission to secure the border and yes, we will have a fight about this," Speaker Ryan, R-Wis., told reporters on Monday.
McCarthy, who is traveling to the border later this week, has positioned himself to fill Ryan's post as speaker when the Wisconsin lawmaker vacates his seat in January, but he faces stiff competition from Rep. Jim Jordan, R-Ohio.
If the House passes McCarthy's bill, it will have to make its way through the Senate, where it will need 60 votes to avoid a filibuster hurdle before January. Otherwise, it'll need to be voted on again by the next Congress in 2019.
Fox News' Chad Pergram contributed to this report.