Marco Rubio inches into Texas, Ted Cruz's territory, ahead of Super Tuesday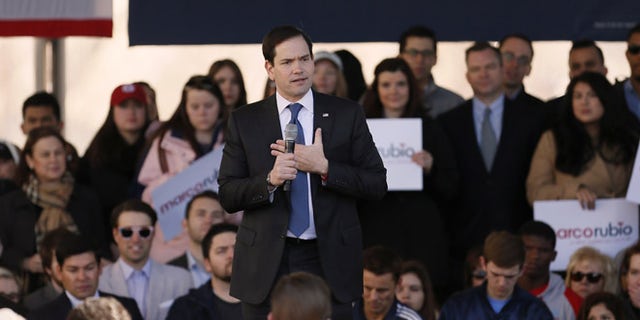 NEWYou can now listen to Fox News articles!
Fresh off a heated debate performance in Houston, Sen. Marco Rubio pulled no punches at a scheduled campaign rally in Dallas Friday morning — repeatedly referring to rival Donald Trump as a "con artist" who could not be trusted.
The Florida senator read Trump's most recent tweets to hundreds of supporters and made no mention of U.S. Senator and Texan Ted Cruz, who is expected to carry his home state on Super Tuesday.
It was Rubio's swipes at Trump and his overall message of positive change that supporters like 53-year-old Ricardo Martinez of Dallas came to hear.
"I'm voting for Rubio," said Martinez, who previously supported Dr. Ben Carson and Cruz and only recently decided to support Rubio. He said Hispanics aren't one issue, one party "sheep" and he likes Rubio's more reasonable stance on immigration.
"I think he has the ability to win," said Martinez, a third-generation Mexican-American for whom Rubio's ethnicity isn't a factor. "It's his principles," that matter, said Martinez.
Despite it being Cruz's home state, Rubio has made inroads in Texas this year. He formed a leadership team in the state and has held several rallies. Texas, which has long been declared Cruz country but lately has been called Trump territory, is open to the possibility of another Hispanic Republican candidate.
Texas State Rep. Larry Gonzales (R-Round Rock), who co-chairs Texans for Rubio, said his phone and email "lit up" when Florida Gov. Jeb Bush – a mentor of Rubio – exited the race earlier this month.
"A lot of 20-somethings are looking to be a part of Team Rubio. A lot of former elected officials," said Gonzales who characterized the supporters as diverse Texans, including former and current state officials. "When you look at Marco Rubio's team it looks like Texas," said Gonzales.
Unlike Iowa and Georgia, Texas has a much more diverse Hispanic population than early primary states and has a growing number of Hispanic Republicans running for office.
"We have seen a new generation of Republicans in the Hispanic community who are not beholden to Democrats out of familiarity, but rather are voting their values and supporting Republicans," said Trey Newton, executive director of Hispanic Republicans of Texas (HRT), an organization founded in 2009 to help support Hispanic Republican candidates in the Lone Star state.
In the last two years, the number of candidates the HRT has supported for state and local office has grown by 50 percent, from 40 candidates in 2014 to 60 candidates in 2016. Much of those gains have been made in South Texas and Fort Bend County, said Newton, who acknowledges having two Hispanic Republicans running for the highest office has also been an important element of growth.
"While the candidacies of Cruz and Rubio are likely factors, the strong Hispanic outreach efforts during the 2014 election cycle by Greg Abbott, Dan Patrick and George P. Bush have also fueled this growth," said Newton.
He added most of Texas' most competitive legislative districts are 2/3 Hispanic and are also represented by Hispanic Republicans.
But experts say while Rubio is gaining momentum in Texas, he has to work hard to win the state — particularly since he doesn't have as much name recognition as Cruz and Trump.
"I would be surprised if he finished in anything other than third," in the Texas primary said GOP strategist Matt Mackowiack, who also said Cruz has far more to lose, or gain, on Tuesday night.
At stake March 1 are some 155 delegates—the largest number of delegates so far—expected to split in favor of Cruz and Trump. But because Texas also splits delegates proportionally – and with promising showings in South Carolina and Iowa – Rubio is expected to get a fair share of those delegates.
"They think he's the future of the party and perhaps a stronger general election candidate," said Mackowiack, who called Rubio a "next generation" candidate establishment Republicans favor.
If Rubio can walk away with 10 or 15 delegates, said Mackowiack, "that's huge." But with so little ground game in Texas, and no decisive win in any state, Rubio's chances for the nomination aren't strong, experts say. And Cruz, said Mackowiack, has campaigned more in Florida than Rubio has in Texas.
It's no surprise, said Mackowiack, that Rubio held a rally in Dallas, which has more delegates than the entire state of New Hampshire. Trump held a similar rally in neighboring Fort Worth Friday as well.
Because Rubio is seen as, "more reasonable, more approachable, less threatening to some Latinos than Cruz would be," said Mackowiack, the last-minute campaigning may pay off Tuesday.
In the Dallas crowd Friday, a small but measurable number of Hispanic families, students, office and construction workers listened to Rubio's speech atop a deck park in the center of the city's toniest business and arts district. Skyscrapers dotted the background as audience members listened intently, including Dallas resident Crystal Banuelos, 22.
"I'm an underdog," Rubio told the cheering crowd.
But an underdog young Hispanics like Banuelos want to support.
"I'm really excited by what he had to say," said Banuelos.