Manafort ordered to jail, bail revoked on witness tampering charge
Former Trump campaign chairman Paul Manafort was jailed Friday after a federal judge revoked his $10 million bail based on new witness tampering charges brought by Special Counsel Robert Mueller.
Washington, D.C., Federal District Judge Amy Berman Jackson sent the onetime power player to jail pending trial moments after he pleaded not guilty to the charges, brought against him and his associate, Konstantin Kilimnik of Moscow.
Mueller accused the pair of obstructing justice in the investigation into Russian meddling and potential collusion with Trump campaign associates in 2016.
Kilimnik was not in court on Friday. He is reportedly in Moscow.
Judge Amy Berman Jackson said she "struggled with this decision." She said the legal standard at play was whether he was a "danger" to the public, meaning was there the possibility of Manafort committing future crimes if allowed to remain out of jail.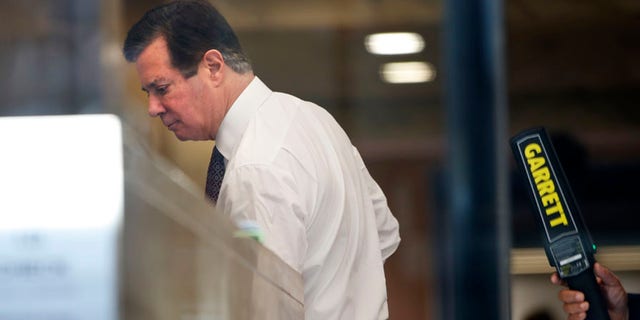 The judge rejected the defense's arguments that there was no clear order from the court over who the defendant could and could not contact while preparing for trial. Jackson said she could not "draft a clear enough order" to cover all current and future contacts.
"You have abused the trust placed in you six months ago," Jackson said to Manafort, adding that she could not "turn a blind eye" to the special counsel's new allegations of witness tampering while under order not to do so.
Jackson blasted Manafort, stating that he has treated much of the legal proceedings over the past several months as just another "marketing exercise."
Manafort's trial before Jackson is expected to take place in September. He is also facing charges brought by Mueller in another federal court, and will appear for that case in August.
Manafort was not handcuffed while in the courtroom and did not speak, but turned briefly back to his wife after the order was issued from the bench. He was then led away by marshals, where he will be processed under federal custody.
It is unclear, at this point, which jail Manafort will be taken to.
'Mr. Manafort is innocent and nothing about the latest allegation changes our defense. We will do our talking in court,'
The filings last week, signed by Mueller, alleged that Manafort and Kilimnik "knowingly and intentionally attempted to corruptly persuade another person…with intent to influence, delay, and prevent the testimony of any person in an official proceeding."
Mueller's third superseding indictment against Manafort came just days after the special counsel accused the former campaign chairman of witness tampering.
Kilimnik, 48, has previously declined to comment on the allegations. He also has denied being connected to Russian intelligence agencies.
A spokesperson for Mueller declined to comment on Friday's development.
A Manafort spokesman defended his client, calling him "innocent."
Manafort, 69, has maintained his innocence. The spokesman, Jason Maloni, said last week that Manafort and his team of attorneys were reviewing the new charges.
"Mr. Manafort is innocent and nothing about the latest allegation changes our defense," Maloni said. "We will do our talking in court."
According to documents filed in federal court, Manafort reached out to would-be witnesses in February after his superseding indictment was unsealed. Manafort allegedly tried to make at least three phone calls and send at least two encrypted text messages to a potential witness "in an effort to secure materially false testimony…" the special counsel claimed.
The court documents said that the person was trying to avoid contact with Manafort and "understood Manafort's outreach to be an effort to 'suborn perjury.'"
The special counsel said Manafort's actions violate federal law, and therefore violate the terms of his pretrial release. Manafort's past charges remain.
"The five previously charged counts against Manfort remain unchanged: conspiracy against the United States, conspiracy to launder money, unregistered agent of a foreign principal, false and misleading FARA [Foreign Agent Registration Act] statements, and false statements," the special counsel's spokesman said in a statement last week.
Manafort's cases are being heard in both the U.S. District Court in D.C., and the Eastern District of Virginia, by Judge T.S. Ellis III, who has proven to be more sympathetic to Manafort than Jackson.
Last month, Ellis blasted the special counsel's team, suggesting federal investigators are only after Manafort to find information on Trump.
"You don't really care about Mr. Manafort," U.S. District Judge T.S. Ellis III told Mueller's team. "You really care about what information Mr. Manafort can give you to lead you to Mr. Trump and an impeachment, or whatever."
He added: "C'mon man!"
Fox News William Mears and Jake Gibson contributed to this report.