Lou Holtz Quarterbacks for GOP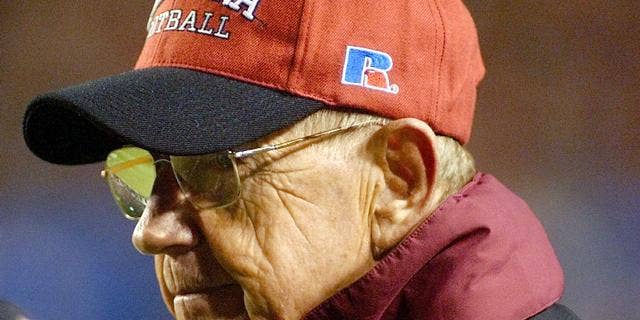 It's late in the fourth quarter for midterm election candidates, and with a figurative fourth and goal at each parties' fingertips, Republicans are getting little coaching -- but it's not from a Karl Rove-type or other political veterans. With less than 30 days until voters head to the polls, the National Republican Congressional Committee (NRCC) is calling an audible and enlisting the help of Hall of Fame coach, Lou Holtz.
The former football coach, whose resume includes the likes of University of South Carolina and Notre Dame, sent an e-mail Tuesday on behalf of the NRCC urging support for Republican candidates. In the fundraising e-mail Holtz said, "I'm writing to tell you - Quarterbacked by John Boehner and Pete Sessions - our Republican Party has an excellent team of limited government, pro-freedom individuals ready to take the field in Washington and defeat the other team's liberal agenda."
The e-mail entitled "Onward to Victory" goes on to say, "You see, despite the slew of positive polls and media reports on our Party's terrific chance to recapture the U.S. House majority, the truth is the ball is still on the 20-yard line with plenty of time on the clock."
Holtz concludes his email by stating, "My friend, YOU, are the NRCC's 12th man and they urgently need your help to win every U.S. House seat possible, fire Nancy Pelosi, and elect a Republican to the Speaker's chair this November. Holtz has dabbled in the political arena in previous years, speaking at the House GOP retreat in 2007 and eyeing a central Florida congressional run in 2009.
With time still left on the clock, more innovative moves from both Democrats and Republicans can be expected in the days to come. NFL players have also stepped up their political donations on both sides of the aisle this campaign cycle, with Brett Favre and Jason Taylor among some of the largest contributors.
Be it a pump fake to confuse the defensive line or a game changing interception, this election is far from over. Expect to see many more Hail Mary passes from all parties as November 2nd approaches.