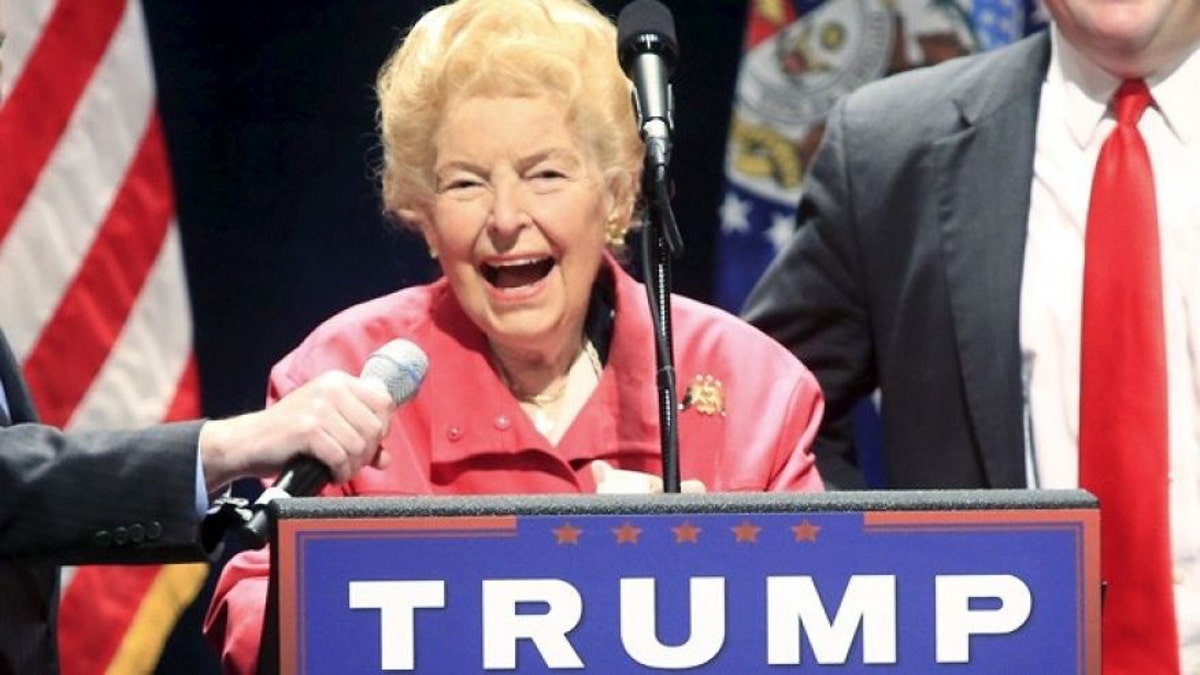 Phyllis Schlafly, the iconic pro-family activist who rose to fame in the 1970s when she campaigned against the Equal Rights Amendment, has died at age 92, according to the Eagle Forum, the conservative organization she founded.
Schlafly had been an activist since the early Cold War era, but gained national prominence by leading traditional-religious women in the movement against the Equal Rights Amendment. President Reagan praised her campaign against ERA as "brilliant" and called Schalfly "an example to all those who would struggle for an America that is prosperous and free."
Schlafly rose to national attention in 1964 with her self-published book, "A Choice Not an Echo," that became a manifesto for the far right. The book, which sold three million copies, chronicled the history of the Republican National Convention and is credited for helping conservative Sen. Barry Goldwater of Arizona earn the 1964 GOP nomination.
She went on to become one of the most influential pro-family activists in the 1980s and 1990s, and her support was courted by all GOP presidential candidates. She authored 27 books and thousands of articles.
Founded in 1972, Eagle Forum focuses on pro-family and socially conservative issues and now has an estimated 80,000 members.
Republican candidate Donald Trump praised the conservative activist in a statement released Monday evening.
"Phyllis Schlafly is a conservative icon who led millions to action, reshaped the conservative movement, and fearlessly battled globalism and the 'kingmakers' on behalf of America's workers and families," the statement read. "I was honored to spend time with her during this campaign as she waged one more great battle for national sovereignty."
Schlafly endorsed Trump at a rally in St. Louis in March, and she co-authored a book called "The Conservative Case for Trump" that is being released Tuesday. Trump says he was "honored to spend time with her."
In April, Schlafly's endorsement purportedly sparked uproar among Ted Cruz supporters on the Eagle Forum board of directors.
In a statement posted on its website Monday afternoon, the Eagle Forum said Schlafly died at her home in St. Louis surrounded by family members.
"Her focus from her earliest days until her final ones was protecting the family, which she understood as the building block of life," read the statement. "She recognized America as the greatest political embodiment of those values. From military superiority and defense to immigration and trade; from unborn life to the nuclear family and parenthood, Phyllis Schlafly was a courageous and articulate voice for common sense and traditional values."
Republican National Committee chairman Reince Priebus said in a statement that Schlafly was "an unflinching champion of many ideas Republicans have long held dear."
"Through her tireless activism that continued even into her 90s, Phyllis Schlafly never wavered in giving a voice to millions of Americans concerned about preserving constitutional rights, strong families, and American greatness. Her influence will continue to be felt for years to come, and as we celebrate an iconic figure in the conservative cause, our thoughts and prayers go out to her family, friends, and many admirers."
Schlafly was born Aug. 15, 1924, and grew up in Depression-era St. Louis. Her parents were Republican but not politically involved.
With the country involved in World War II during her college years, Schlafly worked the graveyard shift at the St. Louis Ordnance Plant. Her job included testing ammunition by firing machine guns. She would get off work at 8 a.m., attend morning classes, then sleep in the middle of the day before doing it all over again.
The schedule limited her options for a major. "In order to pick classes to fit my schedule I picked political science," Schlafly recalled in a 2007 AP interview.
She graduated from Washington University in 1944, when she was 19. Her first taste of real politics came at age 22, when she guided the 1946 campaign of Republican congressional candidate Claude Bakewell, helping him to a major upset win.
In 1952, with her young family living in nearby Alton, Illinois, Schlafly's husband, attorney John Schlafly Jr., was approached about running for Congress. He declined, but she ran and narrowly lost in a predominantly Democratic district. She also ran unsuccessfully for Congress in 1970.
Schlafly earned a master's degree in government from Harvard in 1945. She enrolled in Washington University School of Law in 1976, and at age 51, graduated 27th in a class of 204.
Schlafly received an honorary degree at Washington University's commencement in 2008. Though some students and faculty silently protested by getting up from their seats and turning their backs to the stage, Schlafly called it "a happy day. I'm just sorry for those who tried to rain on a happy day."
She is survived by six children, 16 grandchildren and 3 great-grandchildren.
Fox News' Chris Snyder, Joe Weber and The Associated Press contributed to this report.