Leaked Documents Show Middle East Consensus on Threat Posed by Iran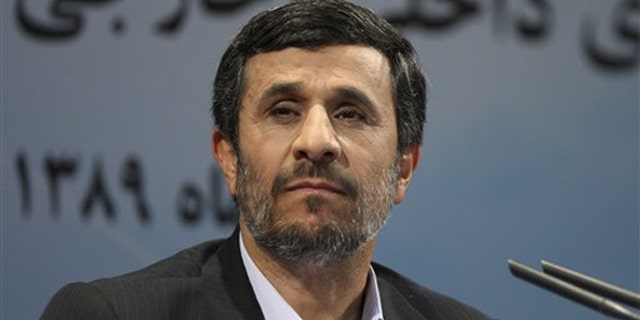 NEWYou can now listen to Fox News articles!
The thousands of pages of newly leaked State Department documents are sprinkled with examples of name-calling and diplomatic horse-trading, causing consternation for Obama administration officials as they try to sustain vital alliances around the world.
But the seismic document spill by WikiLeaks showed one area of profound agreement -- that Iran is viewed in the Middle East as the region's No. 1 troublemaker.
Gulf nation leaders were known to dislike the Iranian regime and its nuclear program but rarely made those sentiments known publicly. The leaked cables and communications, though, show those officials talking about Iran with a degree of disdain and worry more commonly found among the Israelis.
According to the documents, Saudi King Abdullah frequently urged the United States to destroy Iran's nuclear facilities, to "cut off the head of the snake." According to the Guardian, he warned that Iran's program could trigger a nuclear arms race in the region.
King Hamad bin Isa al-Khalifa of Bahrain and Jordanian lawmaker Zeid Rifai separately expressed similar concerns. Rifai told a U.S. official to "bomb Iran, or live with an Iranian bomb," warning that sanctions would not matter, according to the Guardian. Abu Dhabi crown prince Sheikh Mohammad bin Zayed fretted that Iranian President Mahmoud Ahmadinejad "is going to take us to war."
Given the contents of these documents, Ahmadinejad on Monday accused the United States government of being behind the leak. Ahmadinejad also accused Israel and other Western government of being behind the killing of a prominent Iranian nuclear scientist. White House spokesman Tommy Vietor called that charge "absurd."
"We have pursued peaceful and diplomatic means to deal with Iran's nuclear program," Vietor said.
Despite the apparent consensus aired on Iran, though, the State Department documents covered a range of foreign policy topics that the Obama administration no doubt wishes was kept secret. The administration, in damage control mode Monday, moved to soothe ruffled feathers abroad while ordering a top-down review on safeguarding classified data and announcing a criminal investigation into the website.
Describing it as no laughing matter, Secretary of State Hillary Clinton suggested any hurt feelings or embarrassment from the release may blow over. Saying "nothing laudable" came from WikiLeaks' action, she recalled that one counterpart told her, "Well don't worry about it. You should see what we say about you."
Still, administration officials condemned WikiLeaks for the release of more than 250,000 State Department documents that they claim jeopardize national security and put American lives at risk.
While previous releases by WikiLeaks of classified documents on the Iraq and Afghanistan wars forced the Pentagon to scramble to alert informants in the battlefields, the newly released documents aired in uncomfortable detail revealing conversations and dispatches among U.S. diplomats.
"This disclosure is not just an attack on America's foreign policy interests. It is an attack on the international community -- the alliances and partnerships, the conversations and negotiations that safeguard global security and advance economic prosperity," Clinton said.
She said the administration is "taking aggressive steps" against those who "stole" the data, while implementing safeguards at the Pentagon and State Department to make sure a breach of this magnitude "does not ever happen again."
As many as 3 million U.S. government workers and soldiers may have had access to such classified material. Pentagon spokesman Col. Dave Lapan said Monday that the ongoing criminal investigation into stolen government documents could hold accountable Defense Department officials who failed to set up the proper firewalls or who did not do enough to protect the documents.
Clinton expressed hope that the release would not damage U.S. diplomacy.
"I am confident that the partnerships that the Obama administration has worked so hard to build will withstand this challenge," Clinton said. "The United States deeply regrets the disclosure of any information that was intended to be confidential."
Saying the president is "not pleased" by the release, White House Press Secretary Robert Gibbs labeled the theft of classified information a "crime." That was after Attorney General Eric Holder said the Justice Department is conducting an "active, ongoing, criminal investigation" into the situation.
"To the extent that we can find anybody who was involved in the breaking of American law and who has put at risk the assets and the people that I have described they will be held responsible, they will be held accountable," Holder said.
Responding to concerns that the massive leak of thousands of documents constitutes a government failure to contain its own secret files, Office of Management and Budget Director Jacob Lew issued a memo to department and agency heads saying such a failure is "unacceptable and will not be tolerated." Lew ordered all agencies dealing with classified information to put together a "security assessment team" to review how they protect it.
"Such review should include (without limitation) evaluation of the agency's configuration of classified government systems to ensure that users do not have broader access than is necessary to do their jobs effectively, as well as implementation of restrictions on usage of, and removable media capabilities from, classified government computer networks," he wrote.
The documents spanned a litany of foreign policy topics and figures. Publication of the secret memos and documents Sunday amplified widespread global alarm about Iran's nuclear ambitions.
It also unveiled occasional U.S. pressure tactics aimed at hot spots in Afghanistan, Pakistan and North Korea. The leaks disclosed bluntly candid impressions from both diplomats and other world leaders about America's allies and foes.
It was, said Italian Foreign Minister Franco Frattini, the "Sept. 11 of world diplomacy."
Clinton may have to confront the fallout firsthand after she leaves Washington on a four-nation tour of Central Asia and the Middle East -- a region that figures prominently in the leaked documents.
Rep. Pete Hoekstra, R-Mich., ranking Republican on the House intelligence committee, called the leak a "colossal failure" with respect to the intelligence community.
"This database should never have been created. Hundreds of thousands of people should not have been provided access to it. This is a colossal failure by our intel community, by our Department of Defense to keep classified information secret," he said on ABC.
The Associated Press contributed to this report.