Lawyer: White House Cleared Crashers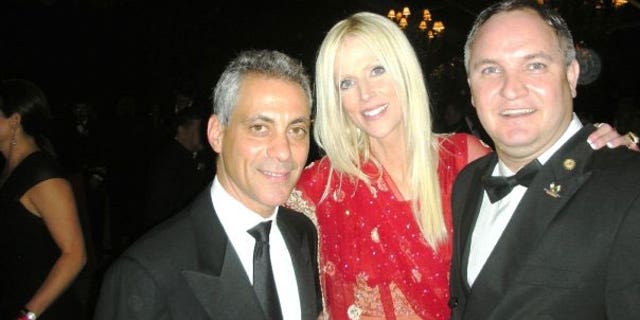 The northern Virginia socialite couple now being investigated by the Secret Service for crashing a dinner hosted by President Obama on Tuesday were reportedly "cleared" to attend by the White House, their attorney claims.
"My clients were cleared, by the White House, to be there," attorney Paul Gardner posted on the couple's Facebook page, according to the Washington Post. "More information is forthcoming."
A White House official confirmed to FoxNews.com on Friday that Michaele and Tareq Salahi were not invited to Tuesday's star-studded event.
Edwin Donovan, a Secret Service spokesman, said the couple went through the same security screening for weapons as the 300-plus people invited to the dinner for Indian Prime Minister Manmohan Singh. Donovan said the officers at the checkpoint did not follow proper procedure when the Salahis arrived and it was determined they had not been invited. He declined to reveal the levels of security screening at the White House.
The Salahis -- high-profile fixtures in the Beltway social scene -- somehow managed to gain entrance to Tuesday's dinner and were photographed with Vice President Joe Biden and White House Chief of Staff Rahm Emanuel. Michaele Salahi, according to her Facebook profile, has appeared in fashion magazines like Elle and modeled for Victoria's Secret, a claim the company denies. A spokeswoman for the lingerie company told FoxNews.com on Friday it had no record of Salahi ever working for the company.
NBC News anchor Brian Williams, who was an invited guest at the dinner, told the "Today" show that he saw the couple's SUV being turned away from the White House's East Gate entrance. A camera crew accompanied them, Williams said, as well as a woman who touched up the Salahis' makeup and hair.
Michaele Salahi bragged about the dinner on her Facebook page, which featured a photo with Biden and other attendees at Tuesday's event.
"I was honored to be invited to attend the First State Dinner hosted by President Obama & the First Lady to honor India," the posting read.
Bravo Media confirmed that Michaele Salahi was filmed around Washington on Tuesday by a film crew for the network's reality show, "The Real Housewives of D.C.," because she is being considered for the upcoming television program.
"Half Yard's cameras were not inside the White House," Johanna Fuentes, Bravo Media's vice president of communications, said in an e-mail late Thursday. She said the Salahis "informed Half Yard that they were invited (to the dinner), the producers had no reason to believe otherwise."
Multiple calls to Gardner were not returned Friday.
Paul Morrison, a Virginia attorney who represented the couple in the past but has not spoken to them since the dinner, told The Associated Press earlier Thursday that they shouldn't need legal help.
"They just went to a party. They didn't do anything wrong," Morrison said. "I know them. I'm unaware of any reason they need representation right now."
The Salahis, who are reportedly named as plaintiffs or defendants in at least 16 different civil suits in Virginia's Fauquier County, regularly attend or host A-list parties and charitable events. But there appears to be another side to this couple that includes a warning to consumers by the Commonwealth of Virginia to beware of their charity solicitations, and at least one socialite questioning the use of their "charity" funds, calling them "litigious," even suing the Washington Redskins -- the team Michaele Salahi once tossed sideline pompoms for as a cheerleader.
Tareq Salahi, whose age is listed in various places as being between 39-41, grew up helping his Israeli immigrant father build the family's modest Fauquier County, Va., winery into a million-dollar business, while at the same time turning himself into a world-class polo player and playboy.
Michaele Salahi, 44, and whose maiden name is Holt, married Tareq in 2003 in a lavish ceremony attended by 28 bridesmaids and, according to a video posted on YouTube and her Facebook page, enjoyed a reception prepared by 46 chefs hosted in a 36,000 square-foot tent, capped off with a 30-minute fireworks display and an eight-foot wedding cake. The guest list reportedly included Supreme Court Justice Anthony Kennedy, as well as former Virginia Gov. Mark Warner and former U.S. Ambassador to Ireland Margaret Heckler.
Kennedy even joked at the couple's wedding that he wanted to issue subpoenas to the bride and groom before the ceremony because their nuptials had been postponed and rescheduled four times, according to a 2003 report in the New York Post.
Tareq, meanwhile, battled his mother for ownership of the business his father started, Oasis Vineyards -- a legacy he reportedly claimed his father had promised him -- that included an unsolicited offer in June, 2007 from NBA star Shaquille O'Neal to buy the now bankrupt vineyard, an offer later rejected.
In his court fight, Salahi even accused her of "bullying tactics" that included wielding a handgun at the vineyard, the Fairfax County Times reported. He also filed a lawsuit against his mother's attorney, accusing him of assault.
Michaele Salahi, meanwhile, demonstrated that she also was a force to be reckoned with. Facing a threat by county zoning officials to limit the number and kinds of money-making events the couple could host at the vineyard -- such as parties, tastings and weddings -- stemming from neighbors' complaints, Michaele went to Richmond, registered as a lobbyist and pushed for passage of House bill 2643, legislation meant to strip power from county zoning authorities seeking to regulate "customary or usual" vineyard activities, the Fairfax County Times reported.
But it's the Salahis polo and charities connection that appear to have raised the most questions.
Tareq Salahi was involved in running a popular D.C. charitable polo event called the Courage Cup, an event that also widened the couple's social influence, giving them access to many of society's elite, including President Bill Clinton, Arizona Sen. John McCain, Britain's Prince Charles, Oprah Winfrey and actor Matt Damon.
Salahi's use of polo events purportedly to raise funds for charities also put him on the Commonwealth of Virginia's radar, and raised questions among his society friends.
The Virginia Department of Agriculture and Consumer Services, which oversees charitable operations in the commonwealth, issued a consumer warning earlier this year against the "Journey for a Cure Foundation," of which the Salahis are listed as co-founders, the Fauquier-Times Democrat reported. The state regulatory and watchdog agency reportedly claimed that the foundation was soliciting money from Virginians for "allegedly charitable purposes," but had failed to follow laws requiring groups soliciting money for charity to register and file necessary paperwork with the department.
The couple's socialite friends also are starting to question the couple's motives and actions.
Andrea Rodgers of Alexandria, Va., who has worked with the couple to organize the polo events, and who also runs "Socialite Marketing," a business consulting company specializing in event planning, told FoxNews.com that she's questioned the use of money solicited by the Salahis for charitable purposes.
Rodgers, who also writes the social blog AskMissA.com, and who called the couple "litigious," writes that she met the Salahis at a Courage Cup polo event in 2005 and became involved in its fundraising efforts, only to find out the next year that "bills had never been paid," blaming among others the Salahis. Rogers also writes that the Salahis then founded the America's Cup of Polo event after failing to regain control of the Courage Cup, speculating that "their Oasis Winery was having financial problems and they needed a way to make money for themselves."
Tareq even used photos of luminaries attending the Courage Cup to market his new America's Cup event.
Salahi's polo connections -- and possible financial problems -- also might hold the key to why the couple risked the wrath of the Secret Service to stroll brazenly in front of news cameras to rub elbows with nearly 300 hand-picked guests that included members of the Indian diplomatic corps and other special guests with connections to Indian Prime Minister Manmohan Singh.
Salahi's polo club along with the Embassy of India is hosting a spring 2010 tournament in Virginia. U.S. Ambassador to India Meera Shankar is listed as a patron, according to the organization's Web site.
Michaele Salahi also appears to have a fondness for the spotlight, claiming to have modeled for top fashion and women's magazines. The couple also auditioned for Bravo's upcoming reality TV show, "Real Housewives of D.C.," as did Rogers.
The blonde-haired, blue-eyed former model also is showcased as a "Diva in Charge," alongside Miss District of Columbia Katie Marie Grinold, in the book, "Best of D.C: Defining Change in American Leadership" inaugural edition, produced by Global Village Partnerships.
She also bragged on her Facebook page about the couple's behind-the-scene pass to President Obama's inaugural address, and in an interview with CBS' "Early Show" in September, she said: "President Obama has made it very accessible for anyone to visit the White House, so that's like a big thing right now."
The CBS interview was part of a segment on potential candidates for "Real Housewives of D.C.," but never was aired.
For all their political connections and attempts to cash in them, the Salahis appear to be frugal when it comes to their campaign giving. The Federal Elections Commission, which tracks political contributions, shows they never contributed a dime to Obama, despite crashing his first state dinner, and only gave a one-time contribution of $1,000 to Rep. James Moran, D-Va., in 2006, and $600 to Sen. George Allen, R-Va., in 2000.
FoxNews.com's Cristina Corbin, Joshua Rhett Miller and The Associated Press contributed to this report.