Law and disorder: Pentagon pushes back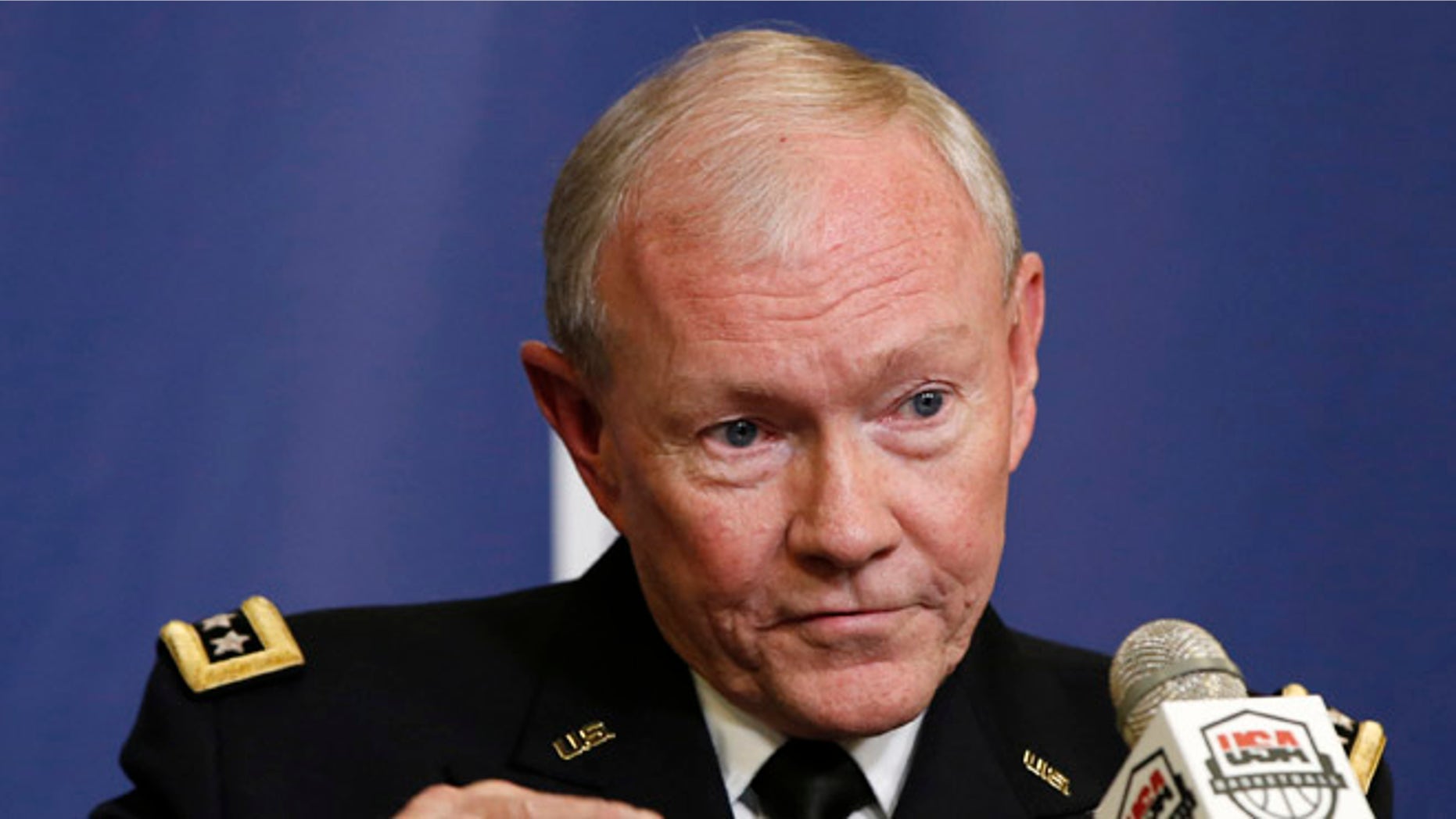 **Want FOX News First in your inbox every day? Sign up here.**
Buzz Cut:
• Law and disorder: Pentagon pushes back
• Power Play: Foreign policy, Ferguson hurt Dem Senate hopes
• Brown delivers in new poll
• Pick Six: Trippi says Senate on the bubble
• Finally, the campaign condom
LAW AND DISORDER: PENTAGON PUSHES BACK
Is the United States at war with the Sunni Islamist separatists in control of Iraq and Syria? It sure sounded that way when Defense Secretary Chuck Hagel addressed the subject at a press conference: "They're beyond just a terrorist group. They marry ideology, a sophistication of strategic and tactical military prowess. They are tremendously well-funded." Hagel said it was "beyond anything that we've seen." He followed that with a grim warning: "So we must prepare for everything. And the only way you do that is that you take a cold, steely, hard look at it and get ready." So what do you do about that? Gen. Martin Dempsey, the chairman of the Joint Chiefs of Staff, said it would require escalating the conflict and striking targets inside of Syria.

[The latest - Reuters: "At least 191,369 people have been killed in Syria's conflict through April, more than double the figure documented a year ago and probably still an under-estimate, the United Nations human rights office said on Friday."]

But… - Once upon a time, President Obama considered bombing Syria, but opted not to do it, saying he lacked the authority to act alone. Hagel and Dempsey spoke of building a Gulf War-style multi-national coalition to take on the Islamist army, but while France is feeling bellicose these days, that still sounds a little far-fetched. Of course, when Obama previously considered bombing Syria, he was thinking of targeting the other side, the regime of Bashar al Assad. Will he be more willing to act and build a coalition now that the U.S. is seemingly on Assad's side (or at least united by a common enemy)? If the raids help Assad, Russia, China and Iran might even be on board at the UN.

["The president has a foreign policy which has failed once again. He underestimated the extent of the threat represented by terror in the world and specifically ISIS, and as a result now we find ourselves facing a very severe and horrific series of scenes on the world stage." – Mitt Romney on"The Kelly File," Watch the full interview here.]

Lawman - While the military is pushing for escalation, there are contradictory signs from the president's inner circle. Attorney General Eric Holder sounded like he was heading up a criminal investigation on Thursday, not speaking of a war effort. As the president mulls which way to go, will he be persuaded to lead the charge of a Western coalition army or the lead prosecutor in a criminal case?

GAO rules Obama's Taliban release illegal - Fox News: "A nonpartisan government watchdog agency said Thursday that the Pentagon broke the law when it swapped five Taliban leaders for Army Sgt. Bowe Bergdahl earlier this year."

[Watch Fox: Rep. Trent Franks, R-Ariz., discusses the GAO report in the 10 am ET hour]

POWER PLAY: FOREIGN POLICY, FERGUSON HURT DEM SENATE HOPES
How will the simmering anger over the shooting of a black man in Missouri and liberal unease with President Obama's gradual escalation of the U.S. intervention in Iraq affect Democrats' efforts to close the enthusiasm gap with Republican voters? In the latest installment of "Power Play with: Chris Stirewalt" polls suggest the problem for the president's party is very real. Political Pros Joe Trippi and Matt Schlapp talk about turnout and voter intensity. Watch.

Missouri Dem: Rand was right - The Hill: "Rep. Emanuel Cleaver (D), one of the two lawmakers, said the scene in Ferguson over the past two weeks reminded him of combat footage from Iraq… "It looked like Fallujah. It looked like the Iraqi war," he said in an interview. "Rand Paul was right. He talked about how we cannot militarize our cities. That what it looked like.'"

["Fox News Sunday with Chris Wallace" welcomes potential 2016 contender and Fox News Contributor Dr. Ben Carson to discuss the growing tensions in Ferguson, Mo. Sen. John McCain, R-Ariz., will also appear to discuss the latest from Iraq. "Fox News Sunday with Chris Wallace" airs at 2 p.m. and 6 p.m. ET on Fox News. Check local listings for air times in your area.]

White House got scoop on Ferguson from MSNBC host - Politico: "After huddling with Brown's family and local community leaders, [Al Sharpton] connected directly with White House adviser and First Friend Valerie Jarrett, vacationing in her condo in the exclusive Oak Bluffs section of Martha's Vineyard, not far from where President Obama and his family were staying. Obama was "horrified" by the images he was seeing on TV, Jarrett told Sharpton, and proceeded to pepper him with questions as she collected information for the president: How bad was the violence? Was it being fueled by outside groups—and could Sharpton do anything to talk them down? What did the Brown family want the White House to do?"

["#mediabuzz" Host Howard Kurtz considers whether the press is rushing to judgment about the death of Michael Brown with "On the Record" host Greta Van Susteren and Getty Images' photographer Scott Olson who was arrested covering the story. Watch "#mediabuzz" Sunday at 11 a.m. ET, with a second airing at 5 p.m.]

WITH YOUR SECOND CUP OF COFFEE...
On this day in 1922, Michael Collins, the Irish revolutionary leader and one of the chief architects of that nation's independence, was gunned down by radicals who believed he had betrayed their cause. Collins, an implacable foe and fighter during the Irish uprising of the Teens, had won the love of his countrymen and the respect of the Britons who had opposed his cause. Even Winston Churchill, a lion for the British Empire, mourned his murder, calling Collins an "Irish patriot true and fearless." But because the treaty that Collins negotiated left six Protestant counties in the north, Antrim, Armagh, Down, Fermanagh, Londonderry and Tyrone, under British rule, Irish hardliners felt he had betrayed their cause. "Think what have I got for Ireland … Something which she has wanted these past 700 years, will anyone be satisfied with this bargain, will anyone?" Collins said after signing the treaty in 1921. "I tell you this, early this morning I have signed my death warrant." And he was right. The 31-year-old was killed in an IRA ambush on his way to visit Cork eight months later. Many decades of bloodshed would follow as Irish leaders renounced the peace accord and maintained the guerilla war against the Crown and the Ulstermen who opposed union.

Got a TIP from the RIGHT or LEFT? Email FoxNewsFirst@FOXNEWS.COM

POLL CHECK
Real Clear Politics Averages
Obama Job Approval: Approve – 42 percent//Disapprove – 52 percent
Direction of Country: Right Direction – 26.7 percent//Wrong Track – 64.8 percent
Generic Congressional Ballot:  Democrats – 41.2 percent// Republicans – 39.8 percent

-- 74 days until  Nov. 4 --

BROWN DELIVERS IN NEW POLL
New Hampshire Senate candidate Scott Brown's hustle is paying off as the latest poll shows the Republican dramatically closing the gap with incumbent Sen. Jeanne Shaheen, D-N.H. The Granite State Poll shows Brown just 2 points behind Shaheen, within the margin of error in the WMUR/University of New Hampshire survey. Last month, the gap was 12 points. What's the cause? Brown, a former Massachusetts senator, seems to be beating the "carpetbagger" label and unifying Republicans. While the Republican has engaged in a series of New England town hall events where he can "look them in the eye and engage them directly." Shaheen, meanwhile, has been hammered and heckled for not holding similar events in recent years. The other driver of the race change: Just 37 percent of respondents approved of the job President Obama was doing.

[A surging Gov. Rick Perry, R-Texas, heads to New Hampshire today for a two-day campaign swing for the New Hampshire GOP.]

Outside dough could label Brown as an outsider - If the race is indeed competitive, it would be a major headache for Democrats who are trying to build a new firewall to save a Senate majority following reversals in key races in Montana, South Dakota and Alaska. But they may be getting some help in stopping Brown in coming days from an outside group. Lurking on the fringes for Brown is a primary challenge by former state Sen. Jim Rubens, who is backed by a promised $2 million boost from a group seeking new campaign finance regulations. Brown will likely overcome the challenge, but the group may be able to roll back some of the image gains he's made with Granite State voters and help Shaheen hold on.

Billionaire attacks Brown for ties to other billionaires - Billionaire Democratic donor Tom Steyer is attacking Scott Brown over his ties to oil producers and the Koch Brothers. From the ad: "Out-of-state oilmen like the Koch brothers are spending millions to elect out-of-state politician Scott Brown to our Senate seat," a narrator says. How long Steyer can keep his attacks up is an open question, as Washington Examiner reports that Steyer's political group has shown puny fundraising towards his $100 million pledge to help Democrats hold the Senate.

NUNN: 'WE NEED TO GET OUT OF THE EXECUTIVE ORDER BUSINESS'
Washington Times: "Democrat U.S. Senate candidate Michelle Nunn said Thursday that the nation should get 'out of the executive order business' when it comes to strengthening the immigration system. Speaking at a forum hosted by the Georgia Chamber of Commerce, Mrs. Nunn, the daughter of former Georgia Sen. Sam Nunn, said the tricky issue would be better solved if [President Obama] does not feel the need to sidestep Congress. 'We need to have Congress and the president work together,' she said. 'We need to get out of the executive order business and into the compromising, collaboration and partnership business in Washington.' Mrs. Nunn is running against businessman David Perdue for the seat being vacated by retiring Republican Sen. Saxby Chambliss."

RAND TO PITCH FOR TILLIS IN THE TAR HEAL STATE
USA Today: "Sen. Rand Paul [R-Ky.] is heeding his call for Republicans to get behind Thom Tillis in the battle to unseat Sen. Kay Hagan, D-N.C. Paul, who is thinking about running for president, will headline a private fundraising event Monday in Charlotte for the North Carolina Republican Party and give the state GOP resources as it prepares to help Tillis and other candidates. No word yet whether Paul will be campaigning with Tillis on this trip. A new USA TODAY/Suffolk University Poll released Wednesday shows Hagan and Tillis are essentially tied in their Senate contest, one of the races that will help determine which party will be in power after the Nov. 4 elections." Paul campaigned for Tillis' top opponent in the state's GOP primary and Tillis has faced a persistent challenge from Libertarian candidate, Sean Haugh.

CAPITO WHACKS TENNANT OVER OBAMA SUPPORT IN WEST VIRGINA RACE
West Virginia Republican Senate contender Shelley Moore Capito is taking Democrat Natalie Tennant to task for her support of ObamaCare in a new ad. From the ad: "Tennant, she not only defended Obama's war on coal, Tennant supports his disastrous ObamaCare." Capito concludes the ad saying, "This administration has put a big damper on our way of life and our love of freedom."

DEMS STAY FOCUSED ON ABORTION IN COLORADO
AP: "The Democratic Senatorial Campaign Committee, or DSCC, ordered $1 million in ads to run for the next two weeks, the group's first advertising to help first-term Sen. Mark Udall [D-Colo.] and his close re-election bid. Millions of dollars already had been spent in Colorado, and millions more were expected to come in the final push toward Election Day. In the 30-second ads, Democrats warn that [Rep. Cory Gardner, R-Colo.]  sought to change Colorado's constitution to roll back abortion rights and outlaw the procedure in the cases of rape and incest. Gardner, a second-term congressman, also has co-sponsored an anti-abortion bill in Congress, the ad concludes. 'Why do guys like Cory Gardner think it's any of their business to tell women what do?' a young female voter asks into the camera."

But ObamaCare cancellations keep coming - Daily Caller: "More than 2,000 more Coloradans had their health insurance plans cancelled as a result of the Affordable Care Act, according to a letter from the state regulatory agency to state Senate Republicans. Following a dust-up earlier this year between Colorado Democratic Sen. Mark Udall and the Division of Insurance, Republicans have requested regular updates on policies that are cancelled because they don't conform to Obamacare or because companies are getting out of the individual insurance market."

AFP TRIES TO BURY BEGICH OVER VOTING RECORD
The conservative group Americans for Prosperity is putting $1 million dollars towards an ad campaign claiming Sen. Mark Begich, D-Alaska, has missed more votes than 80 percent of all U.S. Senators. In the ad, Rainy Pass Lodge owner Steve Perrins appears saying, "Alaskans are a little bit ticked off that Sen. Mark Begich isn't showing up for his job…Alaska is losing ground because we have a politician that isn't willing to show up..."

Begich fires back - Sen. Mark Begich, D-Alaska, is using the words of Republican Senate nominee Dan Sullivan's primary opponents against in him in a new ad. The ad features clips of criticism lodged by Lt. Gov. Mead Treadwell and Joe Miller.

PRO-MCCONNELL PAC WANTS GRIMES' GOOD DEAL FROM DAD
The Louisville Courier-Journal:"[Kentuckians for Strong Leadership] has jumped into the fray over Alison Lundergan Grimes tour bus, sending a letter to Signature Special Events Services asking to rent the vehicle for what it suggests is a bargain basement price being offered to the campaign. The company is owned by Jerry Lundergan, Grimes' father, and the relationship has come under fire in recent days with the McConnell campaign suggesting that Grimes has violated federal election law by accepting the bus from her father's corporation at what it says is a discounted rate."

HIS MASERATI DOES 185…
Des Moines Register: "The Eagles support [Democrat] Bruce Braley's bid for the U.S. Senate, and they want their fans to chip in as well. Joe Walsh, the guitarist for the '70s rockers who unleashed 'Hotel California' on the world, sent out a fundraising email Thursday on Braley's behalf… 'Bruce and his wife first met at an Eagles concert back when they were both students at Iowa State -- and while I didn't know him then, I'm proud to say I know him now and that I support Bruce in his campaign to become the next U.S. Senator of Iowa,' Walsh said in the email pitch."

Webb gets behind Braley - "I am proud to support Bruce Braley because I know he would continue his fierce advocacy for veterans in the United States Senate" –Former Sen. Jim Webb, D-Va.,  in a statement Thursday.

JUST STOP
Even South Dakota Democratic Senate candidate Rick Weiland may be recognizing his bid against former Gov. Mike Rounds, R-S.D. could be a long shot. During a candidate forum Wednesday, Weiland called his opponent "senator — or, soon-to-be" Senator. Weiland quickly corrected himself saying, "No, not soon-to-be. That's a good gaffe. I'll take that back. Soon-to-want-to-be Sen. Mike Rounds." In an interview earlier this week, Senate Majority Leader Harry Reid panned Democrats hopes of taking the Mount Rushmore state.

PICK SIX: TRIPPI SAYS SENATE ON THE BUBBLE
This week, Power Play Political Pros Joe Trippi and Matt Schlapp made their pick six lists with a big move from veteran Democratic strategist Trippi: He put control of the Senate on the bubble with five seats in the Republican column and five more up for grabs. What were his picks and what did Schlapp have to say about his sparring partner's seismic shift? Watch here to find out.
Republicans need to pick up an additional six seats to win control of the Senate from Democrats. So which seats are most likely to flip from blue to red? The current consensus among Fox News First readers: Arkansas (13.6%), Montana (12.1%), Louisiana (11.5%), West Virginia (11.3%), South Dakota (10.9%) and North Carolina (9.5%).

Do you agree with the crowd or the Pros? Or do you have some insight all your own? Share your top six picks. Email them – just your top six, please – to FOXNEWSFIRST@FOXNEWS.COM or tweet @cstirewalt.

Welcome to the Jungle - Reader Casey Levy of Louisiana sees his state's jungle primary system working in Republican Bill Cassidy's favor in his battle against Sen. Mary Landrieu, D-La., Levy foresees a, "Cassidy / Landrieu runoff with Cassidy prevailing."

BAD PRODUCE
Tampa Tribune: "A Tampa grocer who starred in a campaign ad for Gov. Rick Scott was convicted of human smuggling on the Caribbean island of St. Maarten four years ago, a newspaper there reported. And although he supports Scott for governor, he also has apparently expressed support for the Castro government, which Scott rails against. The Scott campaign, which doesn't deny the story, is no longer running the Spanish language ad but denies it was taken down because of the revelations."

FINALLY, THE CAMPAIGN CONDOM
Rep. Matt Salmon's, R-Ariz., likely Democratic opponent, James Woods is responding to a letter writing campaign by pro-life activists by mailing them campaign-branded condoms. Woods, a distant long shot in the staunch Republican district, was recently asked to fill out a "sanctity of life" pledge in a survey by the National Pro-Life Alliance. "Woods did return the survey, but stood in opposition to the entire platform of the Alliance," Woods' spokeswoman Seráh Blain told the Phoenix New Times. Along with the protection offered by the campaign, Woods included a letter advocating universal access to birth control for women and empowerment programs for low-income families and children.

AND NOW, A WORD FROM CHARLES…
"This isn't about capturing the Brit who was holding that knife. It's about a war on these people." – Charles Krauthammer, on "Special Report with Bret Baier" Watch here.

Chris Stirewalt is digital politics editor for Fox News. Want FOX News First in your inbox every day? Sign up here.