Latino conservatives: If Donald Trump is the nominee, we will not work to elect him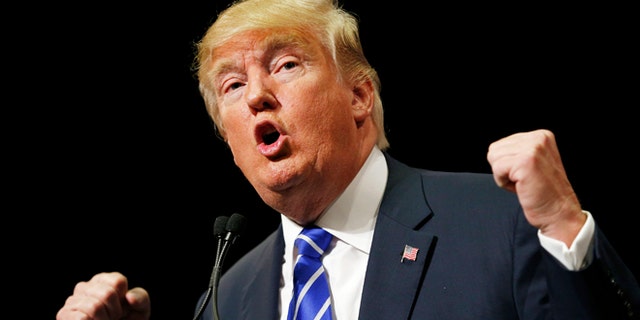 Conservative Latinos have had it, and they're not going to take it anymore, they say.
They're talking about Donald Trump, and their message is directed at the GOP.
"Heed our warning: don't expect us to come to your side during the general election," said former Treasury Secretary Rosario Marín at a press conference held Tuesday by a coalition of Latino conservatives, according to NBC News.
"If you are not with us now, we won't be with you then. If you insult us now, we will be deaf to you then. If you take us for granted now, we will not recognize you then," she said.
Members of the coalition met before the press conference, which took place in Boulder, where the third GOP debate is scheduled to take place Wednesday night. Organizers of the meeting told Fox News Latino the objective was to discuss concerns about the rhetoric some candidates, particularly Trump, have used in this election cycle that they said was hostile and discriminatory against Latinos.
Alfonso Aguilar, a former official with the George W. Bush administration and head of the American Principles Project's Latino Partnership, told Fox News Latino that the participants in the meeting wanted to discuss candidates and issues of concern to Latinos. Aguilar said the coalition wanted to send a message to the Republican Party that Latino conservatives will hold it and GOP candidates accountable for their tone and views with regard to Hispanics.
The leaders, who represented several of the nation's most prominent Latino conservative organizations, said they would not support or help the campaign of candidates who do not speak out against Trump's offensive language regarding Latinos and immigrants, and who embrace stances that run counter to the community's best interests, according to NBC.
"This group unanimously has decided that Donald Trump is not a candidate who we can support," Time Magazine quoted Jerry Natividad, one of the organizers of the meeting, as saying. The leaders added that they do not favor one single policy platform.
Marin, apparently referring to Trump, though she did not name him, condemned the "nonstop vitriolic insults" from "a wannabe politician."
"Foolishly, some candidates think they don't need the Hispanic vote in the primary, so they pander to the voters with extreme views instead of just showing us who they are," Marín said.
Trump has used language that has angered many Latinos, as well as other ethnic groups. He said when launching his campaign that Mexico dumps its worst people along the border, and said that many of them are rapists and drug dealers. He's also called for mass deportation, adding that there would be a way for the "good" ones to return.
The leaders said no candidate could win the presidency with anti-Latino rhetoric and policies.
Tony Suarez, National Hispanic Christioan Leadership Conference executive vice president, said: "Mr. Trump has become a promoter of hate, division and insult and if Mr. Trump were to be the Republican nominee — I don't think he has a chance at winning the general election."
For his part, Aguilar denounced candidates who want to end birthright U.S. citizenship for babies born to undocumented immigrants, and who address tightening border security without speaking about other aspects of immigration, particularly how to deal with the estimated 12 million undocumented people already living here.
"If Republicans cannot be constructive on the issues, Latino voters will not listen to our candidates when they address other issues," NBC quoted Aguilar as saying.
Some in the group had wanted also to raise concerns about Sen. Ted Cruz, the Texas Republican who has defended Trump and even invited him to events at which he was featured.
Cruz favors a hard line on immigration, and opposes birthright citizenship.
"It's a shot across the bow to candidates who embrace Trump and who embrace those proposals that you should be worried, because we're going to call you out," Aguilar said. "This is how you build political leverage, so we can have an exchange. So if they want to talk to us, great, but at the end we want change, and if we don't see it, they will hear from us."
Cristobal Alex, head of the Latino Victory Project, a non-partisan group that supports Latinos running for office and works to increase the number of registered Latino voters, gave faint praise to the conservative leaders' message.
Alex told NBC he was pleased that Latino Republicans "were finally doing the bare minimum and making it clear they won't support Donald Trump for president."
He added that while the group singled out Trump, other Republican presidential candidates also had used a tone that seemed hostile to Latinos and embraced policies that run counter to what many Latino voters favor.
"Putting your field on notice is great," Alex said, "but if conservatives really want to be taken seriously by the Latino community they have to go beyond doing the bare minimum to condemn inflammatory rhetoric and start holding candidates accountable even when it's not politically expedient."
The coalition plans another meeting in Nevada ahead of the next GOP debate. At that meeting, participants will discuss whether the party and the GOP field of candidates have taken their warning serious, and they will send out warnings to other particular candidates if it's warranted, they said.
Like us on Facebook
Follow us on Twitter & Instagram