Latino advocacy group encouraging voters not to vote Democrat in key swing states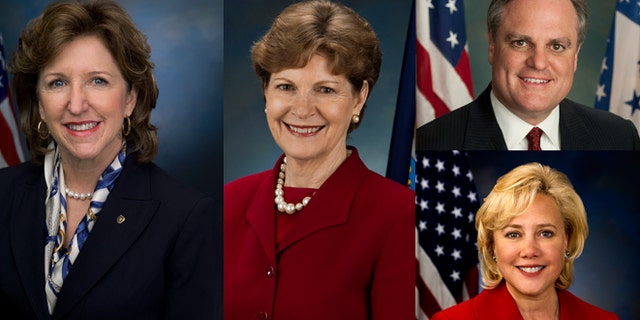 NEWYou can now listen to Fox News articles!
Hell hath no fury like a Latino voter scorned.
At least, that's the idea.
A major Latino advocacy group has begun to actively campaign against four Senate Democrats, encouraging Hispanics to not vote blue in midterm elections in key swing states, because they oppose immigration reform. Presente Action is specifically targeting Sens. Kay Hagan (N.C.), Jeanne Shaheen (N.H), Mark Pryor (Ark.), and Mary Landrieu (La.), collectively identified by the organization as the "Dirty Four."
As first reported by the Huffington Post Latino Voices, Presente cites the senators' support for a procedural vote last week that would have allowed for a vote on amendments restricting the 2012 Deferred Action Childhood Arrivals policy, and preventing President Barack Obama from using executive action on immigration. The vote was pushed by Republican Senators Jeff Sessions of Alabama and Ted Cruz of Texas.
The vote never happened. But Latino activists and immigrant advocates viewed the move by the senators as a betrayal by Democrats who were supposed to pass comprehensive immigration reform, as promised by Obama.
"We are sick of politicians playing with our community like we are political pawns," Arturo Carmona, executive director of Presente Action, told Fox News Latino about Latino voters. "These Senate Democrats have been willing to throw our community under the bus. On the issue of immigration our community has been lied to once, twice, 10 times, and when you gage the Latino community we are fed up."
Carmona says Presente, which boasts 300,000 members across the nation, is purchasing social media ad buys on Facebook and Google while mobilizing their members to encourage friends and family not to vote for the senators. "These are the first shots fired," Carmona said, explaining the organization plans to escalate their campaign against the "Dirty Four" as November 4th nears. Other Latino advocacy groups are privately cheering Presente on, even calling them heroes.
The organization says their campaign is not about making sure Latinos stay home come November, rather encouraging people to think twice before casting a ballot for these particular Democrats.
"The Latino community will no longer be about good Democrats and bad Republicans, we need to be a results-oriented community," Carmona said of the need for Latino voters to stop blindly voting Democrat.
But don't confuse Presente's campaign as a get out the Latino vote push for Republicans – they say it is not. Republicans need six more seats in the Senate to claim a 51-49 majority and analysts believe their best hopes to picking up seats are in the "dirty four's" states: Louisiana, North Carolina, Arkansas and, to a lesser extent, New Hampshire. In all four states Latinos make up less than 10 percent of the population.
To put that in perspective, California has close to 40 percent, but Carmona is "confident" the Latino vote could make the difference in elections decided by a "razor-thin margin."
If Presente's campaign is successful, and Republicans become the majority in the Senate, the scenario could conceivably make it more difficult for comprehensive immigration reform to pass.
"We understand the political scenario. We are totally conscious this can be a game-changer," Carmona said. "We are in a difficult situation but we have to play our hand. Our families are being separated."