Latin America, Caribbean Officials Meeting In Cuba For Summit, Focus On Inequality, Poverty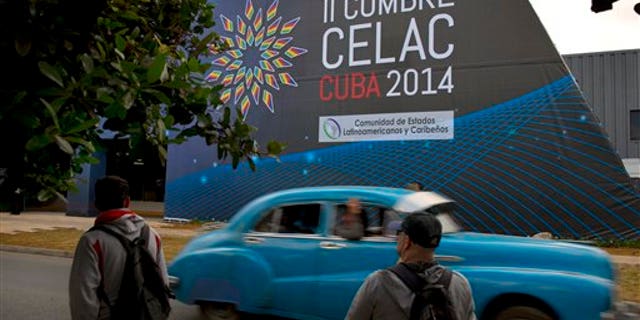 HAVANA (AP) – Leaders from Latin America and the Caribbean are arriving in Havana this weekend for a summit of a fledgling regional bloc that was conceived as a force for integration and a counterbalance to their most powerful neighbor, the United States.
The Community of Latin American and Caribbean States, or CELAC for its initials in Spanish, was formed in 2011 and comprises every nation in the Western Hemisphere except the U.S. and Canada. By Sunday, Argentine President Cristina Fernandez and several foreign ministers were already in Havana for the summit. Lower-level officials began meeting over the weekend and foreign ministers are taking the stage Monday. The formal meetings of heads of state begin Tuesday.
Nobody was a bigger advocate for the bloc than the late Venezuelan President Hugo Chavez, an outspoken critic of Washington seen by many as the standard-bearer for the region's political left before he succumbed to cancer in March.
"It is the first summit after the death of Hugo Chavez, the great driving force" behind CELAC, said Eduardo Bueno, a professor of Latin American studies at Iberoamericana University in Mexico. "I think they are going to be measuring their possibilities for the future."
The bloc was born out of discontent with the Organization of American States, or OAS, which some see as dominated by Washington's interests.
In recent years Chavez and others, including conservative presidents and U.S. allies such as Colombia's Juan Manuel Santos, were united in their frustration that the OAS does not include Cuba, which was expelled in 1962.
Cuba's suspension was ended in 2009 with U.S. consent. President Raul Castro's government applauded the move but quickly said it had no interest in being part of a group it calls a mechanism to effect U.S. regional dominance.
Miguel Tinker Salas, a historian of Latin America at Pomona College, said CELAC's existence puts pressure on the Washington-based OAS to respond to the interests of the region's countries if it is to remain relevant.
"The fact that nations as diverse as Venezuela, Colombia, Mexico or Brazil participate (in CELAC) ... shows they give importance to this alternative process of integration," Tinker Salas said.
Jose Miguel Insulza, secretary-general of the OAS, has been invited to the summit as an observer. U.N. Secretary-General Ban Ki-moon has also confirmed his attendance.
Mexican President Enrique Pena Nieto is among the heads of state coming to Havana. Brazil's Dilma Rousseff is expected to travel to the city of Mariel, west of the capital, for a ceremony opening up the first part of a port being built with some $600 million in Brazilian investment.
Officially the event will focus on poverty and social inequality, though side discussions could deal with areas such as trade and migration.
But it's yet to be seen whether CELAC can become effective at solving regional issues, and analysts said the group needs to prove it's more than an empty forum.
"The summits are in themselves symbolic," Tinker Salas said. "They discuss agendas and themes, but their implementation is up to the member states."
Follow us on twitter.com/foxnewslatino
Like us at facebook.com/foxnewslatino